Both you and I have been buzzing a lot about the tropical prints lately. Naturally so as nature and summer goes like tea and chocolate: it's a must! More specifically, the tropical nature is what is given extra love when summer comes around. This is of course reflected in the fashion with prints of pineapples, palm leaves and tropical flowers (anything tropical, really). As stated in this post, even though you might not be travelling somewhere tropical this year, you can always bring the moments of summer to you: here are 7 ways to wear tropical print!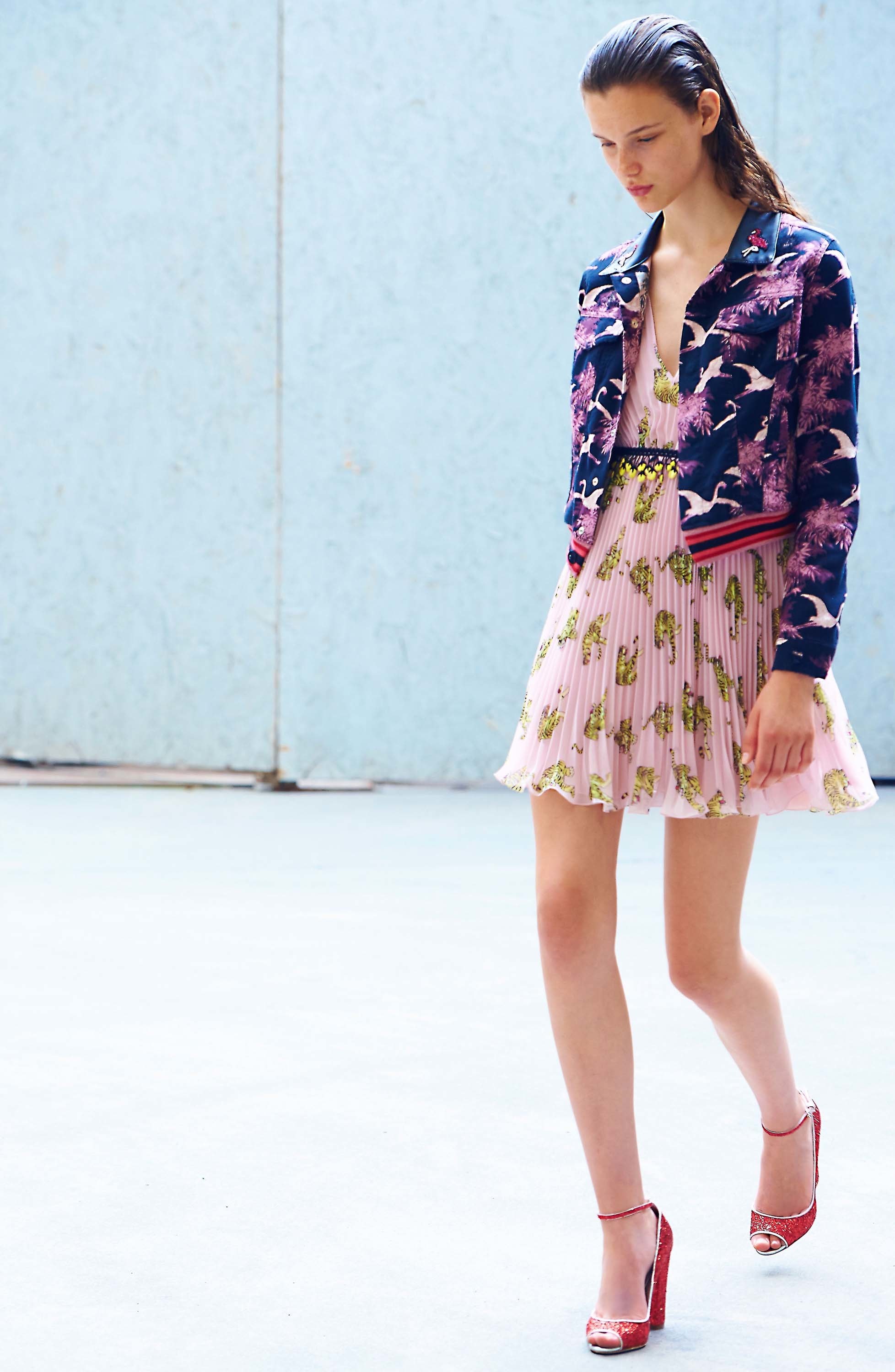 Courtsey of Giamba (resort 2017)
How To Wear Tropical Print
1. Black & White Style
Tropical prints are normally associated with colorful shades which is why a B&W combo can be a fun change. A black and white print is great if you're starting out with pulling of the print as the color match is a classic. Wear it neutral if you're uncertain!
2. Palm leaves with pop of color
The green & white combination that the print of palm leaves often comes in is a chic one to do with color. In fact, it's perfect to add the popping colors to this combination. Hot pink, bright yellow and orange are great colors to add. A tan shade is also chic and will give a more mature impression.
3. Keep the accessories colorful
If you don't want to go too colorful though, keep the colorful pops to the accessories. Add some colorful pom pom details or some chic embellishment. A playsuit in a tropical print with a pink clutch is a simple yet chic outfit. Don't forget that colorful lips also counts as a splash of color.
4. Tropical print with straw
I talked about this combination in this post and I can only mention it again. It's an easy and chic combination that will bring the tropical vibe to you. Go for a straw hat or bag and add to your tropical print!
5. Go with another tropical print
A fun way to mix print is to add another tropical print to your outfit. As the prints are reminiscent of each other you can more or less match the two without considerate thought. If you want to stay on the safe side, try prints that share the same color scale! A white and green print with a white and green combination will be the ultimate one.
6. Add a pop of silver metallic
Silver metallic is quite the mature color and is thereby a perfect shade to add to the tropical print if you want to tone down the playful nature of the tropical print. Go for accessories in the silver metallic shade, as shoes or a chic clutch!
7. Tropical Culottes
I think culottes are a great clothing pieces when going for print as the flowy style leaves room for a statement print. A tropical style is a perfect match with culottes as it gives a laid-back feeling yet with a chic twist of the print. Pair the clothing piece with some tan or silver metallic when heading for a night out!
Folks! What are your ways to wear tropical print this summer? Are you going trendy or classic about it? Let's chat in the comments! Xx