Happy New Year folks! Let's start 2018 by continuing to talk about the new year and fashionable things to do. I mean, it's only day two of January so taking it easy is the way to start another year huh? Here's 7 fashionable things to do 2018, from trends to embrace and styling tips to try: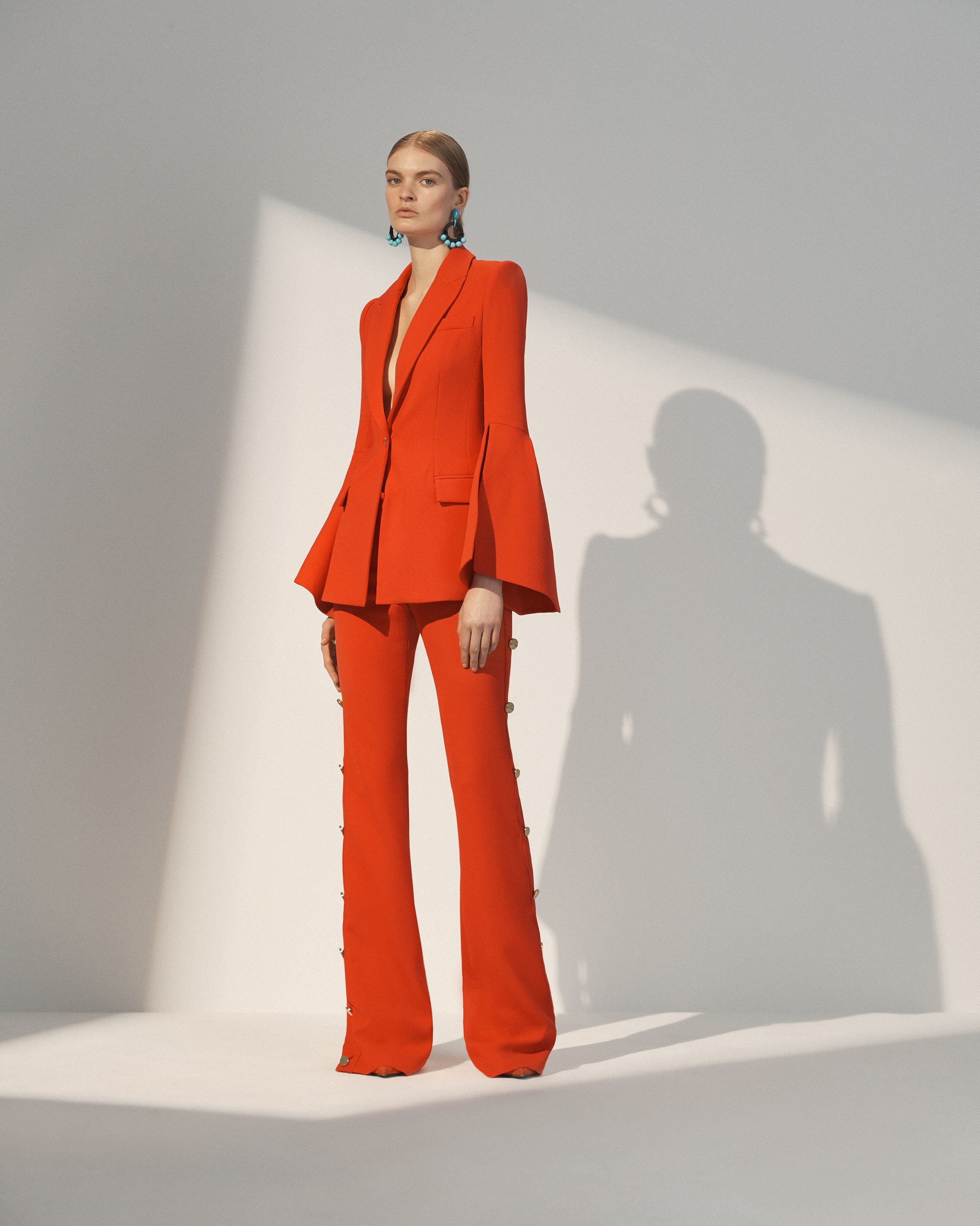 Courtsey of Prabal Gurung | Resort 2018
Fashionable Things To Do 2018
1. Wear More Red
If you haven't noticed, red has been a popular color throughout 2017. Especially going strong for the latter part of the year and continuing the trend train through 2018 too. I advocate a more colorful fashion life and as red is a basic colorful shade, it's a great color to begin with. Start with the accessories and work yourself up to clothing pieces. With red, your outfit can be on fire!
2. Layer More
One way to survive the winter life is to layer more. With layers you create a more dynamic outfit which in its turn gives a more exciting look. Pieces that are great to layer with includes shirts, sweaters, vests and scarves. Think about the lengths of the clothing pieces to make the most out of it and be sure to go for different colors and prints to mix it up. Read more in this layer guide.
3. Go Monochromatic
The monochromatic looks have been popular in the last couple of months and are still going rather strong. The style is undoubtedly one of the most stylish and easiest way of looking effortlessly chic. Go for your favorite color and work it top to toe. To add some excitement be sure to go for darker and lighter shades as they contrast each other!
4. Get More Inspired
Is there's such a thing as too much inspiration? Don't think so! I mean of course you have to act too, that's what it's all about, but when it's about something creative like fashion, you need ideas too. Colors you can combine, prints to try and elements to match. So in 2018 I urge us all to get the proper dose of inspiration before we find ourselves in a fashion rut. Inspiration can't be piled but needs to be maintained. Social media, books, movies, series, friends, nature, wallpapers, paintings and just the world itself can serve as inspiration!
5. Focus More On Textures
One thing I'm going to focus more on in 2018 is textures. They are often taken for granted but plays an important role in any style. You can easily elevate the outfit by contrasting textures or add another layer. As they come in any color you prefer, you can work several different textures in one outfit as they make up for a rather subtle statement. Winter is especially favorable to play with textures as you can work with heavier layers such as faux fur, knitwear and faux leather!
6. Find a New Statement
I'm sure the majority of us have a statement of two that we usually go for. Perhaps it's a statement necklace we love or a pair of colorful boots? Well I definitely believe in the power of statement and think the fashion world needs more of them. That's why 2018 should include to experiment more with fashion and explore the layers to it. Finding more statements will also help you get dressed when you're in a fashion rut as your outfit will easily get the extra touch by only adding one element of statement. Perhaps your new statement will be a belt, a texture or a bag? It's up to you to explore!
7. Plan Your Outfits In Advance
Lastly, planning in advance will give you a better style. It's logical that what you give time to is what will improve in your life. If you start to become more specific with your outfits you'll learn what works. This will give you a better understanding of what colors you prefer, what elements that works together and truly – what your own style is about. Take some time each week and plan some outfits in advance. Here's another article on the subject!
Folks! I'm so excited that 2018 is here and can't wait to do this year with all of you. Happy January! Xx