I love habits in general and I love fashion habits even more. How awesome isn't it to improve the fashion life by some simple habits? These are some of my best fashion habits: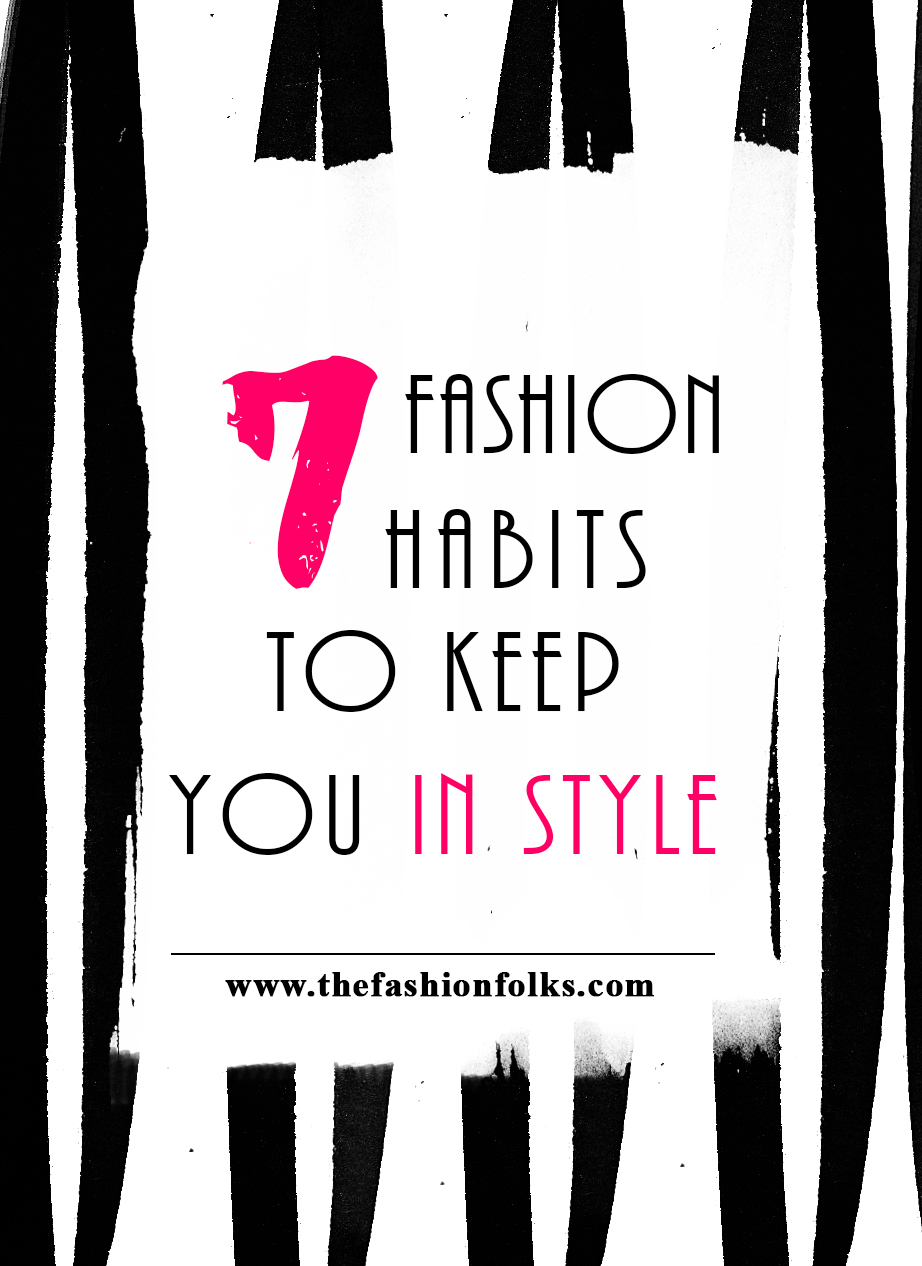 1. Save Outfit Ideas
I realize that I've mentioned this before but this fashion habit saves me all the time. Whenever an outfit idea comes to my mind, I always make sure to write it down or take a photo of the clothes. I'm also using the print screen function in the phone (like hello Instagram fashion). The pinboard Fashion In The Streets is my most beloved one too! Saving outfit ideas is another way of staying inspired (more on that further down), but also understand the creative process of putting together an outfit. See the different elements complement and highlight one another is just a finesse of the artsy aspect of fashion. Saving outfit ideas is also saved time. Don't sit paralyzed on your bed trying to figure out what to wear, but check your inspiration source and go for it!
2. Final touch
Not necessarily a final touch but a final look at your outfit. See if anything is missing, if anything is wrong. Question if the look feels right for who you are today. Is it comfortable? Can I move around in it properly? Will it keep me warm? Perhaps this is the minute where you are most stressed and just want to run off to whatever, but this is also where you can make or break the outfit for the day. This is actually the moment where I often add something by intuition and it turns out to be the highlight of the outfit. For instance, with only minutes left to the bus, I recently added my orange jacket to my emerald green pants instead of the regular black jacket. Now that's some last minute fashion refinement if you ask me!
3. Always Be Open To Inspiration
Whatever you do in life, don't be arrogant or narrow-minded. There is literally inspiration and ideas everywhere that can take your outfit and style to the next level, no need to ditch a new trend or someone's outfit just because it isn't your taste. Perhaps you can learn something from it? Perhaps you can be inspired by the choice of colors even though the silhouette is a mess? Staying inspired and open to receiving it, is also about finding inspiration where you least expect it. Your next door neighbour might be a fashion genius at something, or that movie really had some nice outfits. All I'm saying is that stay open-minded and your life will be more rich and filled with inspiration!
4. Rely On Opinions of Fashion Friends
I talked about the importance of this when trying something new, but I can't underline this enough. Get yourself a good couple of fashion opinions from friends that are brutally honest and share a similar sense of style/sense for fashion. They are the ones that'll be able to judge whether that weird top is a hit or a miss. Not your partner, family or friends who love compliments. Find some fashion soul mates and rely on their opinion when you ask for it (or perhaps when you don't too).
5. Comfort First
I know that the dress you ordered might be a size too small or that blouse is really chic as long as you don't lift the arms etc. But please, whatever you do, don't make yourself a fashion victim. Haven't people suffered enough due to fashion already, like corsets, and crinoline? Your ancestors would be mad to know that you choose to suffer just to look a little more chic. Like, enough already! With that said, don't put yourself through a day of painful heels only to look chic. Or don't wear that skirt that is so tight you can't move. Comfortable clothes and a comfortable life equals a happy mind!
6. Add One Statement
I don't even need to make a statement out of my love for statements, but here we go again. A genius fashion habit to have is to know how to elevate your outfit. Often that is adding one statement piece. That statement piece can be a necklace, a scarf, a bag or a blazer, but one piece in your outfit that ought to steal the attention and make everything look fierce. Read more in this post on how to go fashion fierce with your style!
7. Backup Plans
I'm not much for backup plans at all. It's kind of like saying to yourself that if you can't figure plan A out, you'll be saved by plan B. Nah, here we ain't backing for less than what we want! *slay*. However, when it comes to fashion. Having at least 3-5 outfits you can count on whenever is a must. Perhaps you spill coffee on your skirt or you can't button your jeans due to food baby (please join my club during the holidays). That's when your backup outfit will save you. Perhaps a chic LBD,  or something that will make you look fierce no matter what. I love jumpsuits, they are my lazy go-to choice when everything else is not working! Or backup outfits when you're having a bad outfit day?
Folks, what fashion habits do you have? Leave a comment as usual! Xx