I undoubtedly have a tendency to talk a lot about the styling part of fashion. But what's part of the styling process is also the ability of choosing the right outfit for the right day and situation. That's where these 6 questions to ask yourself before going out comes in handy!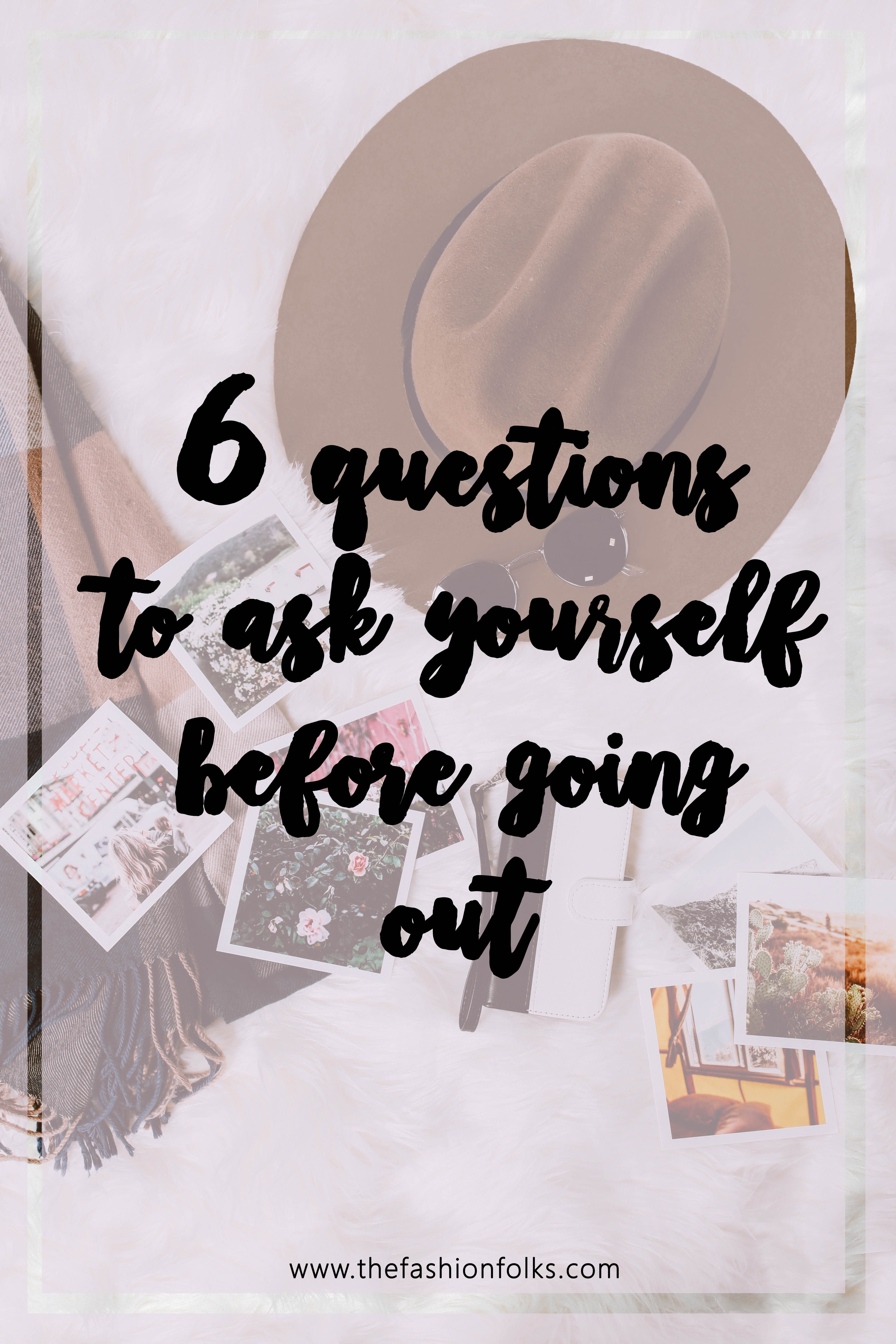 Photo by Clarisse Meyer on Unsplash
Questions To Ask Yourself
1. Can I wear this outfit all day?
Or for the specific attending/event/class/errand etc? It might seem like an obvious question but the answer is not as obvious. Will it start raining later? Will the shoes get uncomfortable by hour 2? Can I go through a whole day and not get too annoyed by the skirt that is always going up? That's the type of questions you need to answer and adjust your outfit accordingly. Your outfit (and makeup/hair) might feel and look the best the first hour but you're most likely supposed to wear it for a longer time.
2. Is this outfit according to dress code?
I'm all for breaking dress codes, but I'm also for being respectful. If there's a glam event and you're expected to wear something that suits the request, that's what you should do. If you're uncertain, do some research and see what's expected for the specific dress code. Then there are other occasions where the dress code is more of a silent normative expectation. Like societal pressure to dress like everyone else. That's where and when you can break the dress code. Why not all pink for work or a statement print? Fashion should speak loud and when needed, be respectful and accordingly.
3. Is this outfit comfortable?
Something that many people miss is to try the outfit in different ways. Can you sit in it? Can you lift your arms? Can you breathe? I've discussed the subject with some of you about off shoulder tops being uncomfy by always going up when lifting your arms. Perhaps they're not the best piece if you know you'll lift a lot that day. The statement sleeves are another piece that can be comfy but uncomfortable to "live in" with all the ruffles and the length being in the way. Just be aware of it and you can probably manage. Anyways, not being able to breathe properly or pick up something from the floor or sit is not an excuse. If you're going to wear the outfit the whole day, know what "fights" you want to take.
4. Can I walk in these shoes?
No, the majority of us don't think that heels are comfortable and to all you people pulling them off all day without complaining; well done. That's the walk of art or something. But, stay realistic and don't wear shoes that will hurt your feet or cause friction. Cute idea to wear heels on your trip in Italy but not that comfy when you've been out for 8 hours. Bring a pair of flats or ballerinas if you need to change or the other way around.
5. Does this outfit represent me today?
Perhaps a nerdy question to some, but ever so important to others. Go ahead and laugh at me, but I literally can't focus if I feel that the outfit is wrong. And yes, I'll change until I get the right feeling. Lol, talk about living fashion. However, the power of fashion is unarguably a force to be reckoned with. It comes down to associations of others as well as making the right impression. If you have a job interview, well, dress for that job. If you want to make a good impression, choose the outfit that makes you feel at your best. Represent yourself through the language of fashion, it's ridiculous and beautiful at the same time. Honestly.
6. Can I look even more stylish?
Yours truly don't believe in perfection nor a perfect outfit, but that improvement is everything. Always ask yourself if there's anything you can add or make better in your outfit. Perhaps it'll look even more chic with that burgundy fedora hat? Don't think what others might think of a look, life's too short for that sort of things. Add that statement necklace, add the crazy colored scarf or the bag with the fun texture. Be specific and get more stylish.
Folks! What questions do you ask yourself  before going out? Let's chat in the comments!