Folks! With spring arriving, there's nothing like having a good dose of outfit inspiration. Right? I thought I'd do myself, and all of us, a favor and write down 50 outfit ideas spring 2018. Quite the simple outfits if you ask me and kind of easy for you to recreate. Here's some outfit ideas spring 2018: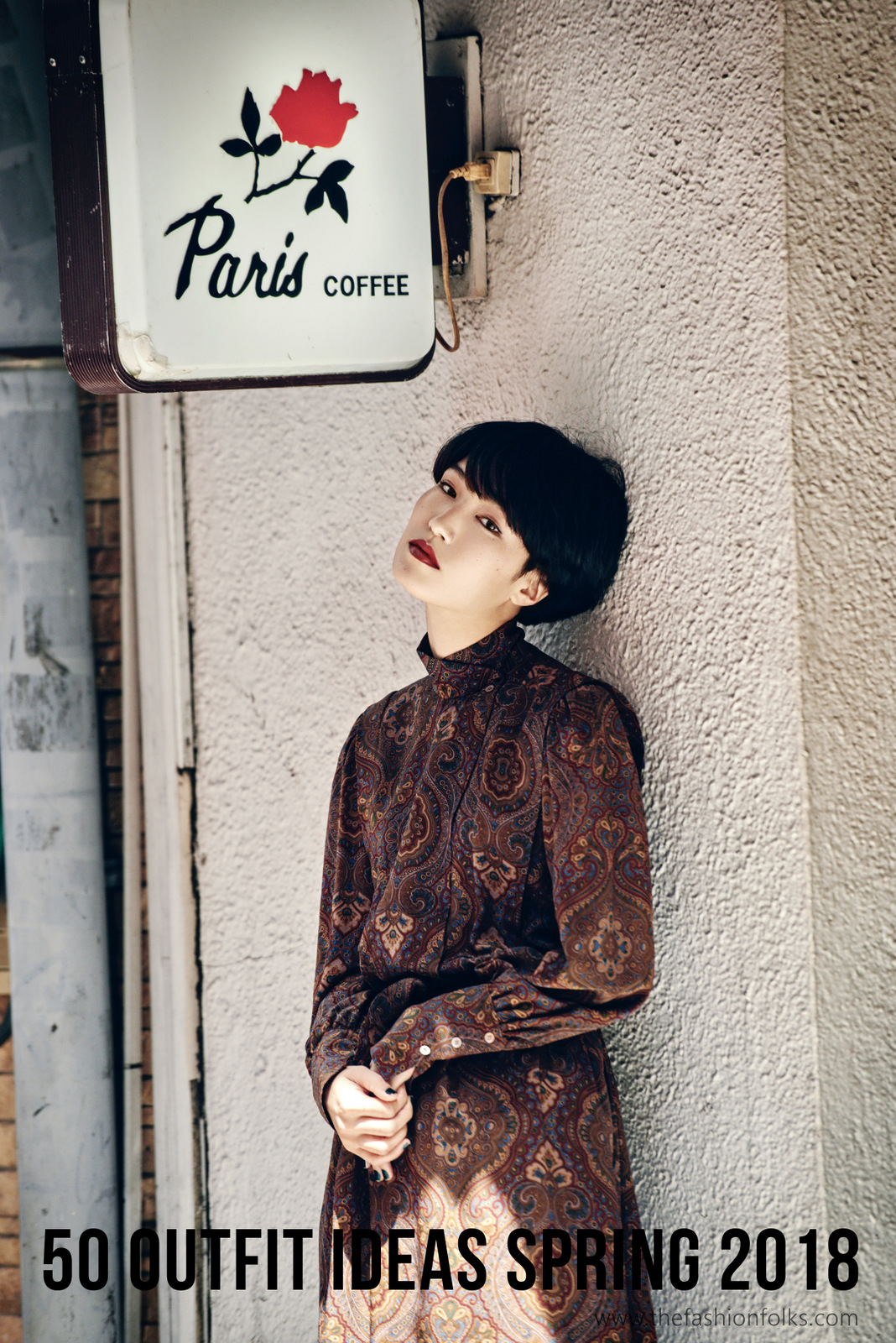 50 Outfit Ideas Spring 2018
1. Black and white stripes with red – Black and white stripes are a fashion basic and a must for spring! Pairing the pattern with red is a classic match that embraces a timeless Parisian vibe. Go for a pair of red lips and a top in black and white stripes. Or why not a pair of red pants with the stripes tucked in? It's a classic one for spring!
2. Dark floral dress and matching shade – The best way to work the dark florals this spring according to me is to reach for the dress! To light up the print a bit, match the colors in the print with your accessories. It will make the outfit more coherent!
3. Monochromatic White – Fresh might be an overused word for spring, but the worst (or best) part with clichées is that they are often true. A monochromatic white look is indeed a fresh outfit for spring, that's also simple to try. Go for your white sneakers, jeans and blouse and add a splash of color with your makeup or an accessory!
4. Pink and red – Is a beloved color combination and I couldn't agree more. The colors are best justified, according to me, when pink is the main color and red is chosen for the accessories. If you want to take baby steps about this one, go for a pink top with a red lipstick or red nails.
5. Polka dots with a leather jacket – The polka dots are quite trendy at the moment and undoubtedly have a strong retro vibe. I think this retro vibe should be embrace, so what's better than to match the dots with a leather jacket. Get that 50s vibe going? Take your polka dots top/dress and pair it with your leather jacket!
6. Klein blue with pastels – The Klein blue is an intense one but also a color that's nice to go with the pastels. It's something with the intensity and cold shade that balances ALL of the pastels. I also think it's a great match with neon colors. With that said, turn away from the neutrals you usually match with other colors and try the Klein blue instead!
7. Ultra violet with whatever – I'm getting more and more used to this color, which is the one color of 2018 according to Pantone. Daring to go for the color itself is a great start and after that, it's actually an okey one to mix and match with. I think denim is a great material, but also faux leather. I'd go for a bright white and create the 60s vibe or a nice lavender. Read this article for more ideas and inspiration.
8. Stars and metallics – Shine bright this spring with a star print. They've been increasing in popularity and are especially favorable when done in a transparent material. Enhance the space vibe by adding some metallics, either silver earrings, a nice clutch or a clothing piece in a metallic color.
9. Stripes and leo print – I've mentioned this print mix before, but I think it's one that should be embraced for spring too. As the prints are complete opposites they create a favorable balance of different styles. A leo scarf with a striped dress is a casual match.
10. A denim jacket – This wardrobe staple is a must for spring with its casual and informal style. Denim is a great match with knitwear, which is why the duo is a nice one for spring. Go for a more colorful sweater and keep it neutral with the denim jacket! I also think that the denim jacket is a nice match with the jeans, going monochromatic on that one!
11. Polka dots with a floral print – The polka dots are a neutral print for most part and is thereby a nice contrast with the floral print. The geometric style of the dots balances the natural and flowy style of the flowers. I think this one is fun to color match, letting the prints match each other in the same shades!
12. High boots with a midi dress – One of the most chic outfit combinations for fall is a go this spring too. Instead of going for a pair of tights, go for a pair of high boots to match your midi dress. The texture of the boots will balance the soft style of the midi dress. A floral midi dress with a pair of (faux) tanned suede boots sounds like a complete match in my ears!
13. Pantsuits – Catch this article for a full trend alert on this trendy set of clothes. Going for the pantsuits in the trendy way spring 2018 can either be about a nice pastel color or a chic print (floral or checks are trendy atm). Add the sneakers to keep it casual or go for the heels!
14. Two sets of stripes in one outfit – Now we're talking print mix in details, but a nice way of mixing prints is actually to mix the same kinds of prints with each other. The similarities of the stripes will blend whilst the different styles will clash. It all will make up for  an energetic, stylish and effortlessly chic outfit as you won't need accessories. Go for vertical stripes for the pants and horizontal stripes for the top and you're ready to go!
15. Match pastels with fall colors – I've talked about this style secret before, but shall bring it up again. Pastels are always a popular choice for spring and have their counterparts in the fall colors. For a monochromatic outfit you can for instance choose a pale mint green with a forest green! You'll get the all green vibe and the intensity, yet create something different from a regular black and white look.
16. Off shoulder top with denim – The off shoulder tops are still to rely on and I think the refined and romantic style of the shoulder tops are best styled with some edgy denim. Go for the top and tuck it in your high waisted jeans. It'll give you a trendy outfit with a balance in proportions!
17. Lavender with red – Catch this #Trendalert for a full recap on purple spring 2018. But the matter of fact is that purple is trending this spring and going for it with red is a trendy statement. It's not for the faint of fashion heart, but a combination that's fun to try. Go for lavender as the main color and contrast it with some pops of red as in a clutch, shoes or lipstick!
18. A blouse with (faux) leather – It can't possibly be a fashion secret any longer, as I talked about in this article, but contrasts and balance is everything in an outfit. One balance that's a match for spring is to go for your delicate blouse with some faux leather. Either if it's a leather jacket or leather pants, it will create a nice clash of different styles.
19. Culottes with a t-shirt – The culottes are the perfect spring item as they're not too cold or too hot. Though they have a flowy style they can have a more formal vibe, this makes them chic to match with a simple t-shirt. Let the tee be tucked in a bit loose and you have a nice and casual outfit to run errands in!
20. Blush and dusty rose – This color combination is one I brought up in this article and I think now is the perfect time to try it. It's one that's surely monochromatic, sweet and wearable for the spring season. Try to keep the colors together for the best effect. A blush top with a dusty rose cardigan could be one combo that can work!
21. Light blue shirt with navy blue – This combination is one of the office wear style and also a bit nautical. If you have a skirt/chinos/culottes in the navy blue color I think they're a must to match with your light blue shirt. Make a knot of the bottom part of the light blue shirt if you need it to look more informal. A tan color is a great, third, color for this outfit!
22. Lavender and dark purple – If you think red is a challenge to match with lavender, dark purple might be another difficult combination. It's one that's monochromatic though, which sort of neutralizes the whole outfit and makes it wearable. Go for the color you like the most and contrast it with the lighter or darker shade of purple.
23. Embellished pieces – One way to go for the more elegant style this spring is to choose the embellished pieces (or why not a DIY). Pearls were popular last year and I think they're a nice choice this year too. Add some velvet to your embellished piece to get that feeling of luxury going even stronger!
24. Orange and yellow – Was an immensely popular combination a few years ago. I think it's one that's kind of timeless though (like hello lemon and orange). This combination is rather warm and has a nice feeling of summer, which is why I also enjoy it for spring. If you want a third color to break it off with, a dark green will be your friend. Think of it as the leaves to the citrus fruits!
25. Leo scarf with camel – One of the most chic print and color combination that exists is to do the classic leo print with the camel color. As both of the items have a warm shade, and the leo print sometimes have a lot of camel in it which makes the two a great match! I'd go for a top in a camel color and a classic leo scarf. Or why not a pair of camel colored pants and leo boots? It's a match!
26. Red and more red – If you're not going to do the neutral colors monochromatic, the red color is a fierce on to try this way. Either if you're going for seperate pieces or a full maxi, the red will pop and it will be a nice statement for spring. I think red is actually one of the best shades to go for a full monochromatic look with, even going for the red lips. It's also more or less universally flattering, so your pretty safe to choose whatever you like. Don't forget to mix up the textures when you go monochromatic.
27. Floral print and stripes – Stripes for spring are a must and florals for spring are everything but groundbreaking, that's why the two prints in combination are a print mix that's a must. You can start light with a striped top and a floral skirt. Or why not striped pants and a floral top? Catch this guide on how to mix prints for the best help.
28. A lace top with an edgy material – There's something with spring and the delicacy of lace. Going for a lace top is a simple way of embracing spring and summer too. Don't forget to match with an edgy material such as denim, (faux) leather or (faux) suede!
29. Denim Shirt with denim jeans – This combo, aka Canadian tuxedo, doesn't have to be awkward but can be quite stylishly done. Just be sure that the other elements of the outfit are a bit neutralizing, perhaps a leather jacket or a nice coat. I think the denim shirt is cute to add a bow to!
30. Mint green with white – This combination is quite the retro one and yes FRESH, for spring. I think that the dove style of mint green gets an energy injection from the clinic white, which is an interesting balance to explore. I think mint green can favorably be the main color but adorably contrasted with some white.
31. High waisted jeans with anything – I mentioned these jeans in my article on wardrobe staples 2018 (part 3 will soon be up) and they are quite chic to go for spring. Either to tuck in anything or match your cropped tops with! A nice sweater is lovely to partly tuck in the front!
32. OTK boots with a knee-length dress – One trendy silhouette and combo to try this spring is the one consisting of OTK boots and a knee-length dress. The dress should preferably be in a A-line style which adds volume and life to the silhouette.
33. Statement sweater in focus – The best part about statement clothes is that they don't require as much styling as other pieces. A trendy statement item is the statement sweater, which I wrote about here. Get your style of the sweater and keep the rest of the outfit neutral and you have a nice outfit alternative for days when you're stressed!
34. Oversized blazer as a jacket – Instead of your regular denim jacket or leather jacket, reach for the oversized blazer instead. It's quite structured and associated with more formal occasions which is also why it's great to balance with a flowy dress or a lazy outfit!
35. Midi skirt with anything – I'm a great believer in the midi skirt and I do think they work with anything. The secret is to choose light/neutral shades, such as skin colored shoes or ones that are light as in sandals or ballerinas. After that you can go for whatever top you like and I'm almost certain it will be a hit. Tuck the top in to create a nice silhouette.
36. Transparent pieces – Are kind of like adding a jacket to an outfit, it works to just throw on. It's surely a crazy fashion piece, but if you have a maxi dress in a transparent material, perhaps tulle or mesh, try to throw it on as the last piece in your outfit. Perhaps you wear a slip dress under or a jeans and top combination. Just be sure that the colors works fairly well!
37. Check pattern mood – Not really a specific outfit idea but a style suggestion. The check pattern is incredibly popular and common as a blazer. Change your spring jacket to a check pattern blazer instead to go for a more structure and formal style. Read more about it here! 
38. Denim with a tan color – If you want to add a belt to your denim material, the tan colored one will be your friend. The two styles complement each other perfectly and do so in a neutral way. Go for the braided belt if you want to reach for the boho vibe!
39. A classic layered look – Spring fashion is also the ability to change your regular jacket with an extra layer of clothing instead. A classic combination is to go for a buttoned shirt and a sweater over. This outfit is kind of  preppy, but a nice way of contrasting colors. Choose either two similar ones or complete opposites (like a black and white combination) to get this look going!
40. A leather jacket with anything – With the spring fashion  mainly being centered to floral prints, cute pastels and light fabrics, a (faux) leather jacket is a must to contrast the outfit. A black one is the most classic one, but a nice tan color or even a white one will also do good!
41. Faux fur for colder days – The temperatures do go up and down during spring and while you're at it, why not make the most out of your faux fur jacket? It's kind of a chic statement for spring too. Add it for some volume, preferably when you're working jeans, to achieve a nice balance of contrasts!
42. A trench coat with leather  – I brought this classic duo up in this article and I do think it's a must for spring, honestly. There's something timeless with the beige trench coat that works so well with black leather. Patent leather in specific is a chic alternative!
43. Anything with a patchwork  – It might only be me but the 70s in general and patchwork in specific seems to be two upcoming trends. If you want to be early on this one, anything with a patchwork is a nice statement this spring. Definitely some boho vibe, but also a nice way of adding energy to an outfit with clashing prints!
44. Pops of neon – Spring fashion to me is about wearing bright and energizing colors. Adding energy and some color dynamic to your outfit with the neon colors is a way of embracing the spring fashion. If you're working a monochromatic white or grey, a neon shade is a must. It's also works well with the sporty fashion that's trendy this year.
45. Layered look with a vest – I love to layer with a vest as it keeps me warm but also gives the outfit a better dynamic. When it's warm enough, use your vest as a jacket! If you're working a nice shirt, the vest is chic to do as the final piece, but also if you're going for the delicate blouse!
46. Black and white stripes with red lips – I mean, it's an obvious one but I have to throw it in here. The classic french look is one that suits spring the best according to me. Terribly simple too with a striped top/dress and a pair of red lips. It's also a classic hence why it never goes out of style!
47. Colorful socks – The socks might not be an important part of the outfit, depending on who you ask. But if you have the opportunity, colorful socks are a nice way of energizing your outfit. Either if you dare to go for the perfectly ugly trend of socks in sandals, or if you let the top part of the socks be visible above your boots/sneakers – it's a combination that's worth trying.
48. A cropped sweater over midi/maxi dress – One way to create the vision of a larger wardrobe is to multiuse your clothing pieces. Adding a cropped sweater over your midi/maxi dress will give the illusion of a skirt. The duo also gives a nice silhouette with the highlighted waist! Go for the length in a nice print and let the crop top be neutral!
49. Paisley print – If you enjoy the earthy tones but wants to go for more energy in your outfit, choosing a paisley print is a simple way of doing this. The paisley print often comes in earthy tones, which makes it subtle, but the natural style of the print adds some energy. Match the print with other earthy tones to get a coherent look!
50. Baby yellow and denim – FINE, baby yellow might be one color that's most common to shy away from but I think it's time we change that. Sure enough is it awkward and not that flattering for everyone, but if you are comfortable with the color or would like to try it, the denim shades will be at your service. Especially the lighter shades of denim is a neutralizing match with baby yellow!
Folks! Hope you enjoyed this article on the outfit ideas spring 2018 and you got a good dose of inspiration. Have a lovely weekend! Xx