From talking about trends in this article, to talking about wardrobe staples today; this article is all about the stripes summer 2019! Why stripes? Well, they're one of the most classic patterns there is. They're also wearable, universally beloved and easy to style. The timelessness in the stripes also makes them fun to pair with more contemporary elements, as well as keeping them classic with other wardrobe staples. Here are five ways you can wear stripes summer 2019: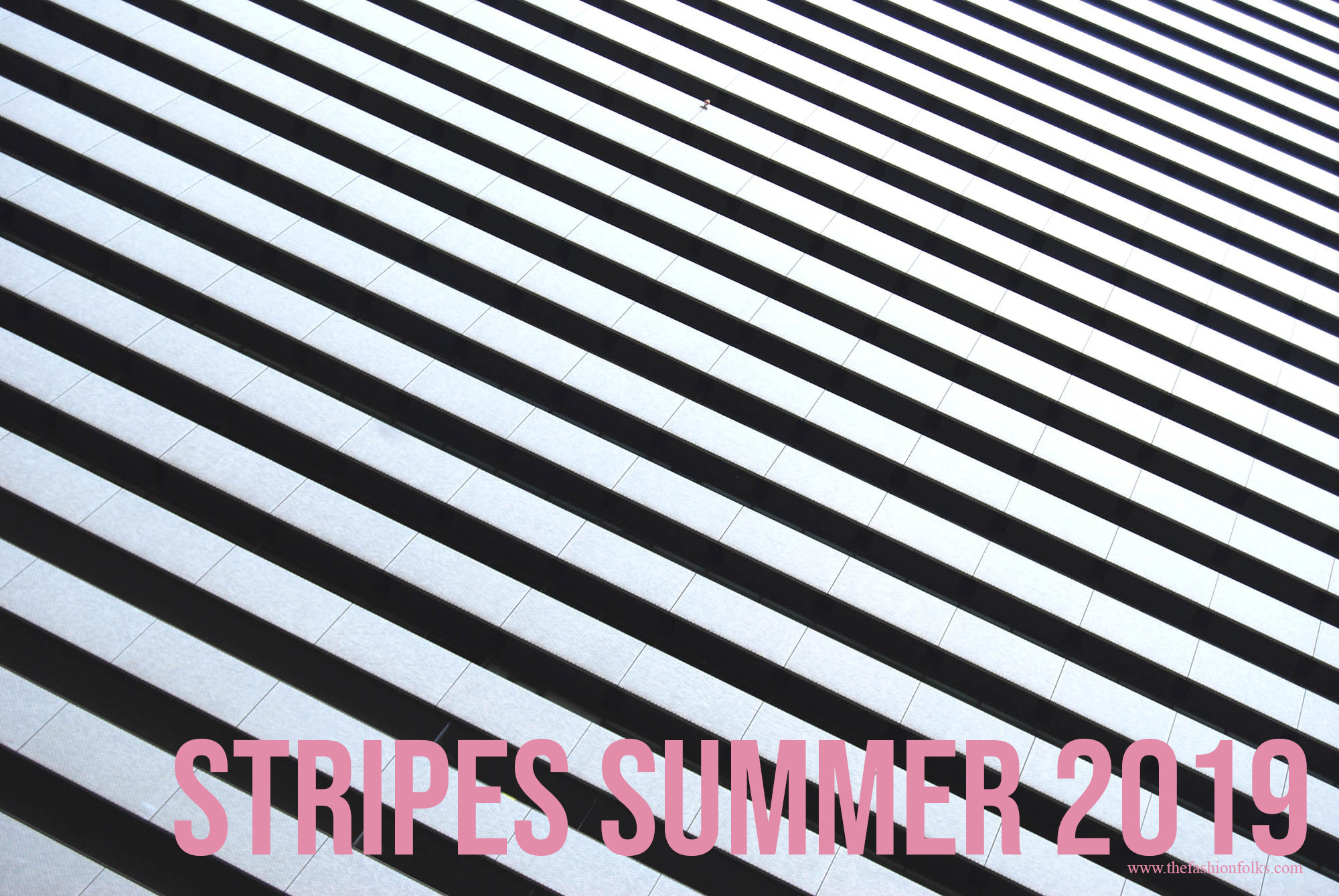 Stripes Summer 2019
With Geometric Patterns
So the stripes are perhaps the most basic geometric pattern there is. That's why they're a great match with other geometric patterns. The simple style of the stripes doesn't interfere with statement patterns, but, if anything, enhances the look through the distinct lines. Making your stripes more interesting summer 2019 can be done by pairing the stripes with gingham, plaid, polka dots or a scales pattern. Do the different patterns in the same color to make the look more wearable or go for the bold fashion life by contrasting the colors and the patterns!
With Pleated Pieces
I love the preppy and refined feeling that pleated clothing pieces, often skirts, adds to any outfit. Whilst the stripes are more casual, the pleated pieces adds a nice structure to the stripes, balancing an outfit stylishly. That's why the two elements are fun to match as they balance each other well. A simple way of starting, is to wear a striped top with a pleated skirt. Tuck in the top slightly to give the look a more casual twist. You can also add a blazer if you want to layer the outfit a bit. Choose sneakers if you want to go for casual chic or a pair of ballerinas or pumps if you want to be more business chic.
With Transparent Materials
Plastic can be fantastic when it comes to fashion, at least from an aesthetic point of view. The plastic material can however be a bit of a statement, which is why the stripes can be a nice way of balancing the material. I like the idea of doing a striped dress with a plastic bag and a nice pair of flats for summer. Add some statement sunnies and red lips to go with the dress and you have a wearable, but fun, outfit with the twist of the plastic. For rainy days, it's really practical with plastic clothing pieces so investing in a raincoat in the material can be fun and functional! If you don't have any plastic, patent leather sort of has the same style effect, as well as function, so it's also worthy of investment! A striped tee tucked in a pair of patent leather pants can't be anything but chic!
With Pastels
We all love the pastels – they're fluffy, they're sweet and they're easy to pull off. One timeless way of working the pastels this year is to do them with stripes. I'm thinking mint green skirts with striped tops, or perhaps a baby blue denim jacket with a striped t-shirt? A pink blouse with some vertical striped pants? Totally here for it! However you match your pastels and your stripes, the match will undoubtedly be a good one. I think pastels are great as they're not that intense and pretty smooth to work with. They also go well with each other, making them easy to mix and match with one another as well.
With Animal Prints
Another timeless, but also modern, way of doing the stripes summer 2019 is to pair them with some animal prints. I talked about them in this post, I've talked about them in the trend alert series, but they can definitely be mentioned here again. Doing stripes with your leopard print is two classic prints in one! A striped dress with some leopard sandals can definitely be a go-to look this summer. The cow print, zebra and also the snake print are other animal prints that are good to work this season, but also quite timeless. Without getting too specific; pick anything with stripes from your wardrobe and anything with an animal print and I assure you that you'll be good to go!
Folks! How are you wearing the stripes summer 2019? Let's chat in the comments! Xx