Folks! Let's continue the series of how to style the basics by talking about shoes today. The sneakers are extra trendy this summer, which is why we should get all nerdy and specific with how you can style them. Here's 5 ways to wear your sneakers: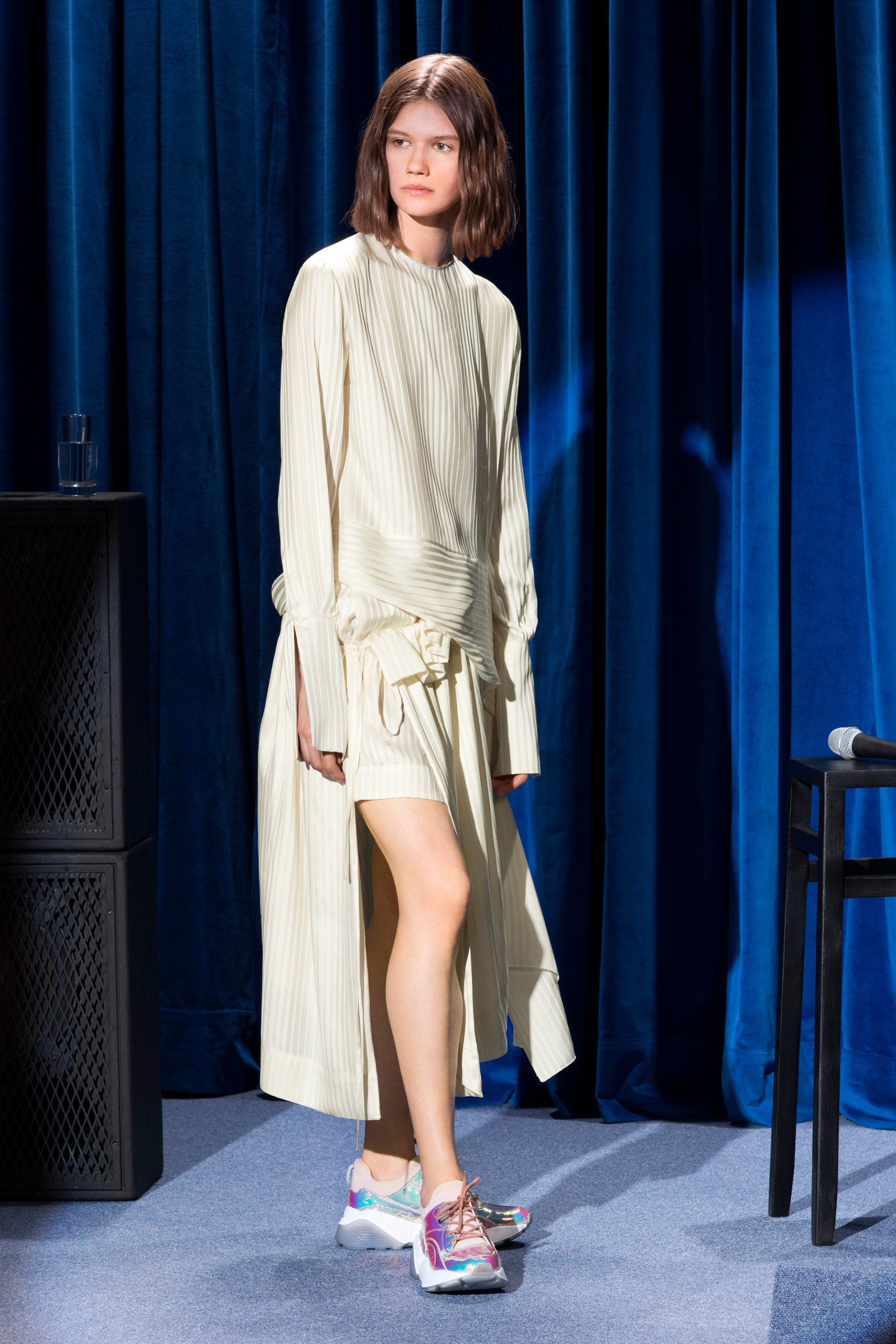 Courtsey of Stella McCartney | Resort 2018
Ways To Wear Your Sneakers
Preppy Socks
One thing to keep in mind regarding the sneakers is that they are rather casual and edgy. To make the most out of it, it's stylish to balance the shoes with preppier clothing pieces – such as a cute pair of socks. Socks in lace, a cute print, with ruffles, or a chic color are fun to match with your sneakers. Visible socks are also a statement itself and a trendy touch. So next time you work your sneakers, add the preppy socks!
Statement Leather
A simple way to make leather more wearable is pairing it with sneakers as the shoes neutralizes the leather. Go for a pair of pants in leather, or a skirt, and notice the clash of the statement material and the sneakers. A white t-shirt, a black leather skirt and a pair of fun sneakers must be one of the best outfits this summer!
Lovely Dresses
Another way you can make the sneakers clash is if you pair it with a dress. Preferably one that's trendy as it adds energy with the floral prints, the colors and the ruffles. The more formal look of the dress is a fun balance with the casual sneakers as it creates an eclectic look. Also a comfortable match if you're out traveling and you need shoes you can rely on for the day. Catch more travel tips in this post.
Energetic Colors
Sneakers are the very core of the street style fashion but also sports fashion is you ask me. You can highlight this style by adding the energetic colors. I'm talking the fun neon colors but also the primary colors that are typical of the 1980s fashion. By adding some popping shades you'll embody the style of the sneakers, which will create a more coherent look. Also, sneakers are often rather neutral which makes them a favorable choice of shoes when trying the energetic shades.
Midi Lengths
Finally! The sneakers are a favorable match with the midi lengths. I know that I usually talk about wearing simple shoes with the midi lengths, such as a nude color or something the elongates your legs. But, it's also fun to make it look awkward with the sneakers. There's an unfavorable, yet stylish, clash, that's interesting to explore. So don't be afraid to try this the next time!
Folks! How do you wear your sneakers this summer? Let me know in the comments! Xx