Folks! Let's get this series of the basics going by talking about ways your can wear your denim shirt summer 2018. It's undoubtedly a wardrobe staple and I talked more about the piece here!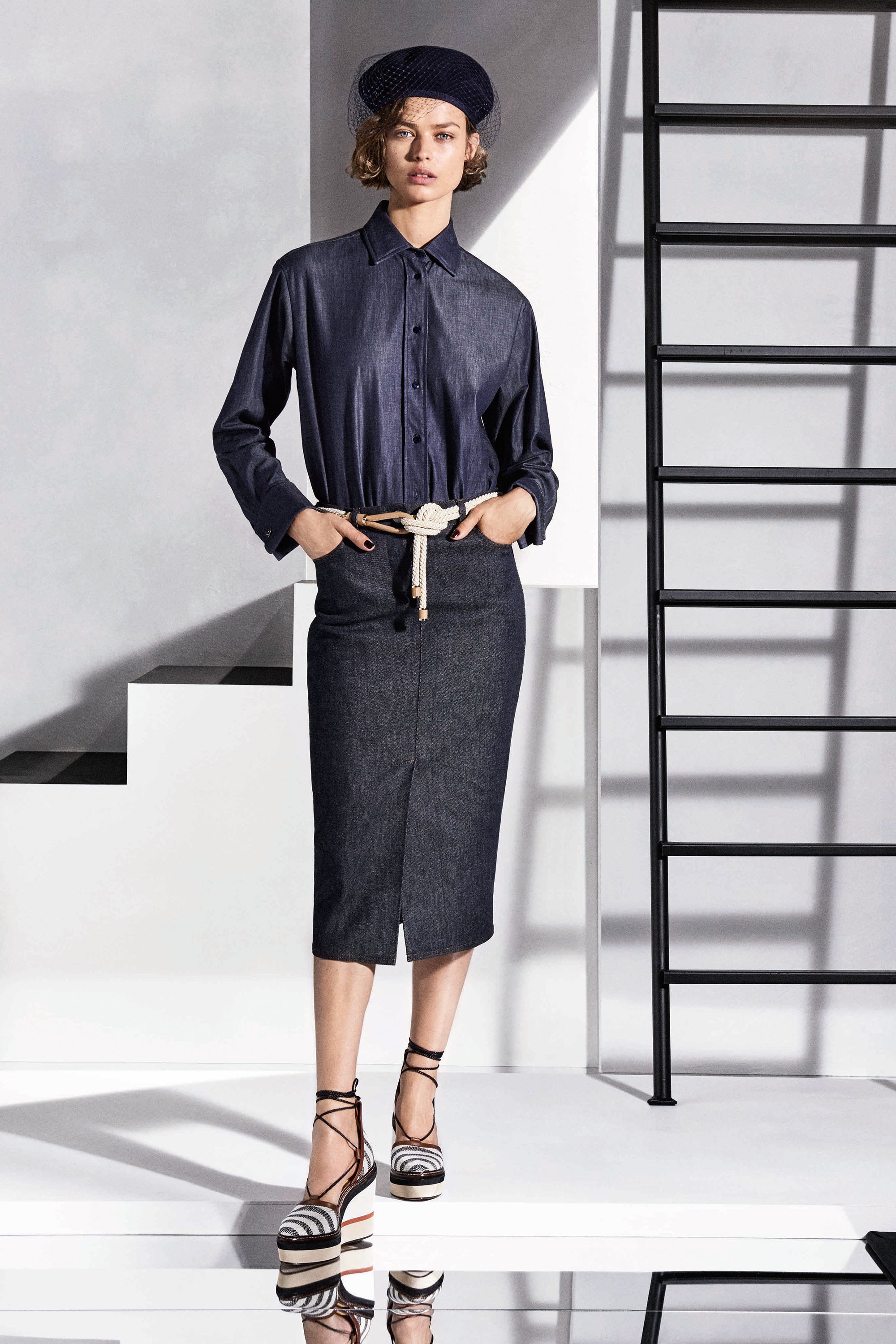 Courtsey of Max Mara | Resort 2018
Denim Shirt Summer 2018
With a Skirt
I don't know why but I've always had this idea that a denim shirt is one of the best pieces to match with a skirt, especially if it's on the shorter side or an A-style in the knee-length. The skirt can favorably be in a cute floral print, or with some sort of statement – perhaps in ruffles, with embroidery or another print. If it's high-waisted it's chic to tuck in, if not, just leave it as usual. Just remember that the denim shirt is more edgy and casual with the denim material, so style that accordingly!
Layered Over Your Jumpsuit
A jumpsuit is a must for the summer months and if the weather is on the colder side, a chic denim shirt will keep you warm and fashionable. Button your denim shirt from the collar and down to the beginning of your waist. Take the two ends and make a knot and you have yourself a crop top over the jumpsuit! It creates a chic silhouette, gives you alternatives on a colder day and contrasts the materials. Go for a jumpsuit in a fun print or neutral depending on your mood!
With More Denim
Can I possibly write about denim without mentioning more denim? Never! A stylish way you can go for the denim on denim look is to choose pants/shorts/skirts/dress in a denim material. I think a darker denim shirt with a lighter denim dress over is a chic way to layer the style and yet keep it interesting with the different denim materials! Same of course goes when you choose a skirt or shorts etc! Break it off with some tan or some popping shades.
As a Jacket
If you don't have many lighter jackets that are suitable for colder summer days, a denim shirt is a great alternative. Keep the shirt unbuttoned and you have a final layer that will keep you a bit warmer but also frame your outfit favorably. Denim is neutral with the material but also in its classic blue shades, this means that you don't have to think about what to match it with too detailed as the majority of the looks will probably do!
With Neon
I usually tell people that denim is unquestionably one of the best colors/materials to pair with neon colors. The neutrality, yet the edge of the material, will highlight the neon shades and keep them in the spotlight. Comparably, black can be too harsh and white too, whilst denim blue (and grey), is soft with a balance. I personally love denim with both hot pink and lime green, but it goes well with neon yellow and orange too. Even more fun if you want to keep the look monochromatic and go for a Klein blue!
Folks! How will you wear your denim shirt summer 2018? Let me know in the comments! Xx