Continuing the series on how to style the basics, the black t-shirt is one to not forget! Almost as iconic and timeless as the white t-shirt, the black t-shirt is definitely a wardrobe staple and one to rely on when you're in a fashion rut. Here are 5 way to wear a black t-shirt: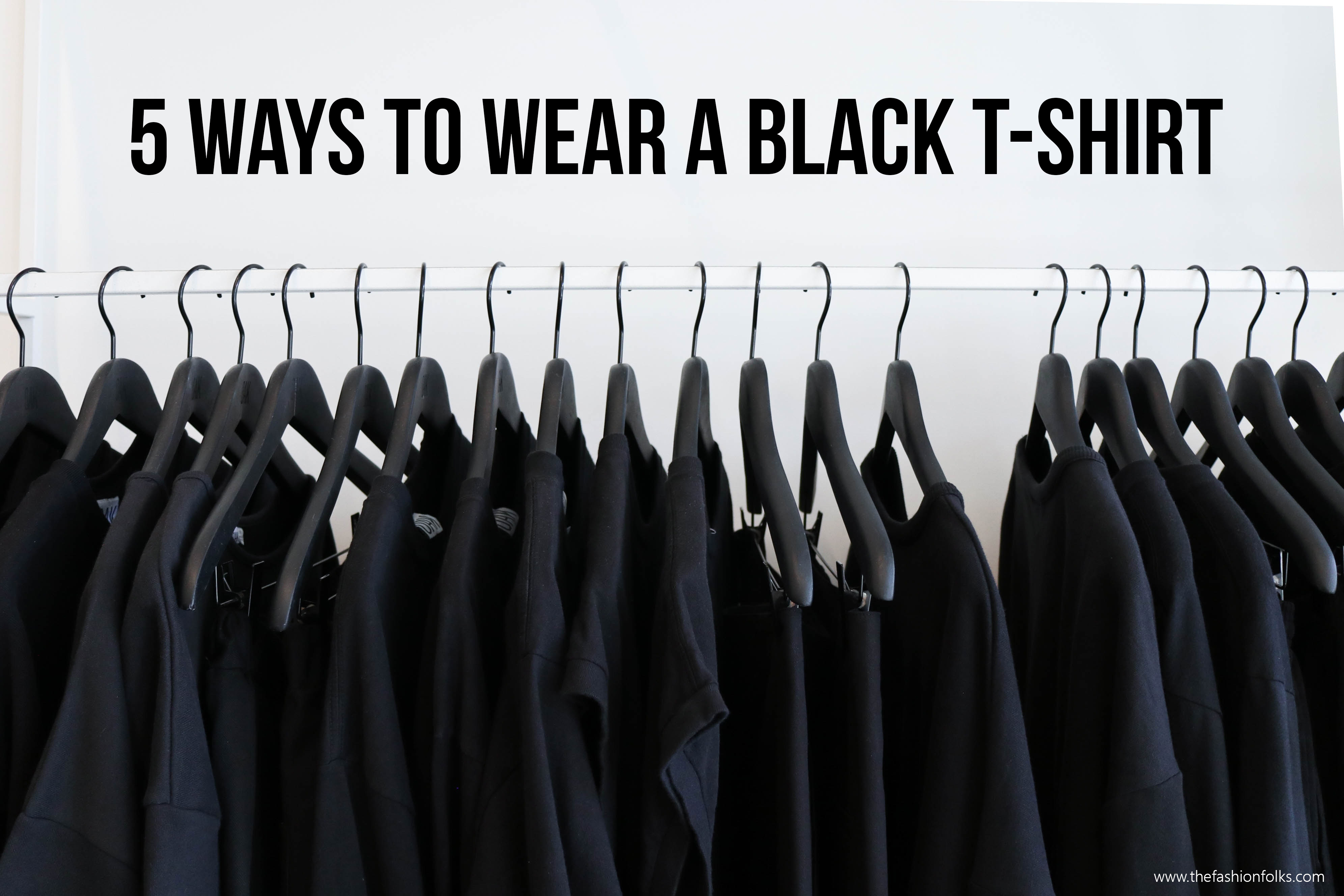 Photo by The Creative Exchange on Unsplash
Black T-shirt: Outfit Ideas
Black T-shirt + Black blazer
A simple way to  make your black blazer look more casual is to pair it with a black t-shirt. The loose style of the t-shirt, will balance the structured style of the blazer. Keeping it monochromatic will make the combo appear more neutral and also tone down the formal look of the blazer. This look with a pair of cigarette pants and some sneakers is probably the very idea of casual chic!
Black T-shirt + Dress
Layering your dress with a black t-shirt under is another chic combination, especially if you do it with a slip dress! The neutrality of black will keep the look more low key and also make it easier to find a dress to pair with it. I think it's fun to reach for a print or a fall color such as copper, forest green or mustard yellow. It's also classic to go for a white dress and a black t-shirt under!
Black T-shirt + Statement necklace
One way to make your t-shirt more chic is to add a statement necklace. This styling hack is favorable to do if your outfit is lacking that it-factor. Go for a statement necklace to make the look more formal or add a scarf if you don't own any statement necklaces. The idea though is to add a statement that will give the outfit that pop. I mean, a monochromatic black outfit with an oversized statement necklace is preeeetty cool.
Black T-shirt + B&W print
If you own any pants or skirts that are in a B&W print, you must try and pair with your t-shirt. Picking a color from the print for your top will make the outfit look more coherent and also wearable if you're unsure. A classic pair of black and white stripes with a black t-shirt is undoubtedly a classic.  A black t-shirt is btw a pretty obvious clothing piece to choose for other prints too!
Black T-shirt + Overall
Lastly, styling your overall with a black t-shirt is a must for the street style look. This is especially so if you're working a denim overall as black and denim is as edgy as it gets. I do think classic blue denim works well with black but it's also something very chic with a white overall and a black t-shirt. Nevertheless, a timeless way of embodying the 90s street style vibe indeed!
Folks! How do you wear your black t-shirt? Let me know in the comments! Xx