Let's wrap this week up by another "5 Ways To Wear"-article! I feel like I haven't talked enough about Gingham, so here's some styling ideas with the classic pattern: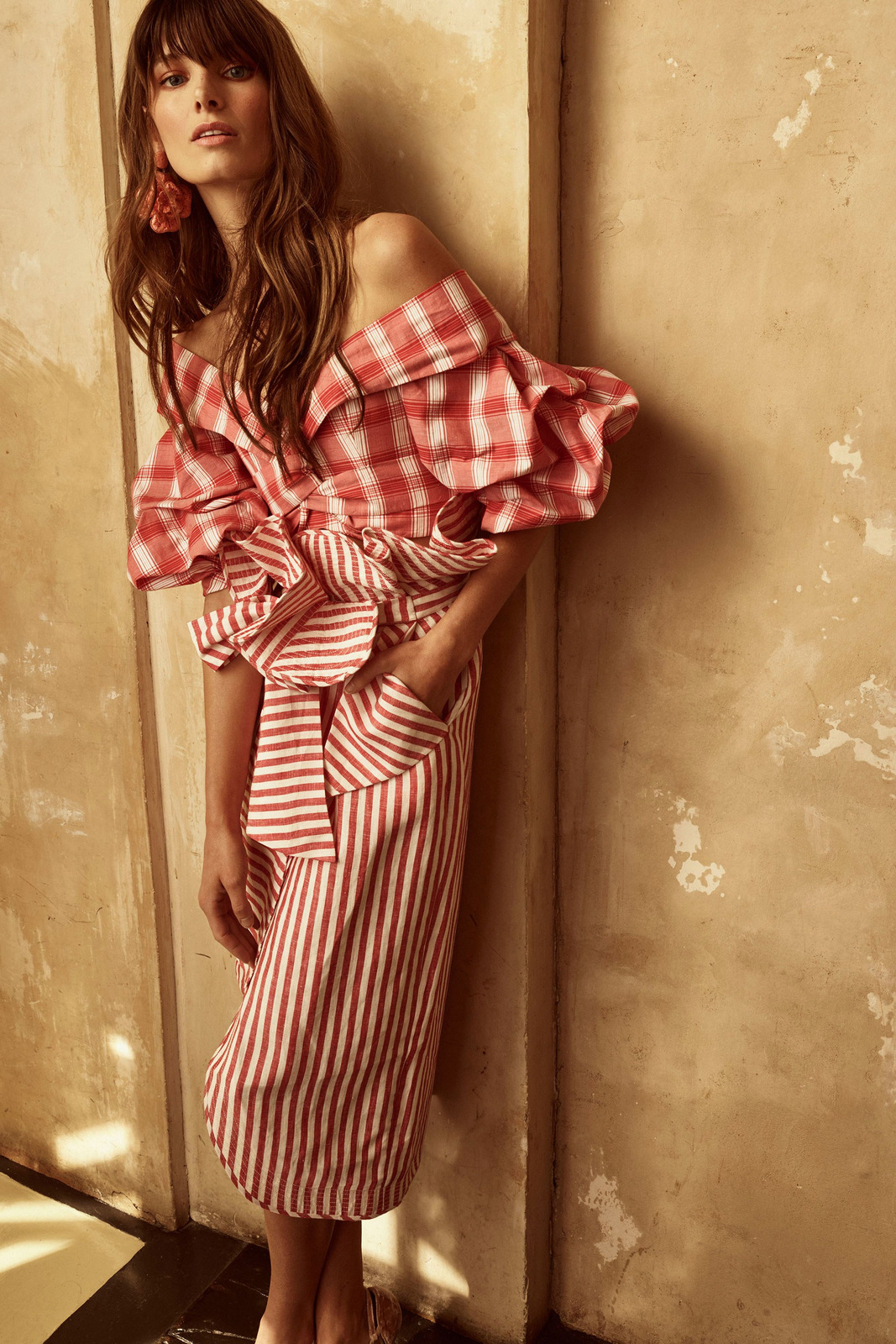 Courtsey of Johanna Ortiz | Resort 2018
Wear Gingham Summer 2018
With Patent Leather
I'm all about contrasts in fashion (duh, as if you didn't know this already), and the gingham pattern is one that's stylish to create a look of contrasts with. One of the best materials I know to pair with gingham is patent leather, as the two are completely opposing one another. The raw, uncompromisable style of the patent leather completes the sophisticated and approachable style of gingham. A gingham blouse with a patent leather skirt for summer of 2018 is a trendy hit!
In Different Colors
The most common shades of gingham is the combinations of black/white and also red/white. To mix things up a bit though, don't be afraid to try other colors that are done in the Gingham style. It's a great way of elongating the trend cycle of the pattern, but also challenge yourself to be more comfortable with uncommon color combos. Yellow/orange, pink/white, green/blue are all stylish, and wearable, alternatives!
With Florals
With the structured style of the pattern, gingham is a kind one to mix with prints that are more vegetative, like florals for instance. The free and vivid spirit of the floral patterns suits the geometrical and boxed look of the gingham. Don't be afraid to clash the colors, it will be a fun and unexpected mix of two completely different styles. You can also make sure that the two patterns have at least one color in common if you'd like to go for a more cohesive outfit!
In the Same Style
Gosh, I know, back at it again with the monochromatic look – but it's too good to ignore for the gingham look. As the pattern is fairly neutral, it works to choose it for a top and also pants/skirts. Fun to go for the same color in both parts, but also chic to mix different colors. As your outfit will have the pattern in common, I assure you that the outfit will be tied together nicely. If you have a major crush on the pattern, I know this one's for you!
With Straw Accessories
The same way linen is a sweet material to match with the straw accessories, the same way is gingham a nice pattern to match with the straws'. Both combinations embodies that vintage style with an obvious connection to the fashion of our ancestors. As gingham has been seen, and done, in a trendy context for some seasons know, you can balance it with some straw accessories to make it look more classic again. Also, straw accessories are closely associated with summer, which makes the two a nice summer look of 2018!
Folks! What are your ways to wear Gingham summer 2018? Let men know in the comments below! Xx