I don't know if I should call this a start of a new series as this will be the second article where I pin down some ideas on how to style the basics? Last month I talked about ten ways of working the stripes and this week I thought I'd give some random, simple and stylish tips on how to wear a white t-shirt. I know, how basic as it gets, but stay with me on this one! I did mention this clothing piece in my article on the wardrobe staples so I think we're ready for some in-depth inspo, right?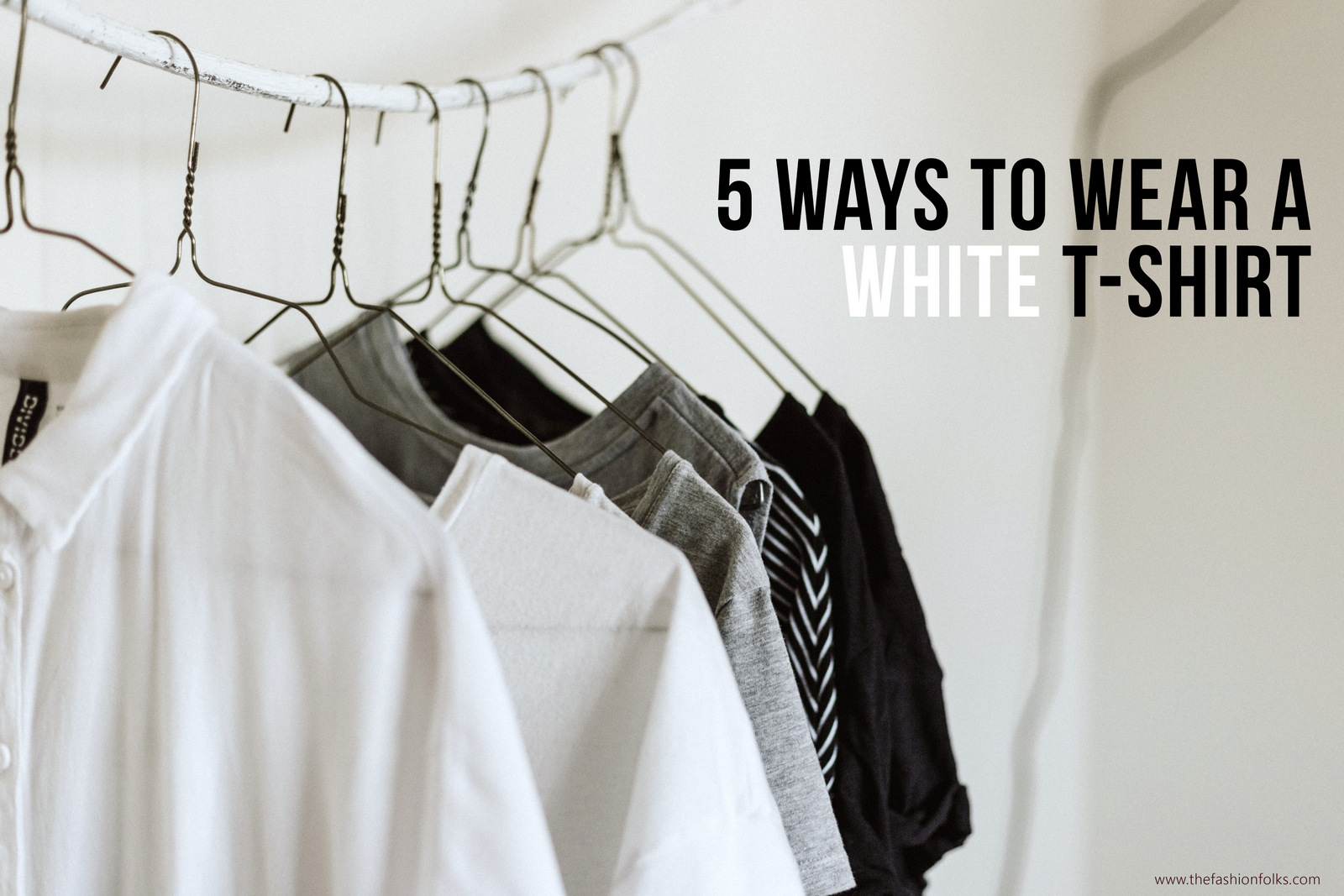 Photo by Priscilla Du Preez on Unsplash
White T-Shirt: Outfit Ideas
White T-shirt + Classic Denim
I don't know if it gets more timeless than this combination, but it's obviously so for a reason. There's something with the combination of the denim and the softness of a white t-shirt. It's so basic that you can choose whatever jeans you prefer and match it with yor white tee. I like it when the t-shirt is partly tucked in as it creates a more casual vibe. Don't forget to add a splash of color to this outfit, perhaps red, or some print! As you'll have a neutral outfit, you're kind of free to choose whatever colors or prints you enjoy.
White T-shirt + Red Lips
A favorite of mine is this contrast. The red lips adds elegance and refinement whilst the white t-shirt contrasts with casualness. This combination is so chic to do with the classic denim too, but also do with black or black and white stripes. The trio of white, black and red is probably the most classic one in fashion and reliable for whenever you need something simple yet stylish!
White T-shirt + Black Blazer
Perhaps the combination of the white t-shirt and a black blazer is the definition of casual chic. You have the casual white t-shirt and the black blazer that adds some structure and definition. Perfect to go for when you need to look proper but not too preppy!
White T-shirt + Cigarette Pants
One of the best wardrobe staples there is are the cigarette pants. They're simple to style, adds a chicness without effort and works for almost every other situation. Though the cigarette pants can come off as quite formal sometimes, it's favorable to create a symmetry in the outfit with a simple white t-shirt. Tuck it in loosely and you have a good outfit to go with a balance of different styles. This combo is also chic for adding a blazer or why not a (faux) leather jacket?
White T-shirt + High-Waisted Skirt
A simple way to create a nice silhouette is to go for the high-waisted style.  By doing so you accentuate the waist which creates a more structured look. I think the white t-shirt might be the most neutral clothing piece to pair with the high-waisted skirt as it adds a nice flow without stealing the attention. You can either go for a knee-length or even more trendy with the midi style. Just remember to tuck the t-shirt in loosely! Preferably go for a skirt in a chic print or in a nice color. You can also choose a t-shirt in a statement material!
Folks! How do you wear white t-shirts? Let's chat in the comments and have a lovely weekend ahead! Xx