Folks! I've been talking a lot about the trends of 2021, but what about the wardrobe staples? Cause when it comes down to it, it's the wardrobe staples that are the backbone of our style. The wardrobe staples are reliable clothes you can turn to whenever you want and style them however you like. They're wearable, easy to style and often quite timeless. Here are the wardrobe staples 2021!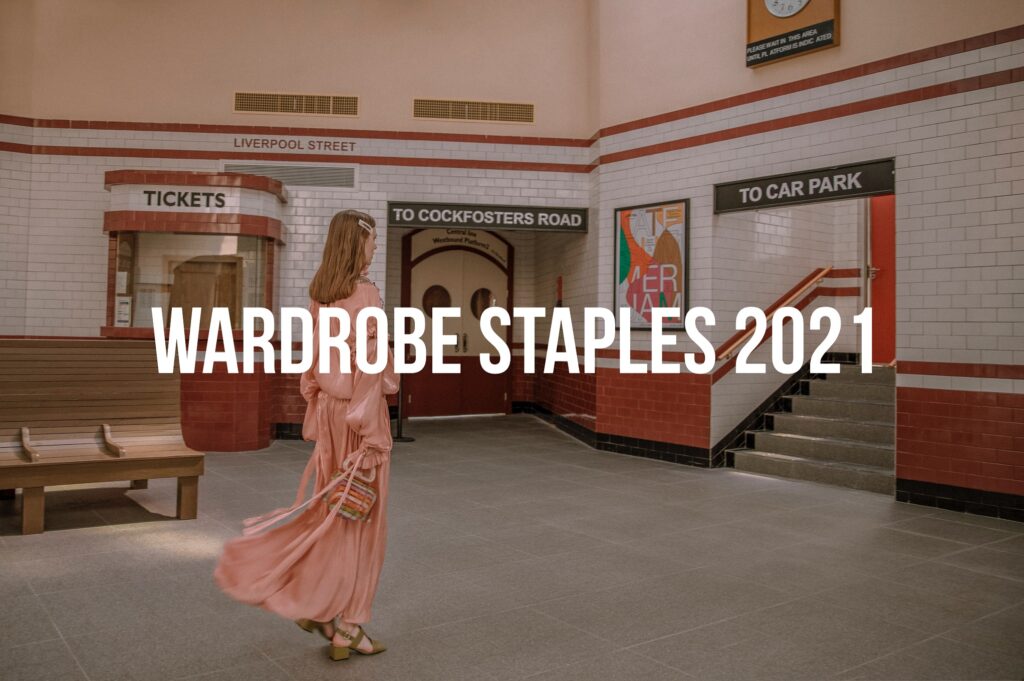 Wardrobe Staples 2021
Silk Skirt
The silk skirt is a must for 2021! It's been a trendy wardrobe staple for a few seasons now, and it's not going anywhere anytime soon. The silk skirt is quite easy to style, as its often quite minimalist and 90s in its style. You can easily work it with a simple t-shirt or dress it up with a blazer and a fitted top. For winter, you can layer it up with a pair of high boots and a sweater. Learn more about the silk skirt here. 
Knitted Dress
The knitted dress is definitely having its moment too! The dress is often done more fitted and done knee-length or longer. So far the knitted dress is common in basic colors such as black, white, grey and beige, but I'm sure more statement colors will be done soon too. The knitted dress can be worn with a pair of dad sneakers for a casual look or a pair of heeled boots for a more glam one. It's also a good idea to maximize the knitted style and pair the dress with faux fur coats, anything denim and faux leather. It will give the outfit a more dynamic touch. Read more about the knitted dresses here! 
Colorful Beanie
I've been mentioning the colorful beanies a lot lately, but it's winter, so it's quite justified. Anyway, the colorful beanies are  all about that chunky, knitted, style. They're common in pastels mainly, although some neon styles are trendy too. What's great about the colorful beanie is obviously that they're keeping your head warm, but also that they give your outfit that colorful pop. I've already discussed countless ways you can style the colorful beanie, so check out this article as well as this one! 
Pyjama Set
The pyjama sets are staying trendy this season too. They're commonly done in more silky materials, and often in pastels or a fun pattern. The pyjama set is, as you might've guessed, not something for bedtime only but a set you can wear in your daily life too. You can make it more wearable by adding a pair of sneakers, maybe layer it up with a sweater or just choose to use the top/or the pants. I think the pyjama sets are quite the cozy trend, and with the pandemic still being an ongoing thing, it's definitely here to stay. So if you're in need of a comfy and cozy set to work at home AND outdoors, the pyjama set is a fun and bold idea. Read the trend alert about them here. 
Go-To Blazer
Most of us already own a blazer and well, this is your time to use it even more! A go-to blazer is a wearable blazer that works with anything. You can layer it over your flowy midi dress, make it casual with a pair of jeans or go playful with a crop top. The blazer is always a must in a wardrobe if you ask me, so this is definitely your chance to invest in a good one. Do remember that the oversized style that is trendy right now might not be stylish in 5-10 years, so make sure to invest in a timeless one that suits your style. Get some more ideas on how to style your blazer here! Xx
Folks! What are your thoughts on the essential wardrobe staples 2021? Let me know in the comments below! Xx