Folks! There are some really cool trendy details atm that are a perfect match with the holiday season. The best part about trending details is that you can take them and make them your own by adding your own style preferences. Here's 5 trendy details to work this holiday: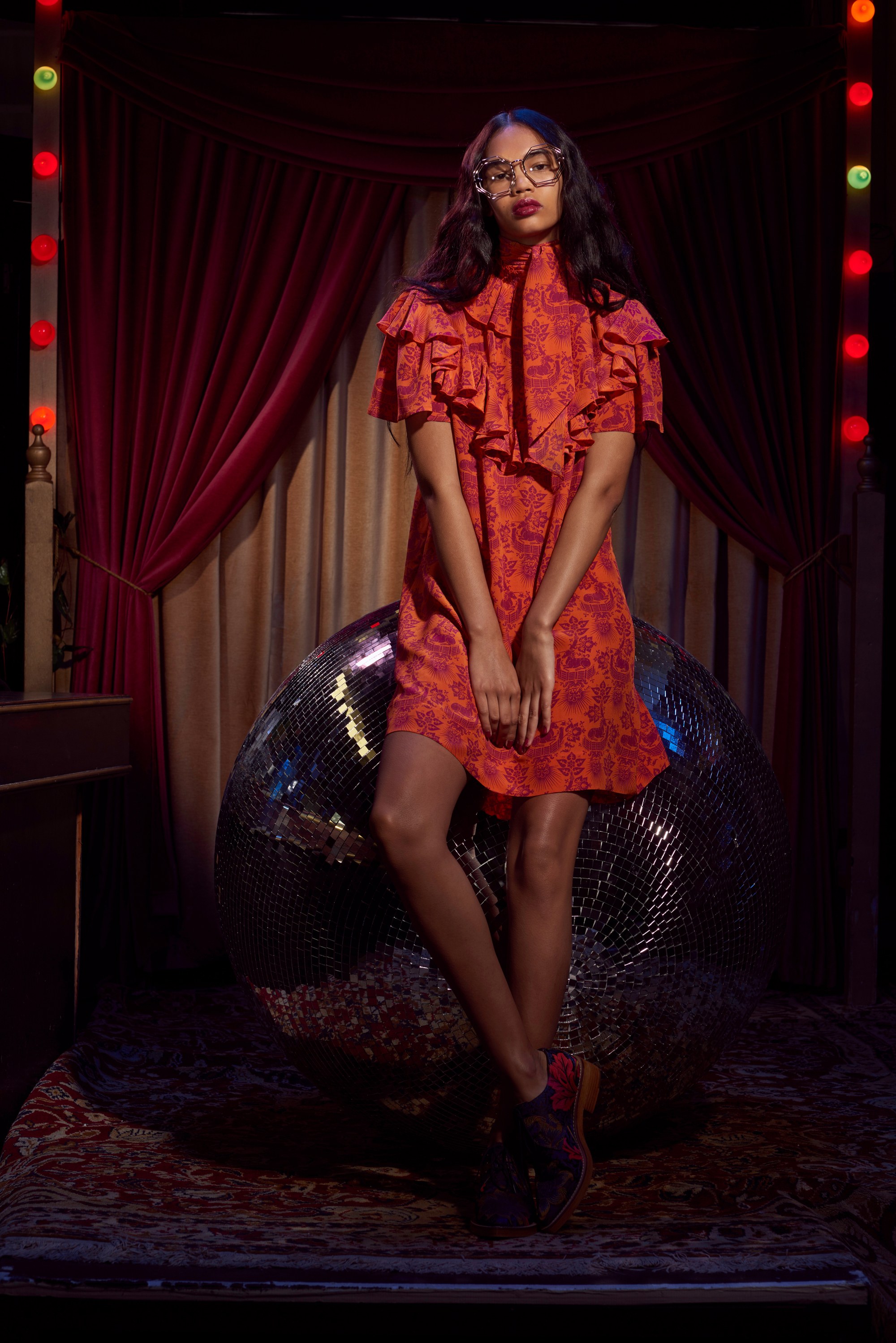 Courtsey of Karen Walker | Pre-Fall 2017
1. Pants in stripes with red
The pants in stripes, often including red, are a statement to count on this December. Often matched with a blouse, a belt or a teddy coat this trend surely pops. As it is stripes, it's great to mix and match with other prints as dots, florals or why not a cute Christmas sweater? Make the outfit match by choosing the top in a color that's reflected in the stripes. Easy peasy folks!
2. Dark Floral Prints
Continuing the mood from fall,  the dark florals still captures my heart. There's a sort of a fairytale vibe to a dark floral print which I think makes it ultimate for the holidays. Choose one you enjoy and go for it in a clothing piece your prefer. A dress, a jumpsuit or perhaps a skirt? Choose something that helps getting you into a festive mood!
3. Ruffles
The ruffles are like that friend you always can count on. Bringing whatever your outfit needs, when you need it. The best part about the ruffles are that they're applicable to so many different clothing pieces. A sweater, dress, blouse or pants and skirts. With that said, I'm sure you have a clothing piece that comes with some ruffles. Ruffles are good for the festive season as they add a voluminous statement which is always a glam touch.
4. Statement Sleeves
The sleeves of statement are also fierce and fashionable to go for these days. Perfect to add a dramatic touch to any outfit by going for a chic blouse, sweater, blazer or dress with statement sleeves. Alike the ruffles, the sleeves are a bit dramatic in one sense which is festive, ofc. Even better if your statement sleeves comes with stylish bows or slits. Details as we like them!
5. Edwardian Blouse
A trend that's often popping up around the festive season are the statement blouses. Often quite Edwardian with puffy sleeves, delicate details and a high neck. The best thing with the blouses are that they don't need that much styling as they bring quite a lot to any outfit. Pair them with a simple skirt or why not a chic pair of patent leather?

Folks! How do you go for the trendy details  this holiday season? Let me know in the comments! Xx