If there's only one season you should pay attention to the details, summer is quite the good choice as the details are easy and versatile. It's not always the best idea to layer up with more clothes and accessories during summer with an active life or hot summer's day. Going for a simple dress with a pair of earrings is easy, but stylish enough to work for a fashionable summer life.  You can favorably choose more trendy details to make your look more contemporary, but also discover new styles. Here are five trendy details summer 2019: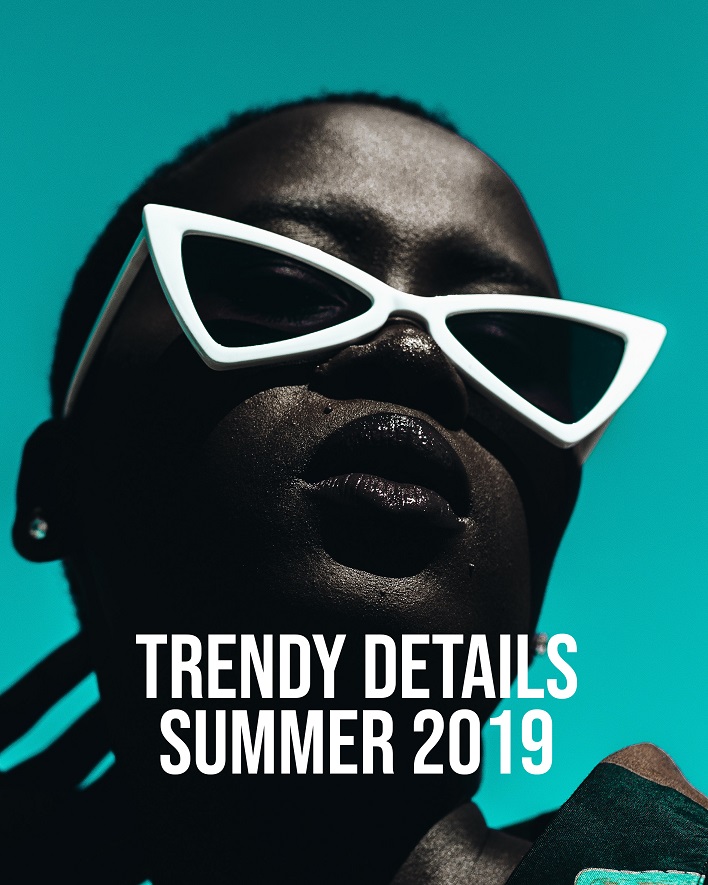 Trendy Details Summer 2019
Small Sunnies
One of the most 90s thing ever, that also happens to be trendy right now, are the small sunglasses. You know, the ones with a tiny frame and tiny glass that have a more horizontal emphasis? Well yup, those sunnies are trendy in all colored glasses you can imagine; yellow, orange, pink, red, blue and even green. I'd say there's a mix of statement frames (such as white plastic ones or red) and sunnies with focus on the color of the glass. Pair them with white cropped blouses and oversized pants and you have the fashion of summer 2019 in a single outfit.
Scarves
The scarves are as trendy as ever this season. Especially adding them to your hairstyle, but also attaching them to your bag or wrapping them around your waist. I wouldn't say there's a specific style of the scarf that's trendy, but colorful ones in rich patterns are never wrong. One of the best things about the patterned scarf is that they're a great detail to a neutral outfit. Perhaps a basic playsuit with a leopard patterned scarf? Or a white t-shirt, a pair of jeans and a scarf around your bun? Well, nevertheless they add a nice pop of life to your outfit! 
Wrap Pieces
So the wrapped pieces are not neccesarily an accessory, but a way of style that's trendy. Wrapped dresses, skirts and blouses are peaking in their popularity this summer. This makes them a nice choice if you want to embrace a more trendy style. I'd say though that they're pretty timeless, so they're definitely worthy of investment. What's particularly great with clothing pieces in a wrap style is that wrap style often comes with bows and ruffles that makes the clothing piece more interesting. Kind of like an accessory that's already incorporated in the outfit. 
Layered Jewelries
Necklaces have been quite popular to layer for some seasons now. This trend has expanded to also include rings, bracelets and even hair accessories. What's fun with this trend is that you can do it however you like. If you want to only go for two rings, that's what you should do. If you want to go for three different rings and a bunch of layered necklaces – the choice is yours. The "more is more" – style is fun to play around with as it allows you to discover a more bold fashion. You can literally go for your regular outfit and push it further by only adding another necklace. It's simply about finding a way of expanding your comfort zone! 
Coral Details
Let's not forget about this year's color as it's quite the lively hue. I think the coral color is a genius choice if you want to add some energy to your outfit. Especially pairing coral with white or a bright grey makes your outfit more dynamic. Coral is also a stylish alternative for shoes, scarves and even bags. You can also be as detailed and go for coral nails if you want to keep it simple but stylish! 

Folks! Are you working some of the trendy details summer 2019? Let me know in the comments! Xx