As we all know by know, fashion is definitely about the details! Choice of material, color, accessories and jewelries are all of importance when it comes to refining your outfit. Spring 2019 is all about paying attention to details, which is why I think it'd be a good idea to summarize some of the best details spring 2019. Catch the full article here on what are the fashion trends for spring 2019: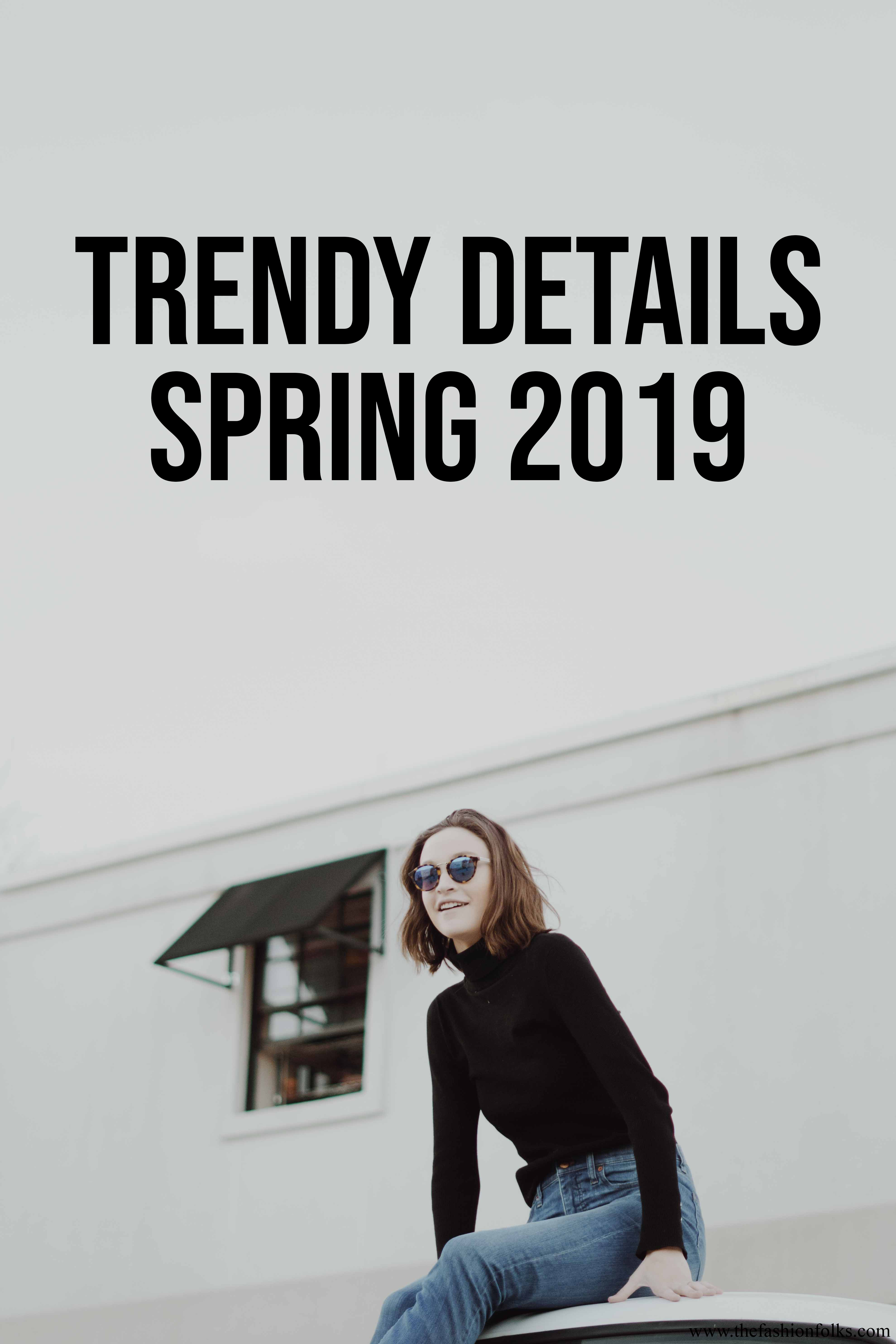 Trendy Details Spring 2019
Designer Bags
Although a bag should primarily be of functional quality, the design of a bag is undoubtedly a key feature in fashion. The bags spring 2019 are mainly about the it-factor and not the trendy bags of recent years but the ones of early 2000s or 1990s. This includes bags that are often rather small in their size with prominent designer logos. For instance, Fendi's iconic baguette bag is back in style. This trend goes along with the revival of the 1990s/2000s fashion of mini skirts, shirts, crop tops, pantsuits and low-waisted jeans. If you're interested in buying a bag in a baguette style, second hand shops will be a great resource!

Neon Colors
I talked about the neon colors last week and oh boy' are they popular for spring 2019. I don't think this trend is only about embracing full statement-making clothing pieces, but also about paying attention to the details. A bag in a neon color, a pair of shoes or some jewelries. Focusing on the details regarding the neon colors is a great way of starting out with the trend. Read the full trend article here.

Stylish Boots
I know I wrote about the sneakers last week, but boots this spring is definitely a thing! I'm not only talking about the OTK boots and how popular they are to pair with dresses, but also about casual boots for the daily life. At the moment, it's extra trendy to do the boots in an animal print, preferably leopard or zebra. I think the boots are a great match with casual denim or bright spring pastels as they contrast the material and preppy colors.

Layered Jewelries
Another one of the trendy details spring 2019 are the jewelries. Earrings, necklaces, bracelets and rings should all be layered heavily this season! Keeping them in the same color is a key rule in making the look successful, but go for different models and lengths to keep it more dynamic! For instance, if you layer two necklaces, one should be shorter and the other one a bit longer! You could of course go for an Iris Apfel look (love that sort of statement!), but keeping it more casual and neutral is the most trendy way of doing it this season!

Statement Sleeves
Who would've thought that the statement sleeves would still be a big deal two years after the trend was introduced? Well, the sleeves are definitely still a trend factor to count on. The statement sleeves spring 2019 are not about the bell or trumpet sleeves though but centered to ham sleeves (more or less). The core of the trend is to emphasize the shoulders á la the 1980s manner and through that create a look of an inverted triangle. Picking dresses or sleeves in this style will be favorable, especially if the fabric is more sheer!

Folks! Which one of these trendy details spring 2019 is your favorite? Let me know in the comments below! Xx