I know, I know – I talked about trendy details last week (catch the post here), but writing the post had me realizing that there are so many more trendy details 2017 and I just want to embrace them all! So here's part two of trendy details 2017!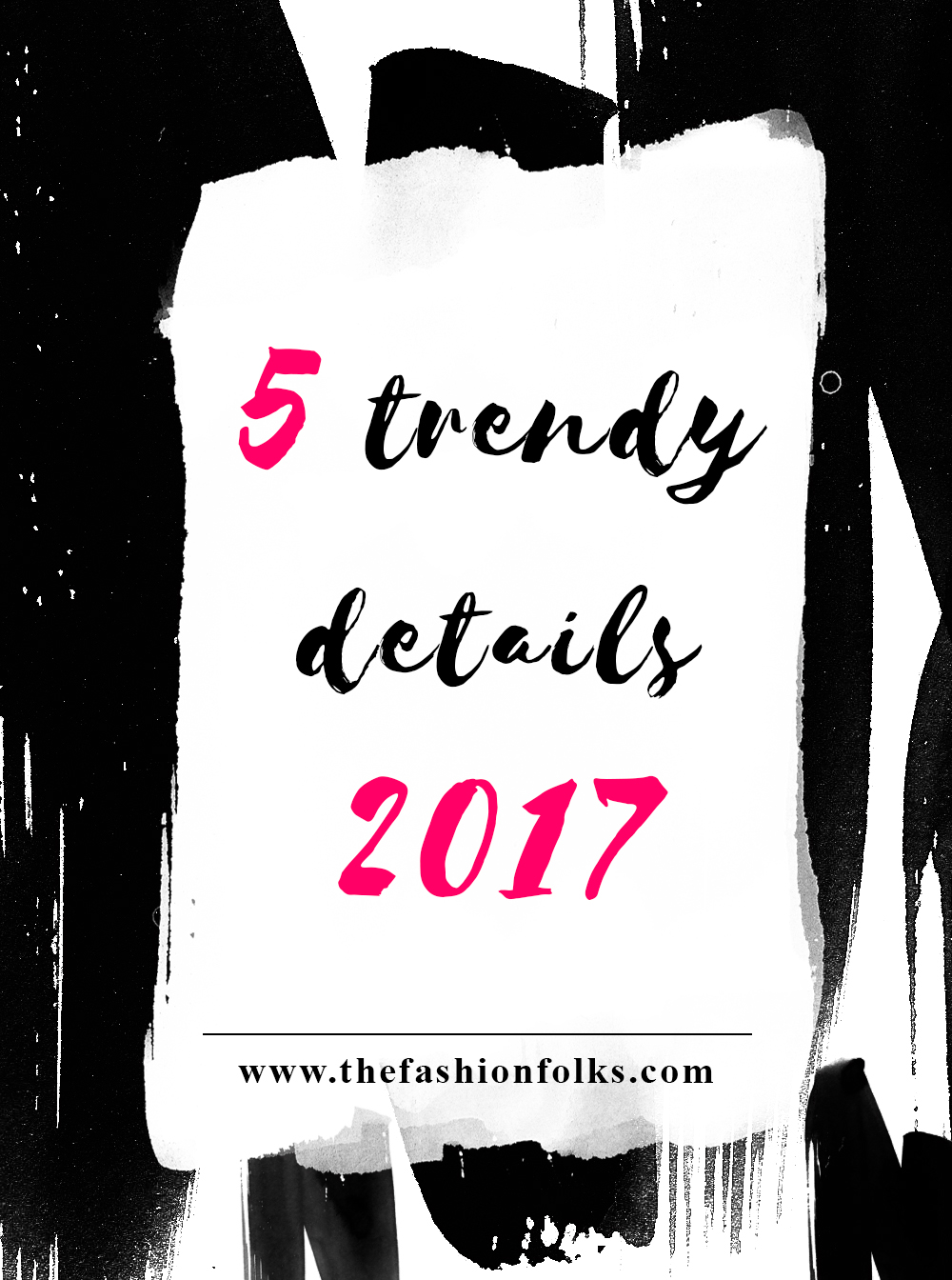 Pink velvet
I don't think I've been able to write about velvet once without mentioning how chic velvet is in a dark green shade (just did it again actually). But another color that I adore in velvet, and happens to be trendy, is pink velvet. The specific shade of pink should be dusty pink, as the two in combo have a lovely retro touch to them. You've probably already seen pink velvet sofas everywhere, but as for fashion, pink velvet is a perfect match for shoes, accessories but also pieces like dresses and skirts. Obsessed is the word!
Statement hem
You've probably seen this trend in multiple inspo pictures, and the trend just seems to grow. Ripped hemlines are jeans with hemlines that are uneven or with fringe. The trend feels a bit grunge and 90s related, but has a modern and fun touch to it. Especially doing ripped hemlines and sneakers together is a combination people love. Also incorporating fishnet socks or do the trend with statement shoes. More details to the people!
Multifunctional Scarf
We already know that the scarf is here to stay. Something that's been growing the last couple of months though is how we work the scarf. A scarf is now a tool of versatility as one can work them in all ways imaginable. You can pin it with a belt, have it over one shoulder only, do a mini-blanket with it, tie it to your bag, tie it around your waist and around your neck (+more). As I always, and everyone else says, the limit is your imagination. Just invest in a multifunctional scarf and you'll save a lot of fashion situations in the months to come.
Statement Back
Perhaps this trend is not the most genius one to do for winter, but I love it anyways so here we go. The statement back is where you are fully covered in the front but have your back visible. As in having a shirt buttoned but leaving some buttons undone, but for the back instead. Or as in having an A of skin/clothing piece visible. It's quite the chic one to do as it's a subtle statement that works for many. You don't need to show your skin in specific but a clothing piece that's contrasting in color or pattern can be fun to wear under. Always look for the fashion statement people!
Show Your Belt
Remember in the early 00s when everyone walked around with designer belts and their tops/shirts tucked in? Well, well, well – the trend is kind of back. If you're one of the fashionistas, you know how hyped the Gucci-belt has been the past couple of months and letting belts hint is a detail that's here to stay.  The belt should have some sort of fun detail that underlines the statement. Adding a belt to your outfit is a great way of going for a detailed look without overdoing it (and just OMG to the look below, it's genius). 
Folks, what's your favorite of the trendy details 2017? Drop a comment below! Xx
Did you like this post? Hit the share buttons below!