Let's talk a bit about the trendy beauty looks 2020! Although the extra time at home is the perfect opportunity to let your face and hair rest from daily products and makeup, it can also be good to stick to your normal routine some days. I mean, let's not underestimate the power of a bold lipstick or taking some extra care of your skin! Read more about the beauty trends this year here.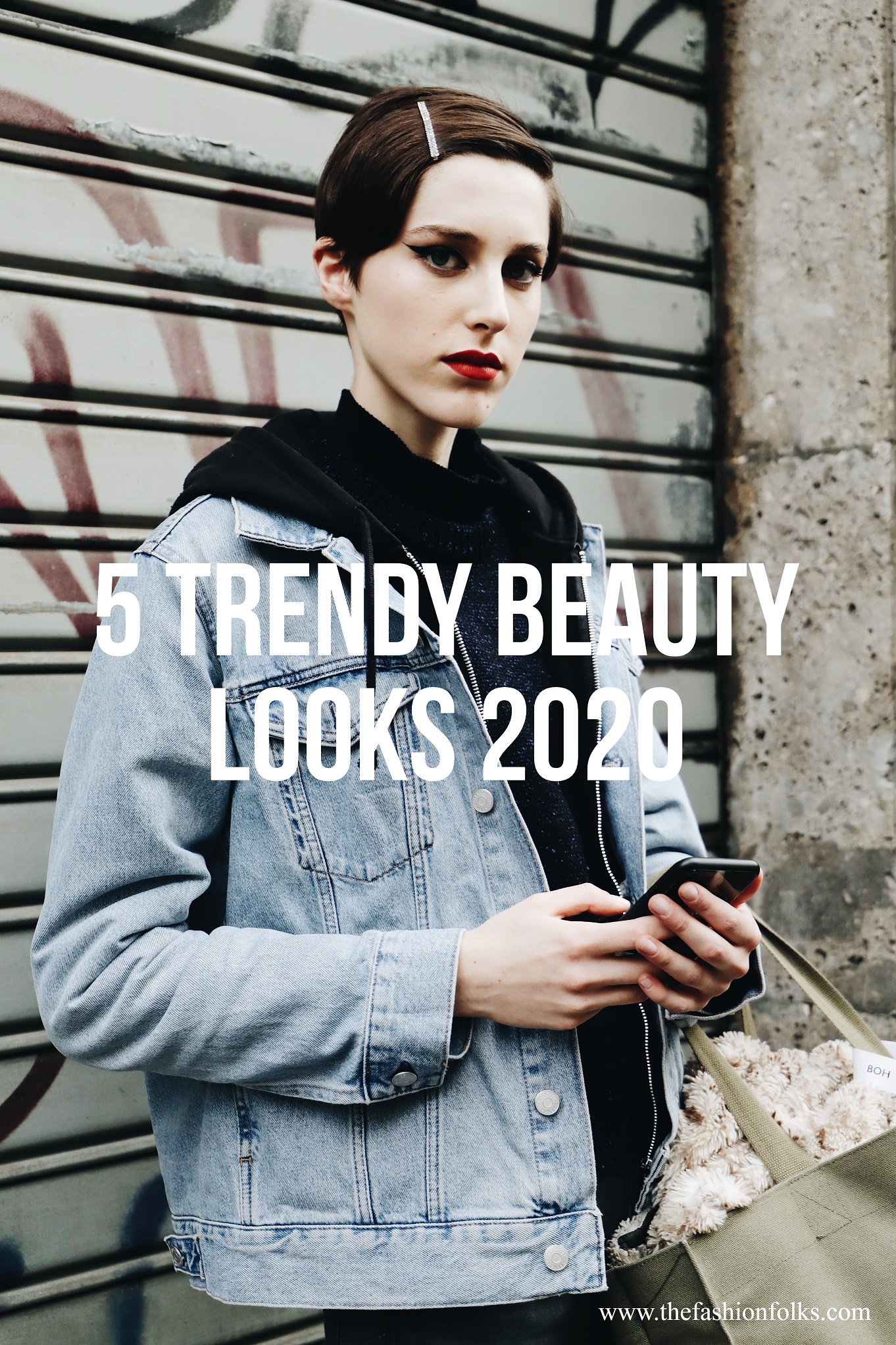 Trendy Beauty Looks 2020
Fake Freckles
If you don't have freckles naturally, this year is the time to try what life with freckles is like. Doing fake freckles is one of the year's biggest makeup trends. You can achieve it by creating small irregular dots on your skin with a eyebrow pen that's slightly darker than your skin. You can also create the effect of freckles with a self tanner. There are plenty of tutorials out there, so try one that's the most relevant for you! You can enhance your freckles with gold, olive green and orange shades!
The Bob
Cutting your hair short is going strong this year too. Everything from shoulder-length to right above the ear is trendy. Going for a sharp styling is a stylish idea but also keeping it curly and more loose. Adding some bangs whilst you're at it, is also a trendy way. I love the idea of working a shorter haircut with hair accessories such as barrettes or headbands. It will structure the hair in a favorable way and add that extra touch to the outfit.
Rosy Lips
This summer you should paint your lips in a rosy hue! Doesn't matter if it's glossy or matte as long as it's a more faded pink. This look is best done when you combine a lip liner and a lipstick. It will give you sharp, defined, lips but also well-colored with the lipstick. Add some of the rosy color on your cheeks too for a more matchy and put together makeup look.
Dewy Skin
Some folks are for a matte look, others are for a dewy look – the trend experts says it's all about the dewy skin this year. There are way too many products out on the market that helps achieving a dewy look. It's everything from cleansers, moisturizers, primers, setting sprays, liquid highlighters, foundations and so on, that will give that glow. Keeping your skin well-hydrated is definitely a first step in achieving this look. Choosing liquid products or creamy ones will also give a more dewy appearance compared to powder products.
Pastel Eyes
According to the makeup gurus we should be wearing more pastels this year. I'm talking pink, green, yellow, lavender and baby blue hues – preferably for the eyes. What I love about this trend is the 60s vibe. So pretty to do the entire eyelid in one color and make it fierce with a bold eyeliner and some dramatic lashes. I think this trend is pretty with floral patterns and summer dresses, if you're a fan of embodying a more preppy and summery style. Perhaps lavender and pink are the most wearable hues. Why not try something rosy to go with the lips?
Folks! Do you have any favorite of these trendy makeup looks 2020? Let me know in the comments below! Xx