It's easy to forget about timeless fashion when the fashion world seems to center around the next big trend. Well, I tend to focus on the trends too, but it's important to remember that trends would be nothing without the timeless fashion looks. Timeless outfits are perfect to rely on when you're in a fashion rut or simply in a hurry! To give you some inspiration, I thought I'd pin down 5 timeless fashion looks today: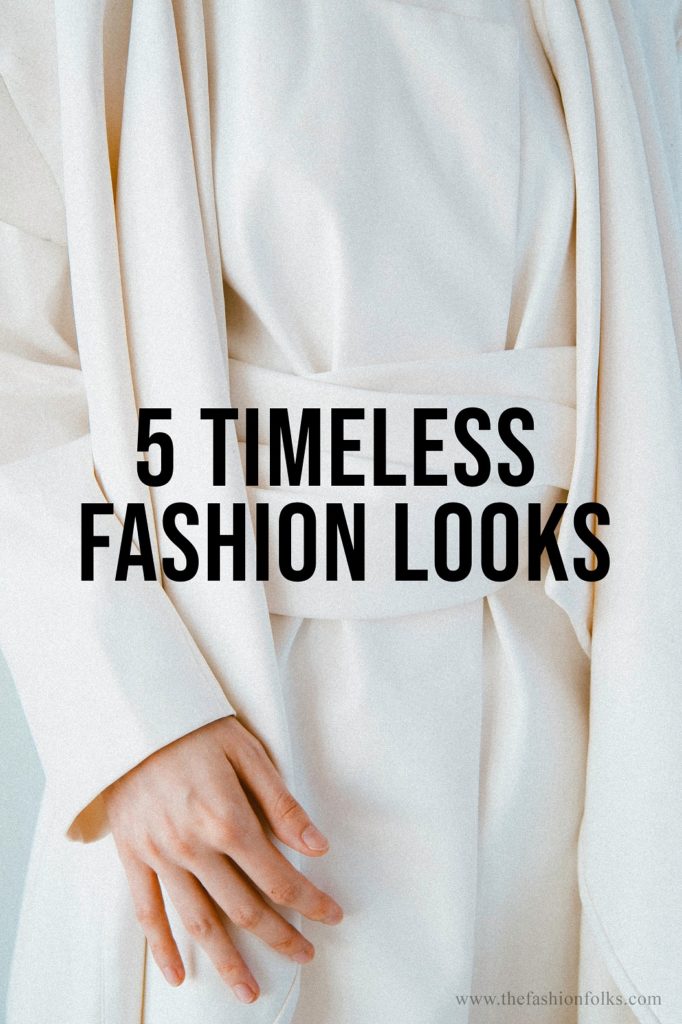 5 Timeless Fashion Looks
T-shirt and Jeans
One of the most universal and timeless fashion looks there is must be a t-shirt and jeans. This is as basic as it gets. The jeans are a go-to clothing piece for people around the global with its practical and neutral design. Same goes for the t-shirt, that is often quite uncomplicated and comfortable to wear. The two in combination are therefore a timeless fashion look. They're common to pair with sneakers or a pair of boots. Going for a jeans jacket or leather jacket is also common with this look. I like the idea of spicing it up with a colorful bag or makeup look to make it more interesting. 
The Little Black Dress
The little black dress aka the LBD is a must if you like wearing dresses! The LBD is characterized by its black color and neutral design. The dress can therefore vary in its style, so it's important to choose a style that works for you. Perhaps an A-line dress, a midi or a shift dress? Well it's up to you! The idea with the LBD is that it can easily be transformed from day to night with a few accessories. You can dress it up with heels and a necklace, or keep it simple with some sneakers and a cardigan.
Blazer and Shirt
If you attend a lot of business meetings, a blazer and a shirt is a must! The duo is a go-to choice for many people with its formal design. Both of the clothing pieces are structured and often sans details, which gives them the proper and preppy look. You can go for a fun color combination to make this duo more interesting or focus on different materials. Perhaps a semi-transparent blouse you've layered with a slip top under and a blazer over? Or why not a blazer in corduroy or leather?
Monochromatic Set
A monochromatic set such as a matching blazer and pants (aka pantsuit) is another timeless look. Perhaps it's most common to go for an all black, grey or white look but don't underestimate the power of a colorful style. Pink, baby blue, red, lavender or forest green could be interesting alternatives. A monochromatic set can be made more dynamic with a patterned top, such as a blouse or a t-shirt. The monochromatic look is also chic with shirts and blouses with a more statement collar. Also love the idea of making the look more popping with contrasting accessories! 
Trench coat
Lastly, the trench coat is a timeless look! The clothing piece is over 100 years old, but has remained a timeless alternative in many people's wardrobe. The jacket is a great piece for spring and fall with its light style and often beige color. Love the idea of pairing the trench coat with leather pants for a more interesting outfit. With the beige color, it's also a chic match with orange and purple – perfect shades for fall. You can also go more navy with a striped top/dress! The trench coat can also work with a blazer or a full set, as it's semi-formal. Just make sure to layer it right with the colors! 
Folks! What are your thoughts on these timeless fashion looks? Let me know in the comments below!