I'm writing a lot about fashion trends right now, current and future trends. In contrast though, I think it's important to write about timeless fashion details, that's, when everything comes around, is what the majority of our wardrobes should center around. The fashion details are what makes the outfit elevate. They're reliable, they're wearable and functional!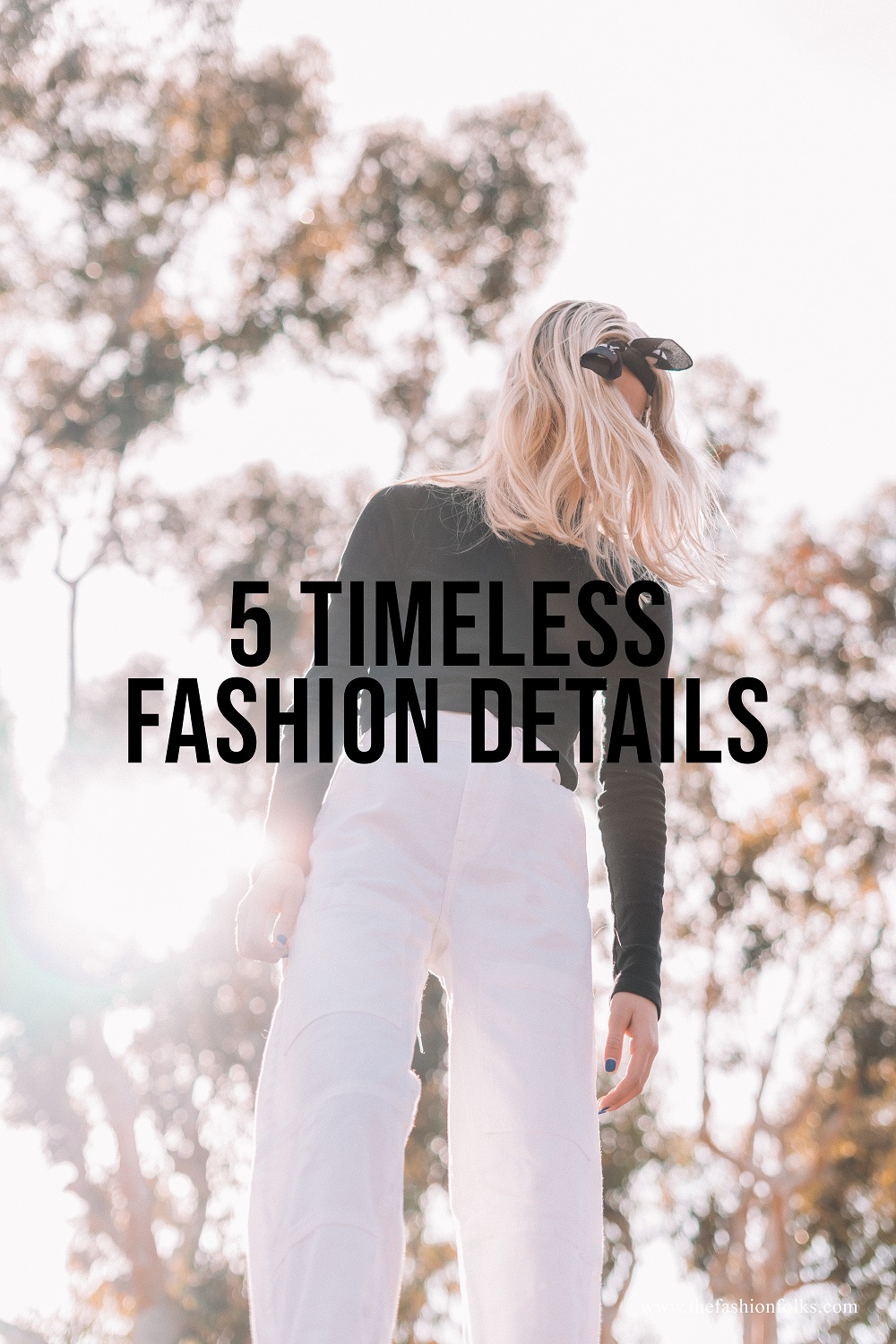 Timeless Fashion Details
Crossbody Bag
My favorite style of bag is undoubtedly the crossbody bag. The style of bag is perfect when you don't have too much to carry. It's also practical as you have your hands free. As the size is often rather small, it's also a great pop of color or pattern in the outfit that doesn't interfere too much with the rest of the look. I'm also a fan  of the crossbody bag as it works for both day and night fashion! It's simply a must if you're going on a trip and want to pack as little as possible. 

White T-shirt
Perhaps a t-shirt is not really a fashion detail, but it definitely deserves a place in this list. The white t-shirt is universally beloved and worn. Both the "color" and the style of clothing is neutral, so the item is perhaps one of the most neutral clothing pieces there is. Depending on a loose or fitted style, it suits for different occasions. You can easily dress it up with a blazer or dress it down with a pair of jeans. If you don't own one yet, invest in a white t-shirt asap! 

Wayfarer Sunglasses
So the wayfarer style is perhaps the most timeless one when it comes to sunglasses. Much alike the white t-shirt, it's neutral in its design and often in its color (common in black, brown and tortoise). The sunglasses suit the everyday life as well as more glam occasions. If you think the frames of the wayfarers are too sharp, try a style with a more rounded frame or in a color that's close to your skin tone.

Black & White Stripes
The black and white stripes are timeless. The colors are neutral, the pattern is neutral – everything is neutral. I'd say the stripes are perfect when you want more action in your outfit. For example, changing a white t-shirt to one with black and white stripes instead. Adding a scarf in a striped style can also be chic, or why not a bag? The black & white stripes are also a must to work with red, red lips or a red bag – both alternatives are timeless! 

Black Boots
Lastly, the black boots! I'm not too specific about whether they're patent leather, leather, suede, with heels, without heels etc – because all of the styles are neutral. The black boots are a perfect choice for black leggings and jeans as it creates an elongating effect of the legs. They're also chic to match with denim shorts and leather skirts for spring and summer time. If you have yet to invest in a pair of black boots, do it asap cause' they will be your new go-to friend!

Folks! What are your thoughts on timeless fashion details? Let me know in the comments below! Xx