Winter might not be the best season to talk about color combinations, but perhaps that's why it's even more important to talk about it – to push ourselves to be colorful and not give into the comfy, cozy and warm fashion. I assure you there's a way of combining a colorful style with comfort and coziness. Timeless color combinations are a great way to start, as you're not reaching for a statement but a classic look!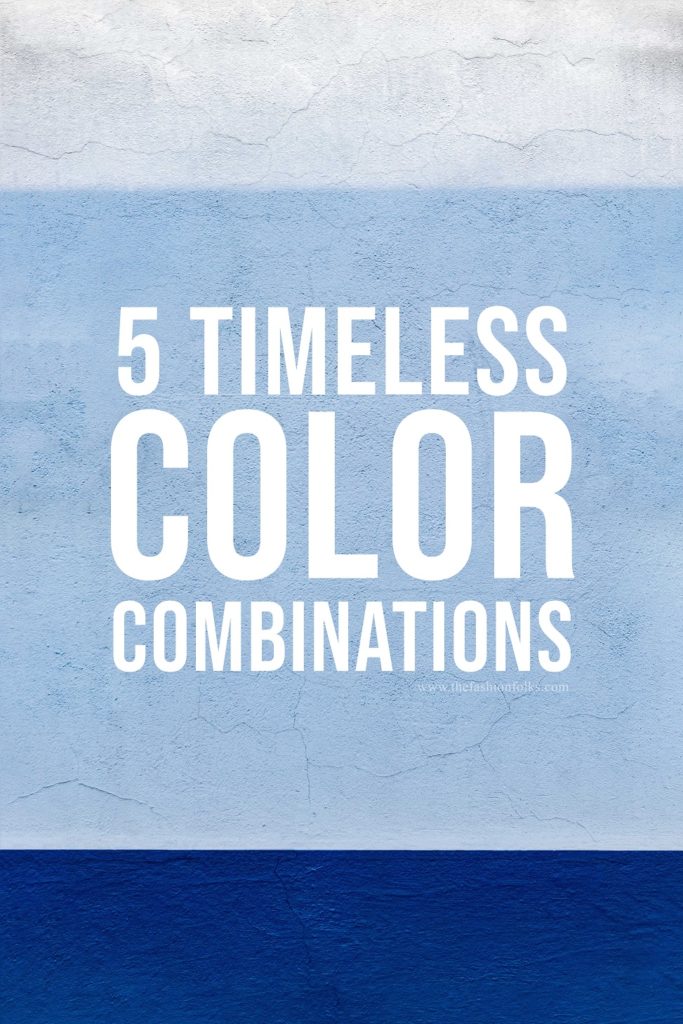 Timeless Color Combination
Baby Blue & Navy Blue
The first one is baby blue and navy blue. As you might remember, the color of the year according to Pantone is the classic blue. One of my favorite ways to work this combination is to do it monochromatic. A timeless way of working blue in a monochromatic way is to pair lighter blue with darker blue. A baby blue will intensify the depth of the navy blue and vice versa. This combination can be done with whatever clothing pieces you have at home – of course. Adding gold, white or red as the third color will complement the outfit.

Apple Red & White
Another timeless color combination is red and white. I wrote about the duo in this article, but it's of course a must in this list too. There's something playful, intense and bold with the pairing of them. Whilst white is neutral, but intense and crispy, red also has that intensity and boldness to it. A white dress with a red clutch or a pair of red lips is a must! Or a red skirt with a white blouse. There's also quite the retro vibe in this combination, with both the 1940s and 1950s embracing this combination. Polka dots, stripes and other geometrical patterns are really stylish to do in red/white too.

Camel & Orange
So camel/beige was quite the it-color in 2019 and is going fairly strong for 2020 too. I know it's popular to go for camel shades top to toe, but to break off the look a bit, it can be a good idea to add orange. Orange is also a warm color, but will add another level of energy to camel, which will create a more interesting outfit. Just adding an orange scarf, beanie or bag can be enough to make the camel look more stylish. But as with all color combination, just wing it with whatever you got!

Baby Pink & Lavender
If we're gonna talk about more playful, childish, colors – baby pink and lavender is a color combination that is classic. There's something with the soothing and calm nature of lavender and the optimistic, reassuring, baby pink that goes well together. The duo is quite similar, with baby pink being a warm version of lavender or if you prefer to see it as lavender is a cold version of baby pink. Anyways, these two are a calm, playful, match with their bright shades. Adding some bright grey, baby blue or white to the mix might make it more wearable! But don't be afraid to embrace the childish fashion!

Brown & Gold
I mean, who doesn't love gold? The highly luxurious shade is perhaps the best way to make the neutral, often forgotten, brown to look more lively and exciting. Gold and brown both have a maturity to them, which is why they go well together. They're also warm colors and are a great match with camel, orange and mustard yellow. I love the idea of going for a brown look with gold accessories and jewelries! Or something as simple as a brown dress with a gold belt. This duo is also great with both a leopard print or a snake print!

Folks! What are your thoughts on these timeless color combinations? Someone you're working? Let me know in the comments below! Xx