I'm a big fan of all sorts of hacks. It's a simple way to effectivate life and improve time management. When it comes to fashion, hacks can be really useful both from a perspective of saving time but also become more creative. With spring fashion and its different layers, vibrant colors and lively patterns, there are many different ways you can elevate your outfit in specific and your style in general. With that said, here are five styling hacks spring 2019: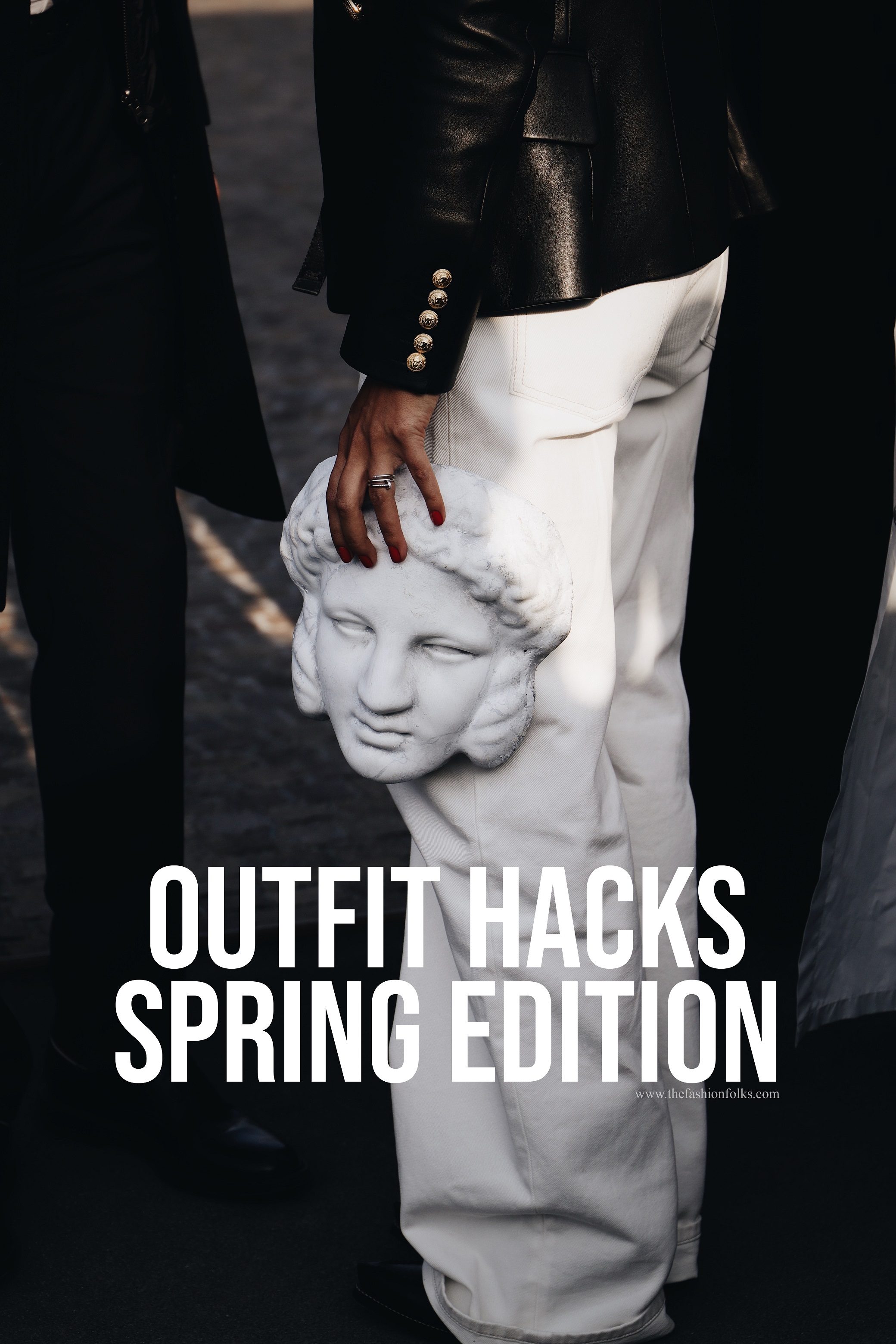 Styling Hacks Spring 2019
Trench Coat with Olive Green
If you tend to wear your trench coat with neutral black or denim, try and mix things up a bit with an olive green color. The earthy tone of the trench (normally a lighter camel/beige) is a nice match with the soft hue of olive green. Going for an olive green clothing piece and layer with a trench coat is definitely one idea, but also finalize your outfit with an olive green bag, a belt or some shoes can be stylish. Black and white stripes, or some brown, can be other elements that will elevate the outfit.

One Color, Different Shades
Dressing monochromatic is a stylish way to get dressed quickly without fussing about having to match different colors. By choosing one color for your outfit, and sticking to it, you can put the effort into different textures, volume and the overall look. One way to do the monochromatic look successfully is to choose one color and then do it in different shades. For instance, choose a navy blue for pants and a dove blue for your top. Or perhaps a camel colored sweater with copper colored pants? Picking different hues within one color is a simple way of making the one colored look dynamic. The best part is that it's done within seconds!

Stripes with Statement Sunnies
So the black and white stripes are perhaps one of the most universal fashion piece there is. They're versatile, likable and easy to style. They also pretty neutral in their style which maximizes their styleability as they sort of goes with anything. I like to wear my b/w tops and dresses with statement sunnies. It's something with the simple contrast of a neutral clothing piece and some crazy sunnies that's the definition of casual chic! I love sunnies that are done oversized with a colorful or patterned frame. Sunnies with an animal print are really trendy atm and sunnies with floral details are quite stylish.

Sheer Fabrics and Knitwear
I love my midi skirts and dresses that are done in sheer fabrics, especially when it's warm outside so they can be worn without tights or pants under. However, spring nights can be a bit chilly which is why pairing your sheer skirt/dress with a knitted piece is quite the good idea. Layer up either with a cardigan or a knitted vest, or go for a knitted sweater. To avoid the outfit looking too bulky, you can structure the silhouette with a belt or go for high-waisted skirts. You can also choose cropped sweaters to enhance your curves. The contrast of the textures will be a nice detail in the outfit!

Animal Print with Earthy Tones
So the animal prints are trending these days and the best way to work them, if you ask me, is to pair them with more earthy tones. Brown, camel, olive green, navy blue, copper, wine red, off-white, dusty rose, beige etc etc. The earthy tones are quite neutral in their intensity and therefore a nice match with vivid animal prints. The fact of the matter is also that animal prints are commonly done with earthy tones, so paring your leopard print with more brown or camel will make the outfit look more cohesive. Simple as that!

Folks! Do you have a favorite from these styling hacks spring 2019? Let's chat in the comments! Xx