I know the only thing I seem to do these days is talking about spring and its fashion and beauty. But I mostly think it's me overcompensating the fact that I'm not a spring enthusiast. However, here are some styling combinations to try spring 2017:
Neon Green To Denim
I discovered my love for neon green by an accident as I thought I had purchased a bottle of pea green nail polish. Little did I know though that the color would turn out to be neon green/lime green However, I got madly obsessed as I wore a denim on denim look that day and neon green to denim is apparently a match made in heaven. The sophisticated tone in the navy colored denim brings out the intensity in neon green, but in a mature way (cause that makes sense…). It gives a wearable yet fashionable outfit. I'd say go for neon green nails and a denim outfit if you want to try it. But jeans and a neon top or denim on denim and a neon bag sounds equally as chic if you ask me!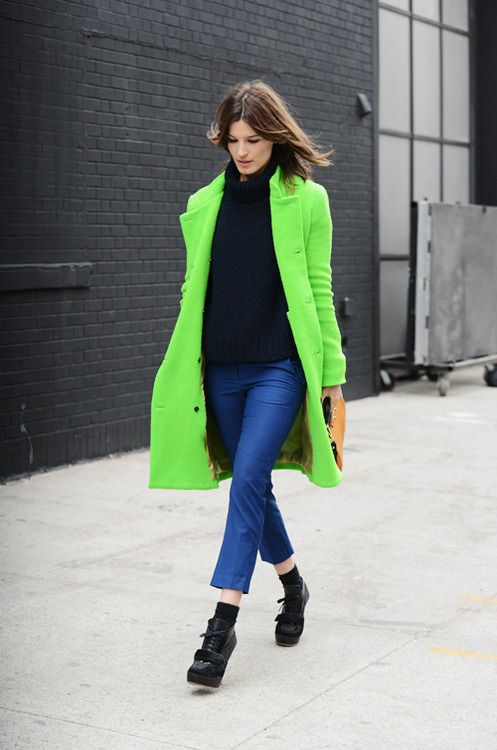 Courtsey of Hanneli Mustaparta
Match two different floral prints
Florals, florals and more florals – it's fully possible that after this season I never want to see or read a blog post about florals for spring again. They're just everywhere and I'm equally guilty of contributing. However, I also see it as my duty to try to level up the fashion level here. So new style idea that has yet to go mainstream on Instagram: match two different floral prints. Try to go for flowers in a similar print and match top and bottom. Or why not go for flowers in the same color palette and mix and match? A third alternative is to go with flowers in different sizes. Like a print with small flowers for the top and a print with large flowers as skirt. Or why not for two different materials as below? You can, of course, also go for accessories if you want to play it safe.
Yellow With Orange
Yellow with orange was a major color combination a few years ago when the whole fashion world fell in love with all things lemons and oranges for print. However, as yellow is trending once again, I think it's the perfect time of bringing back the color combination. Not only does the combination feel kind of citrus, it feels fresh, energizing, happy and optimistic? It's just a vitamin injection of fashion to put it frankly. I think you can match it however you'd like with top/bottom/accessories as the colors complements each other so well. If you want to break off the optimism (lol), try to add a bit of green as in green leaves. Or try colors with a low intensity Try it and see the chic contrast!
Tan To Blue/White Stripes
I mentioned this briefly in this post on the trend alert of blue/white stripes, but I have to bring it up again. Tan is such a chic shade of color and a staple to count on – especially for spring. So here I am, suggesting tan to blue/white stripes again. It makes the duo pop and still bringing the classic, elegant and "always chic" life. Try tan in (faux) leather/suede to get a full effect. Go for a classic shirt in blue/white stripes or a trendy blouse with tan pants or skirt. If I could decide, I'd go for a full on midi tan skirt in faux leather, a blue/white stripes classic shirt and a blue/white striped oversized bow. Right? Ya feeling it?
Silver Metallic and pink
This post is definitely going repeat on things as I talked earlier about silver and pink for spring 2017. Well well, I do think that silver metallic and pink might be one of the most genius combinations that could be. Pink with its sweet and soft touch and silver metallic with its edgy and futuristic tone. They make a great contrast and I think they're perfect when going for a balanced and nuanced outfit (apparently you can use nuanced when describing outfits, lol). Hot pink, pale pink or blush works equally as good even though I think a pastel pink top and a silver metallic skirt sounds genius. If you want to go more safe, try a pink outfit and add the silver through your accessories like a bag, hat or shoes!
Folks! Which one of these styling combinations do you enjoy the most? Drop a comment below as always, Xx
Did you like this post? Hit the share buttons below!