Okey folks, let's talk a bit about reliable outfits 2021. What I mean when I say reliable outfits is outfits that are wearable, and also clothing pieces that are wearable. Outfits that works for most situations and are easy to make personal too. The reliable outfits 2021 are all about that perfect mix of timeless pieces with some trendy influences.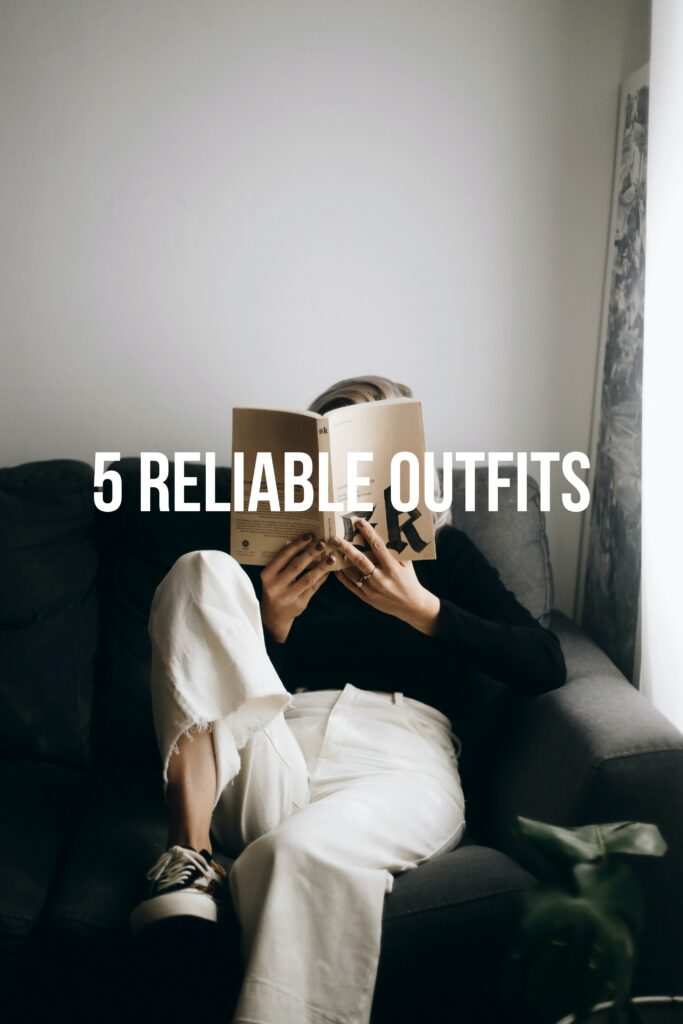 Reliable Outfits 2021
Knitted Midi Dress
The knitted midi dress is always a must, but perhaps extra so this year. The knitted midi dress is often pretty subtle in its design, which means that you easily can dress it up or down. Throw on a blazer and a pair of OTK boots for a preppy look, or go for a jeans jacket and some sneakers for a more casual one. For summer, the knitted midi dress is gonna be superb with some kitten heels or gladiator sandals. The knitted midi dress is also easy to pull off with layers, just go for a vest, a blanket scarf or a matching coat for a layered look. Learn more about the midi dress here. 
Flared Jeans
The flared jeans have been popular the past seasons, and are probably peaking this year. They're commonly paired with fitted tops, baguette bags and white sneakers. I love the idea though of playing with the A-line shape of the flared jeans and go for a voluminous blouse or oversized sweater. You could also do a classic outfit with a white t-shirt tucked in and a blazer. The flared jeans are superb with chunky sneakers, but if you want to add some elegance – go for heels! Platform shoes will also do if you want to balance the fabric.
Statement Collar
The statement collar is here to stay! Or at least for this season as well as the next one, according to the designers. The statement collar can and should be left alone in the spotlight, which is achieved by pairing it with neutral pants/jeans. Go for high-waisted jeans and matching boots for a neutral and elongating look. If the statement collar comes with a dress, go for matching tights and boots. Also pay extra attention to how you style your hair and jewellery as you don't want to make it messy. It's better to go for a statement bag or shoes if you want to make the look more personal. Read more about the statement collar here.
The Hoodie
I haven't talked too much about the hoodie here, perhaps because it's such an obvious part of people's wardrobes and also because it's often worn at home or for sports. Anyway, the hoodie is kind of finding its way into the more preppy categories of fashion. More and more people are pairing their hoodies with floral dresses, blazers and luxe accessories. I do think the hoodie works best when kept casual, such as with a teddy coat or a leather jacket. Anything leather and jeans will also embrace that chic street style vibe, as well as boots and sneakers. I'm not yet convinced that the hoodie is at its best with heels and blazers, but please prove me wrong! I love a good fashion challenge!
Retro Pastels
As for the colors of 2021, you can't go wrong with the retro pastels. Lavender, dove blue, baby pink, mint green and baby yellow are having a major moment in fashion right now. Especially when the colors are done a bit more toned down, such as the retro version of them. The pastels have been common as cardigans, matching sets, preppy dresses and accessories. Often done as monochromatic outfits. You can make the pastels more reliable and wearable in two different ways. Either you style them with each other (break it up with some white or bright grey for a less sweet vibe) or you style them with darker shades. For instance, a mint green is favorably with a forest green. Baby blue is a must with navy blue and so on. 
Folks! What are your reliable outfits 2021? Let me know in the comments below! Xx