I know many of you are longing for warmer days, but let's try and make the most of what's left of winter. I wrote an article on street style fashion in January, but here's another article with five outfit ideas winter 2021! Also, have a look at this category if you're in need of more winter outfit inspiration!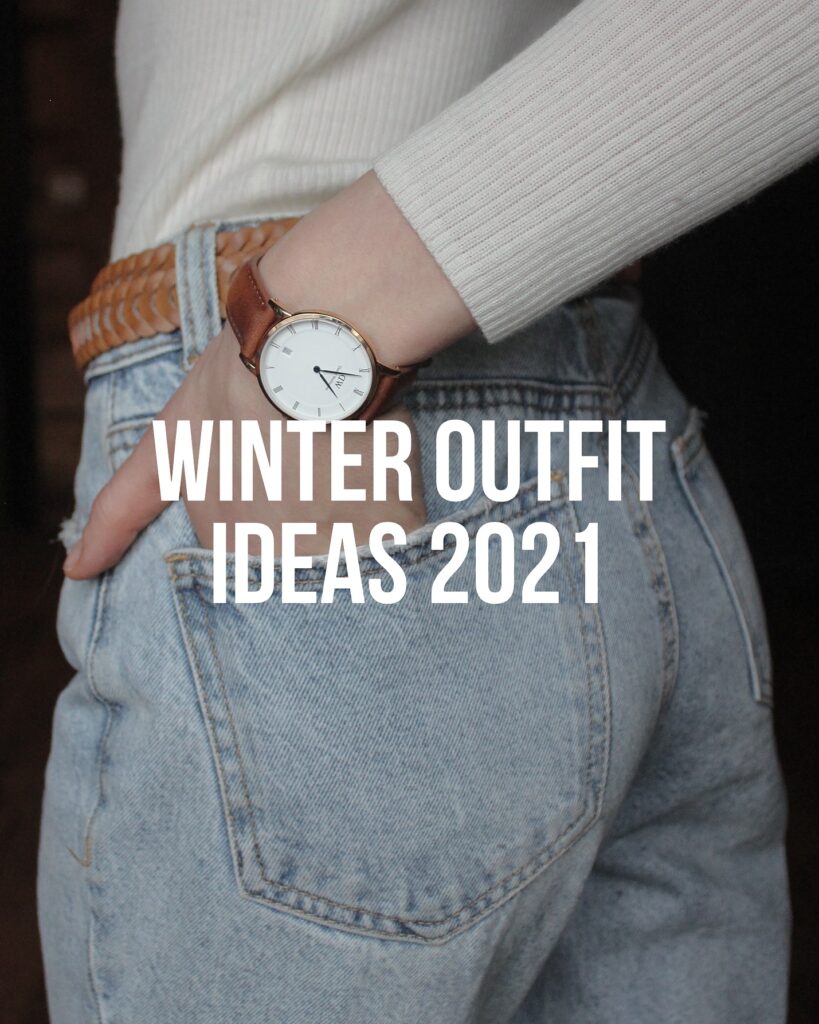 Outfit Ideas Winter 2021
Jeans & Edgy Boots
A really stylish outfit is to go for a pair of jeans and some edgy boots! Really chic if the jeans are more loose, such as mom jeans or boyfriend jeans! You can also go for a pair of skinny jeans if you want to tuck in the jeans in the boots. The idea though is to embrace the casual vibe of your edgy boots and keeping it basic and light! 
Colorful Puffer Jacket
I wrote about the colorful puffer jackets in this article, so of course they're a suggestion for a winter outfit 2021! The colorful puffer jackets are actually quite easy to style as they're a great match with classic blue jeans. If you have a pair of shoes that are in a similar, or same, hue as the puffer jacket – you gotta give the combination a try! You can of course also just work the jacket with a pair of black jeans/leggings and black boots/shoes for a more anonymous look. 
Knitted Dress
The knitted dresses (especially midi) are a must this year. And if you ask me, they can stay forever! Love the idea of working a knitted dress with a pair of boots, especially knee-high or OTK. Also terribly chic to layer up with a pair of leather leggings or jeans! You can also play with the length of the dress and add a midi coat or maxi one for a more dynamic silhouette. 
Patent Leather Mood
Speaking of patent leather though, if you own anything in the material – you need to work it asap! The patent leather look is perfect with anything knitted, in lace or faux fur. As the patent leather is a statement material, and quite the edgy one, it's superb with more soft and cozy materials. You can also add a pair of sneakers and a simple white t-shirt for a more casual look. The patent leather is also superb with anything neon, as it gives off that sporty vibe.
Pastel Beanie
I think this is the third time I mention the pastel beanies in just a few weeks. But they're quite in the spotlight right now, so why not give them all the love? The pastel beanies are adorable to finish any outfit with, as they give that pop of color! Perfect if you can match your top/jacket with the pastel beanie or if you go for a color contrasting look. As I always say, just work with whatever you got! 
Folks! What are your thoughts on these outfit ideas winter 2021? Any favorite? Let's chat in the comments below! Xx