So fall 2019 is in its best phase and what else is there to do than to embrace it fully? Last week I wrote an article on how you can embrace the season in 10 different ways. Today I thought I'd write about some random, trendy and stylish outfit ideas that might be fun to try! Even if the outfit ideas are a bit specific, maybe you'll feel encouraged to try a part of it at least. Anyways, here's an article on 5 outfit ideas fall 2019: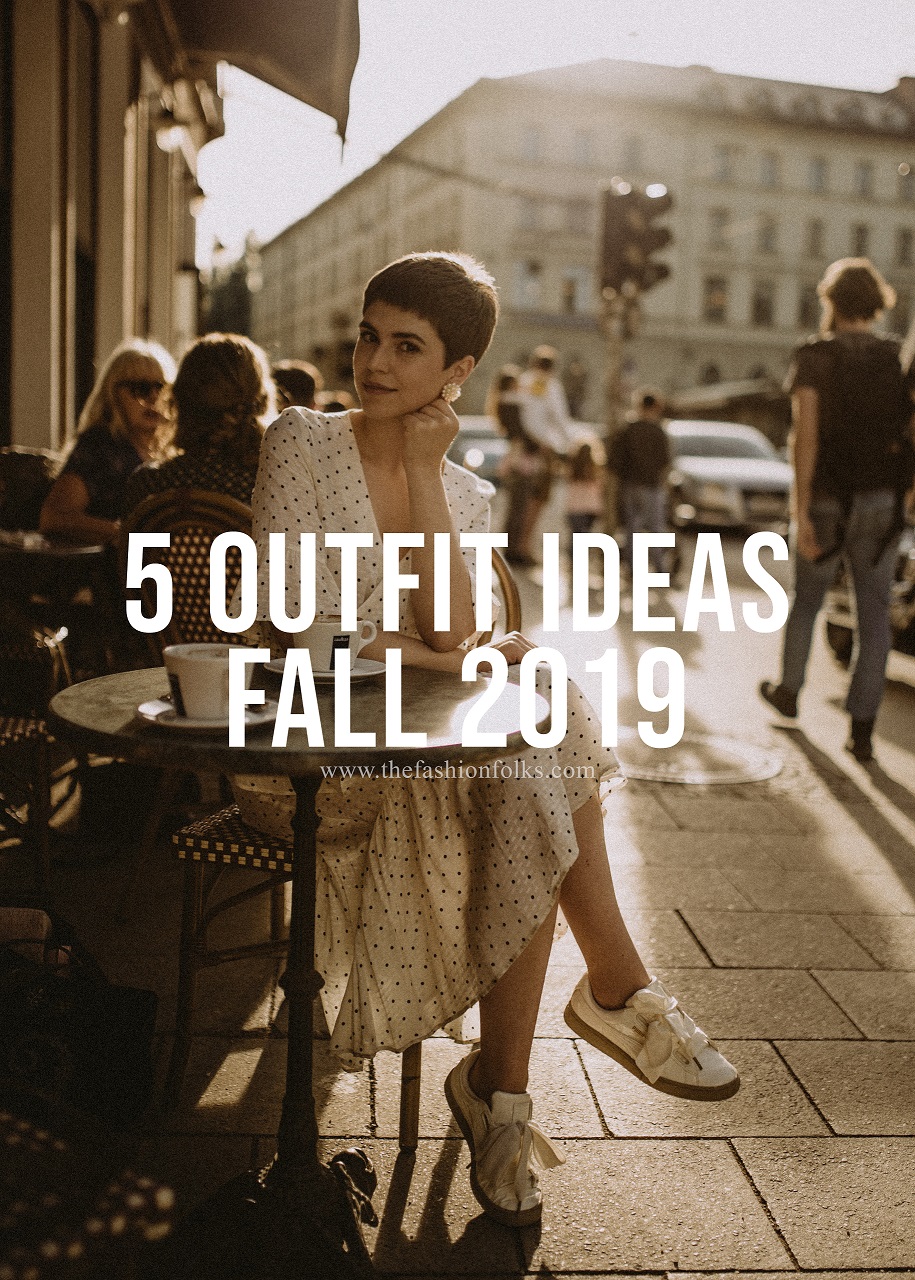 Outfit Ideas Fall 2019
Maxi Coat with Boots
I talked about the maxi coat in this trend alert article and think it definitely deserves a sport on this list. The maxi coat is probably the best choice of clothing piece if you want to stay extra warm this year. It's also really stylish with its length as it adds a glam, elegant touch to the outfit. I love the idea of doing the maxi coat with a pair of high boots, the contrast of the boots and the maxi coat is such a powerful and trendy statement this fall season! This outfit is a terrific example on how to dress warm and stylish.

Statement Sweater and Leather Pants
One great thing to do during fall is to match different materials. One of my favorite combinations is to pair my statement sweater with a pair of leather pants. The soft texture of the sweater will contrast the harshness of the leather pants. Leather pants are often quite neutral, especially when done in black, which is why this combination works for the office, a casual afterwork or when you run errands! Read more about the statement sweaters here.

Patterned Boots with Jeans
The patterned boots are definitely trending big time this fall. What I like about the patterned boots are that they make the outfit more interesting through the print. Especially animal patterned boots are trendy this year. I think they're a great match with a classic pair of denim. It's a bit of an edgy outfit, but you can make it more sophisticated by a nice coat or some soft hues. Do your jeans with a tucked in blouse with some statement sleeves if you want to make this outfit really trendy! Perhaps in the same color as the boots for the ultimate match?

Layered Blazer and Jacket
One of the best wardrobe staples for fall is undoubtedly the blazer. It adds structure to any outfit, it makes it more formal and it's also chic for layering. Whether you do a shirt, a turtleneck or a simple tee – the outfit ought to be a success! A fourth way of layering your blazer is to add a jacket on top. The jacket frames the outfit nicely and complements the blazer in a favorable way. Try and match the colors of the blazer and the jacket/coat. This is extra chic to do if you have a patterned blazer!

Skirt with Knitwear
Although the transparent, summerish, skirts might not be the best option for fall, there are ways you can style your way around the problem of being too cold. First of all, do tights under. A pair of high boots under the skirt will also help you staying warm. Another thing to do is to of course add warm clothes for the top. A knitted sweater is definitely a great option! I love it especially when the sweater and the skirt are matching in color, it makes up for a nice monochromatic outfit with contrasting textures. A fashion statement for sure!

Folks! Which one of these outfit ideas fall 2019 are you curious about trying? Let me know in the comments below! Xx