I wrote about some winter hacks in this article and about some fashionista hacks in this article. Today I thought I'd talk about outfit hacks spring 2020! As spring is approaching, now is the perfect time to put together some inspirational, fun, outfits. These hacks are easy to recreate with whatever elements you have at home, so there are no excuses if you want to step up your game!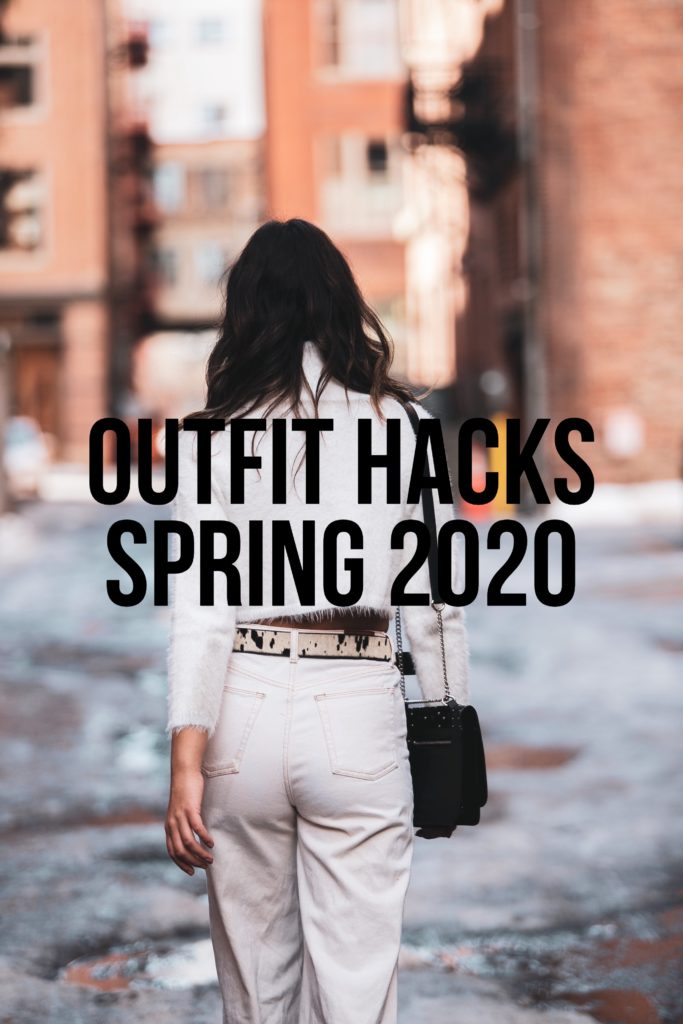 Outfit Hacks Spring 2020
Matching Sunglasses
When you're wearing an outfit and you want to add a pair of sunglasses, it can sometimes be difficult to choose the best pair. One thing you can do is to focus on the style of your outfit and choose the sunglasses that are matching the look. For instance, perhaps you're working a white dress? Sunglasses with a white frame will be a chic match. Same goes for the style of your outfit. A more flowy outfit is nice with a round-shaped style, whilst a more structured outfit is chic with a more sharp, framed look. If you can't color match or go for a similar style, choose the most neutral style of your sunglasses!

Dynamic Monochrome
I've been speaking a lot about the geniusness of the monochromatic outfits. They're easy to style, they're a statement and they're entertaining. One way to take the monochromatic look to the next level is to add a matching print. For example, you're working an all white outfit, how about changing one piece for a black/white print? Or like in the example below, add a scarf that matches in color? It'll undoubtedly make your outfit more interesting but not disrupt the monochromatic vibe!

Jeans With Sandals
Although jeans with boots and sneakers are never wrong, lightening up your outfit with a pair of sandals instead is a terrific idea for spring. Sometimes layered looks tend to be a bit heavy and bulky, especially when done with jeans. That's when it's a good idea to simplify the outfit with a pair of shoes that are more lightweight. I'm not gonna specify what style of sandals, because honestly it's just about the light style. You choose if you go for classic sandals, gladiator, slippers or why not ballerina? The idea is to balance the layers of your outfit with a pair of spring shoes! 

Match Pastels
Pastels are, as always, a must for spring! They're not the easiest to style sometimes as they can come off as "too sweet". I'm a fan of matching my pastels with white, bright grey or silver metallic. Another way to work the pastels is to pair them with their fall counterpart. Dark green with mint green, mustard yellow with baby yellow etc. However, if you want to keep the color scale bright and popping – match the pastels with each other! They all go with one another so feel free to mix with whatever you have. Perhaps a mint green blouse with a lavender skirt? Or a baby pink coat with a baby blue dress? Just take your pastels and blend! 

Statement Belt
Lastly, a terrific outfit hack for spring is the statement belt! What I like about the spring fashion is that it's more light and in one way more wearable than the winter fashion. One problem with this though is that the outfits can look a bit more boring without that layered jacket and scarf. That's when a statement belt will make the outfit pop again! I'm especially fond of defining the waist with a statement belt if you're working a jumpsuit or a maxi/midi dress. It adds a nice structure to the clothing piece, but also a pop to the outfit. If you don't own any statement belt, you can definitely go for your regular one!

Folks! What are your thoughts on these outfit hacks spring 2020? Let me know in the comments below! Xx