There's been some requests about more makeup articles! I have stated before and I have stated again that it's highly hypocritical of me to promote a more bold makeup game as I'm slow as a snail going for a change or even try something new. Once I do, I often return to my ordinary makeup look and pop up a change NOT ever so often. With that said though, I still like the makeup game and definitely the idea of it. I seldom include red carpet looks on The Fashion Folks, but thought it'd be fun to glam things up today. Quite wearable makeup looks though! Anyways sorry not sorry about the long rant, here's five makeup ideas November 2017: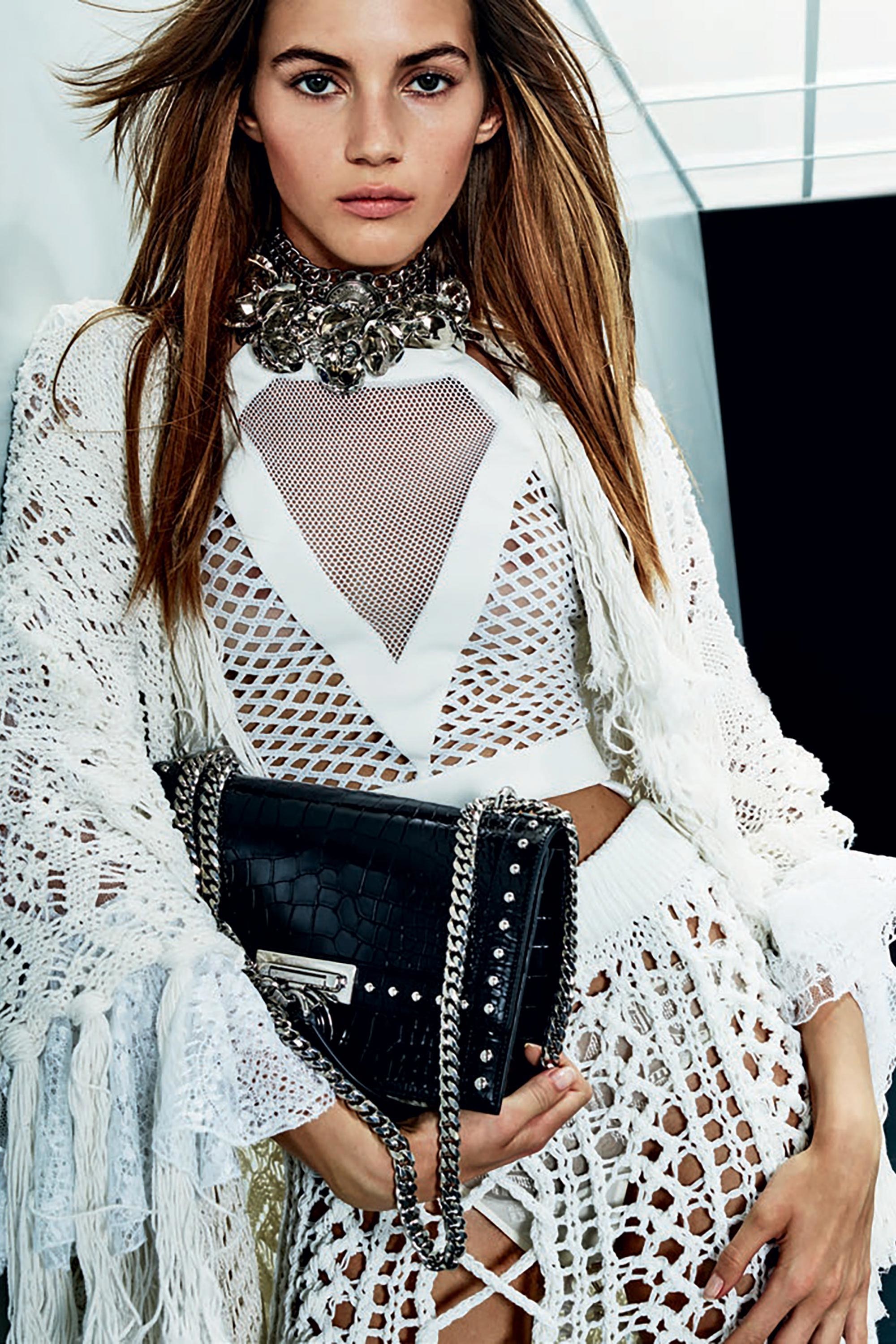 Courtsey of Balmain | Resort 2018
Makeup Ideas November 2017
Midnight Blue
I've always had a romanticised idea about midnight blue being a more modern yet classic color to embrace instead of black.  A really dark midnight blue smokey eye with some glitter? Totally here for it! Or a dark blue liner framing the eyes instead of a black or brown one. Anyways if you need to break off the normal black, go for midnight blue! 
Orange Lips
I loved the idea of orange lips so much this summer that I even showed off mine! Totally crazy I know (eh). But anyways I still very much enjoy the orange lips and even work them when I wear purple! Quite the statement but also a dar(l)ing combo for fall.  I encourage everyone who loves the red lips to try orange too. Much alike changing black to navy blue, orange works as a substitute for red. It's also a color for fall on its own, matching the shades of the leaves and everything else cliché you can think. Pumpkins, sweet potatoes, carrots more leaves and eh more leaves! Orange is definitely a color for fall!
Rosy Cheeks
If the bronzer is a beloved makeup look to do for summer, the rosy cheeks should get their love for fall. I'm one of those people who get quite the rosy (just kidding, red) cheeks when I'm out and it's cold. I do like the change a tiny bit as it undoubtedly adds some life to the face. No wonder rosy cheeks, partly, in the history of beauty been considered as a sign of health, you really do look alive! So take the blush, add some of it and get that natural blood rush faked!
Forest Green Liner
Along my list of terrible makeup ideas this is probably one of the best of the worst. I've had this romanticised idea for ages that forest green is a good one for the makeup life. Perhaps most naturally as a shade but I believe in its power as a liner too. Instead of going for your ordinary black liner, try the forest green one and see how it feels! I think this look is gorgeous to a top in gold and thereby an obvious choice for the season! The dark color still adds some weight to the eyes, which frames them, but reflects the light better!
Full On Fresh
Also to us lazy kids out there, a makeup look for fall that is just about looking fresh is definitely a choice too! A good base, eyebrows on fleek and a healthy glow? We're talking good, right? This makeup look is honestly my go to when I'm lazy and I might even, but barely, curl the lashes and add some coconut oil! This is the no makeup makeup look in a nutshell but ever so reliable if you want to stray away from the full on makeup look. Fake it til you make it or make (up) it til you fake it as I usually (not) say! Dunn might have more makeup on here though, but insanely gorgeous higlighting her features with subtle makeup and a healthy glow!
Folks! Which one of these five makeup ideas November 2017 are you curious about trying? Drop a comment below, Xx