Folks! I keep on dreaming about the future, which is quite ironic as I can't stop talking about how fast the present is flying by, lol. Anyways, I thought we could chat a bit about some more or less wearable resort 2018 looks and why they're genius!
Jil Sander Resort 2018
I've already talked about Jil Sander's Resort 2018 Collection once, but there are so many looks that are brilliant. One look in specific that I think is a great example of how to layer clothes during summer is this look below. It's a great one as it 1) shows a layered summer look 2) keeps the minimalistic essence of the outfit. What to learn from the styling? If you want to go for a minimalistic layered look, keep the color scale classic to b&w and keep the clothing pieces simple and clean. A black skirt and a white buttoned shirt. I can't say what the middle piece is honestly, but I think you can change it to a scarf or a corset belt better so!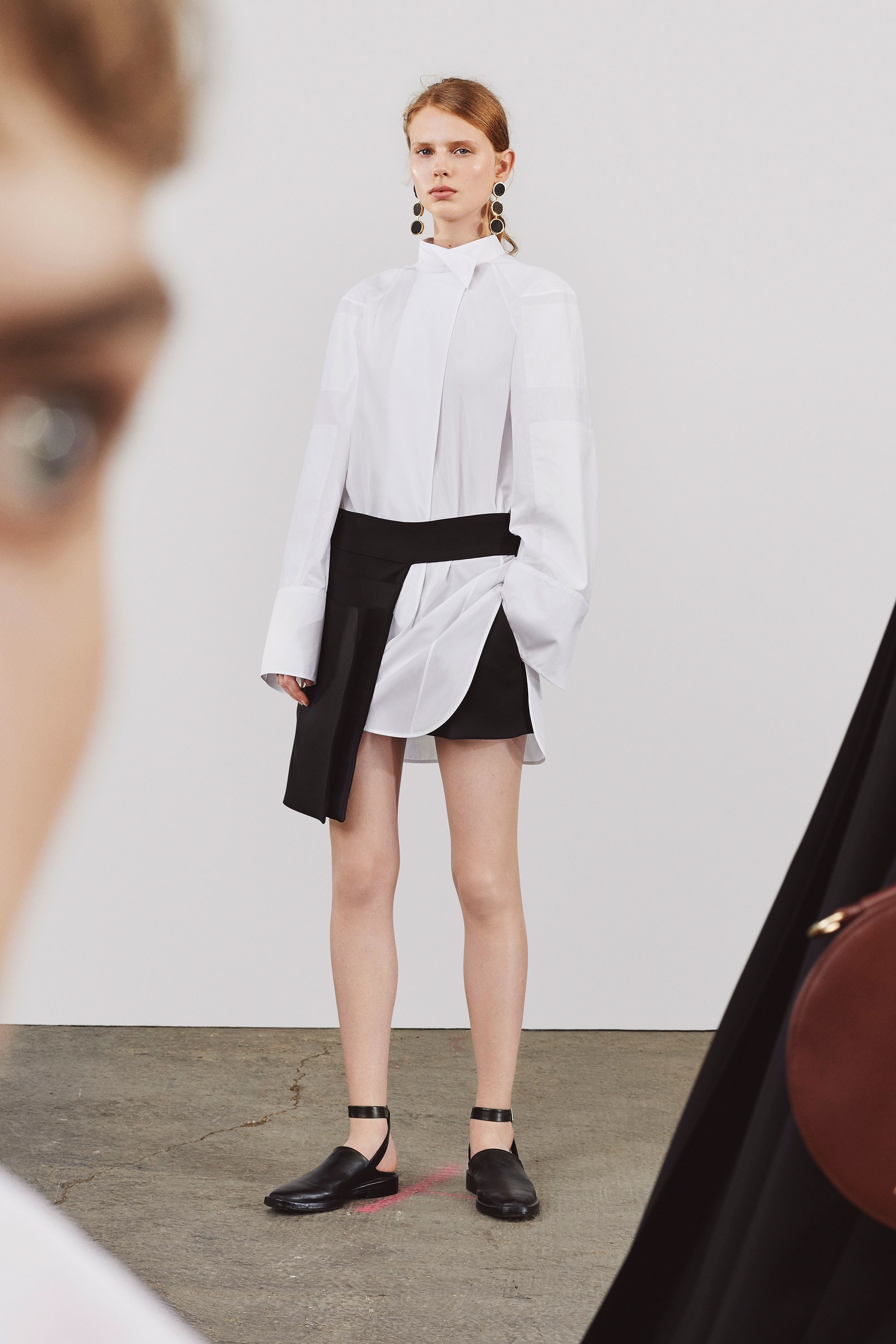 Courtsey of Jil Sander
Marchesa Resort 2018
Not much to copy from this look but to admire the fun, lively and alive style of the dress. The gorgeous yellow shade works so well with the green and pink floral print. Love the volume the ruffles adds, so chic to place it diagonally too and add to the length. The simple shoes gives full focus to the dress which is favorable with all things going on. I've seen more and more of this style of dress (and skirt) so I'm sure you can find something similar without ruining yourself for life with the price!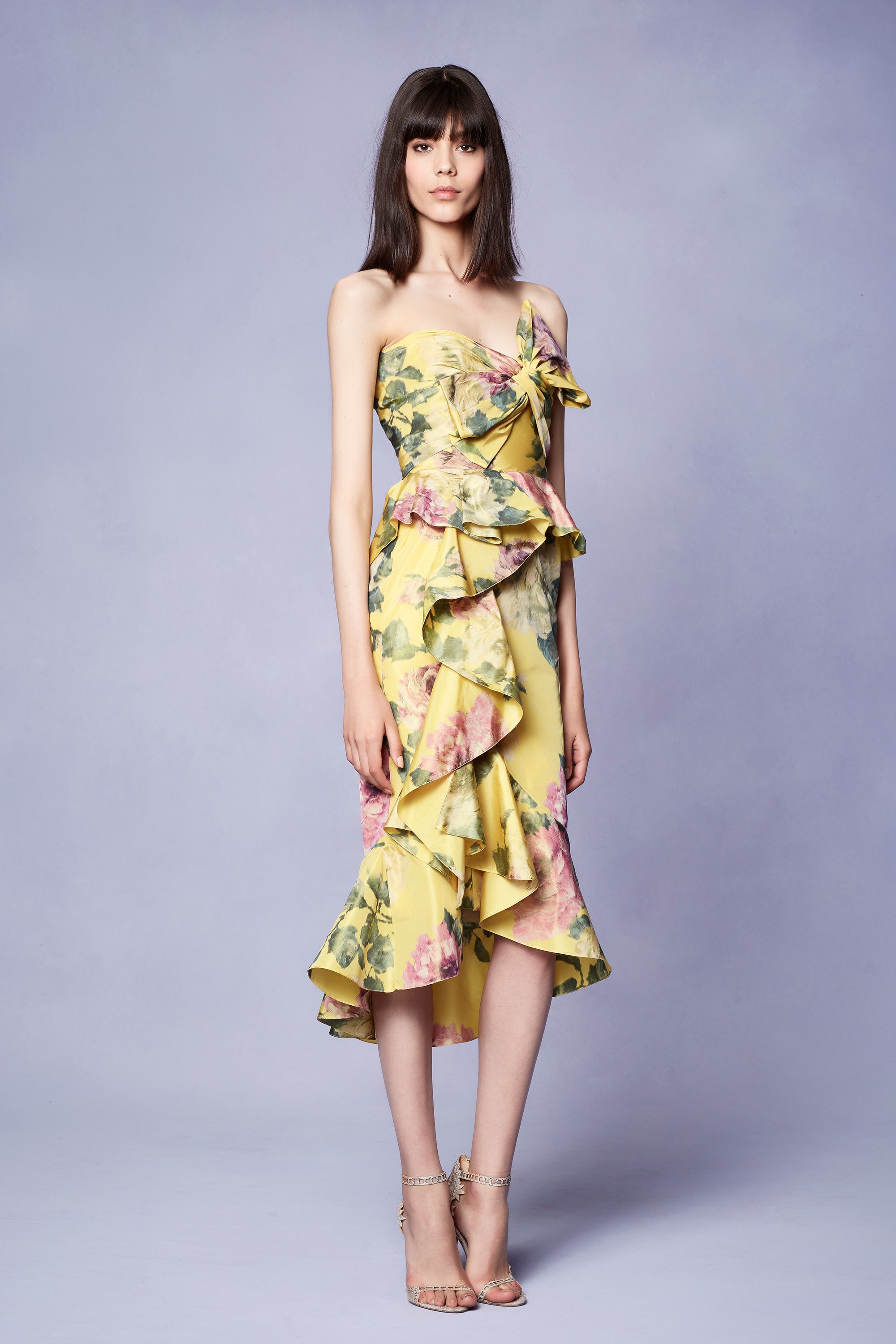 Courtsey of Marchesa
Victoria Victoria Beckham Resort 2018
Victoria Beckham's second label is always a fun one to explore as it experiments a bit more with Beckham's design aesthetic! I think this look is ultimate when demonstrating how denim can be worn in a professional and official way. The denim powersuit works perfectly with the darker denim color as it gives a proper impression with the clean lines and strict cuts. Love the print of the blouse too, a great way to break off all the seriousness. The print is also a nice contrast to the dark denim as the white spots adds some light. A great and simple look to try yourself with your own similar clothing pieces!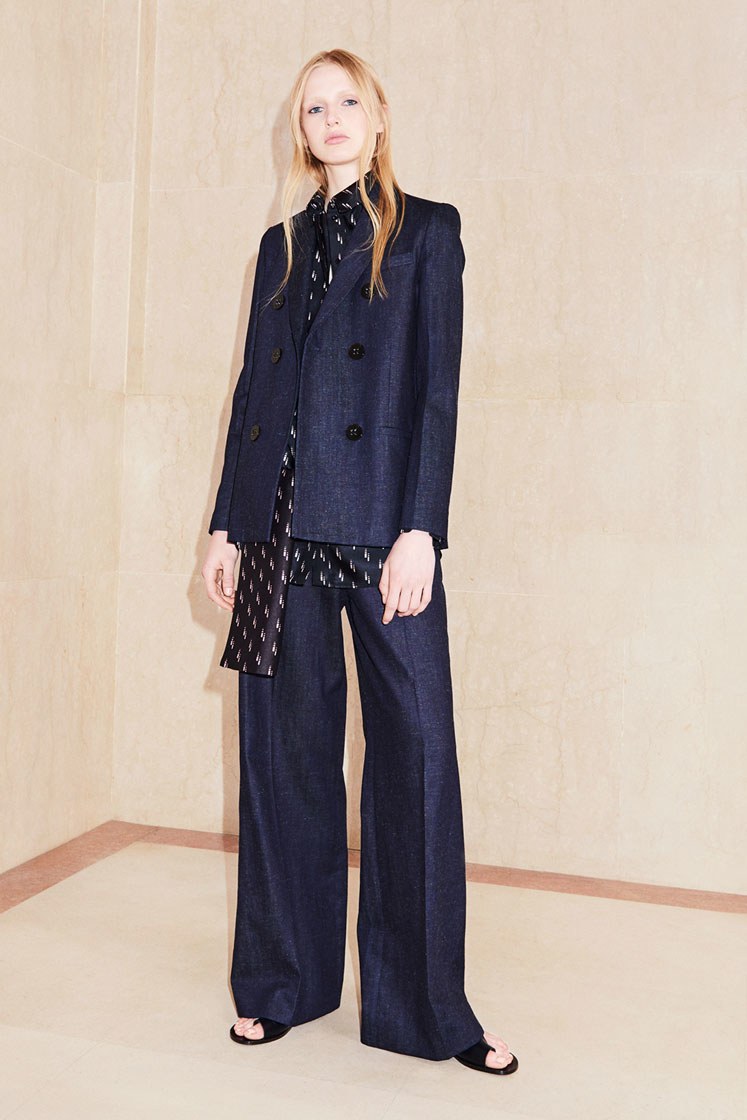 Courtsey of Victoria Victoria Beckham
Pamella Roland Resort 2018
Okey so I can sneak in an item of my wishlist, right? Not sure if this is a dress or an elegant short-sleeved coat, but oh my is it pretty! Can you see this clothing piece in a layered outfit with long sleeves underneath? Fun to do that styling with some colors from the print or add some voluminous statement sleeves just to keep it crazy. I think this look would be fun with a pair of OTK too in a (faux) suede style of midnight blue? I know I'm going specific on this, but boy' can we dream!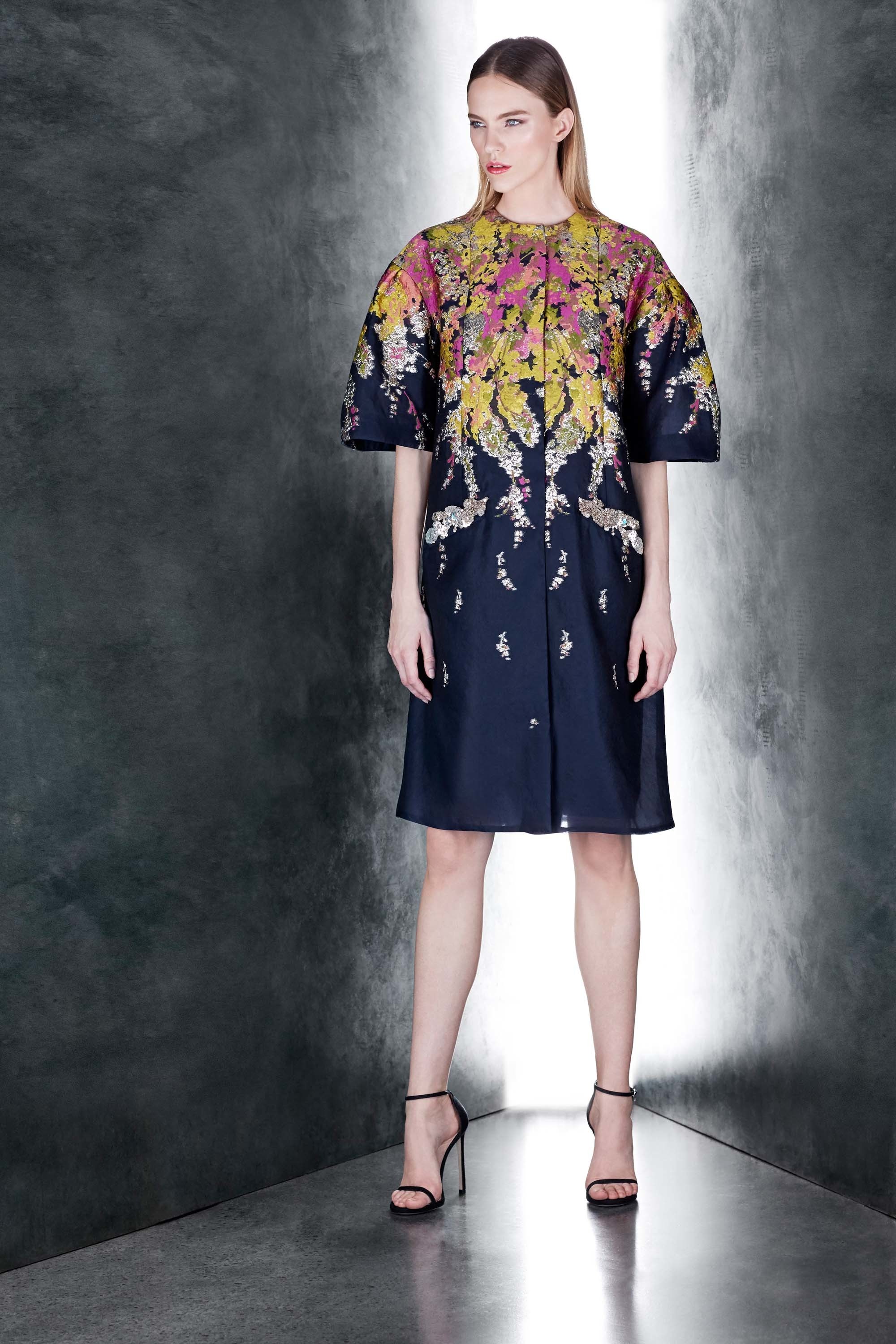 Courtsey of Pamella Roland
Roksanda Resort 2018
Another look from the resort collections that might be too specific for you (or me) to recreate, but love the fun statement this one comes in. The classic blue shade, the strict shirt style, the elongated sleeves and the length are all common features in popular clothing pieces. That's why the explosion of fabric, on only one side of the hips, is a fun and unexpected one. It adds some structure to the dress and definitely the excitement. Also love that they chose to style this look with yellow shoes instead of going classic with white or black. I do think that a tan color would be great too, but love the contrast the yellow brings!
Folks, which one of these resort 2018 looks is your favorite?! Let's chat in the comments!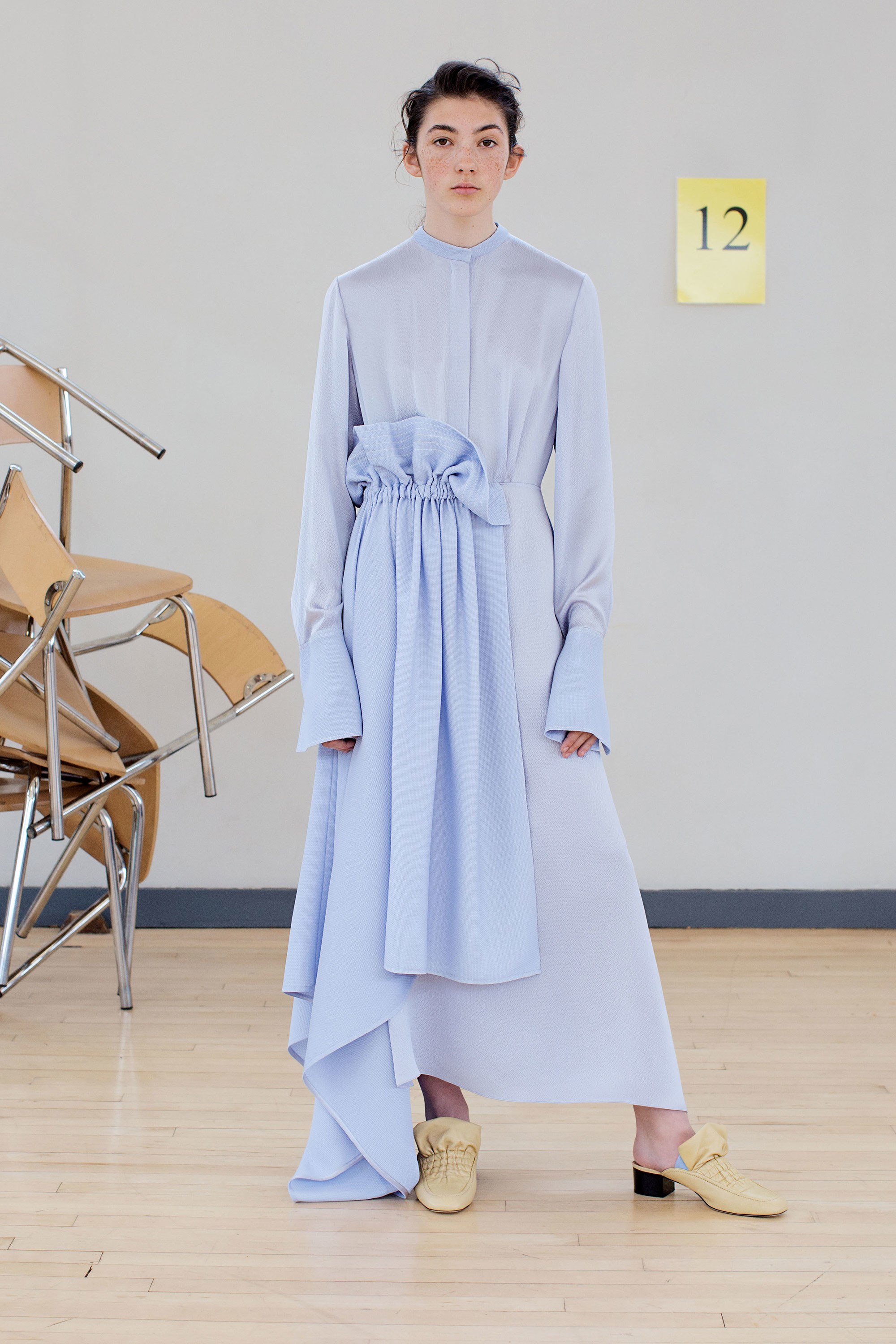 Courtsey of Roksanda