I know the holidays are more or less over and it's time to start wearing your good ol' daily clothes again. But how about keeping some of the glam vibe of the festive season and work it in our daily lives? I mean, if there's one time during the year we're all in need of some extra shine – it's definitely January!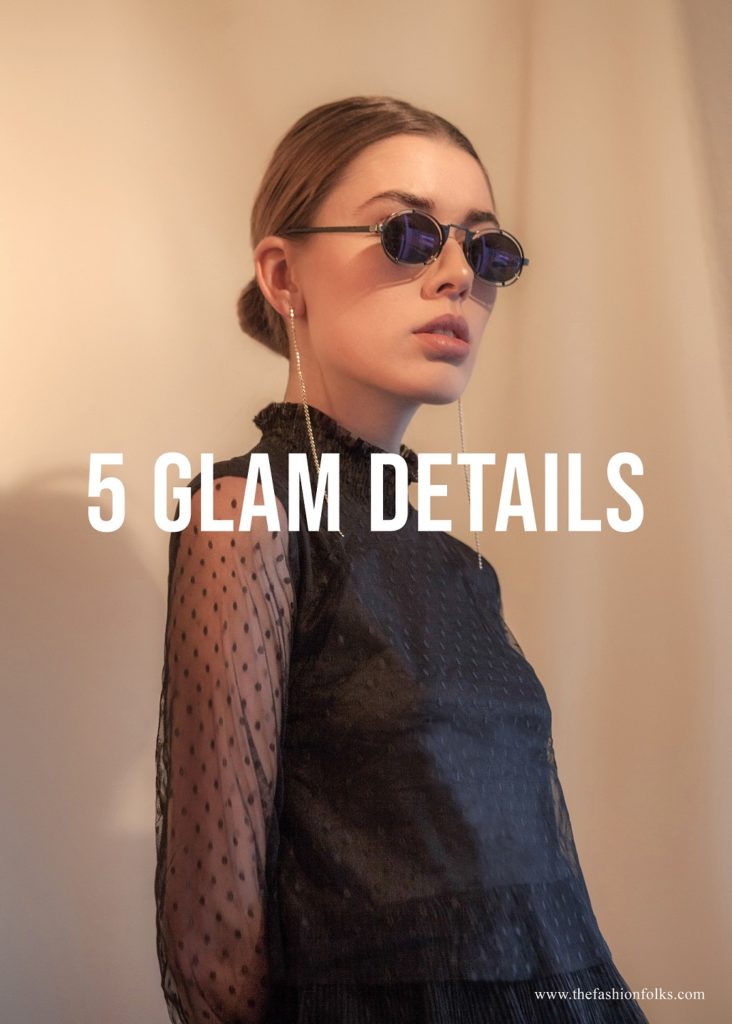 Glam Details 2020
Statement Earrings
Maybe one of the most obvious things on this list is of course to maximize your jewelries! A good pair of statement earrings will make your outfit more glam and add that final touch. I think statement earrings are underrated on so many levels, they more or less go with anything and they'll make any outfit more glam. Denim shirt? Add statement earrings! White blouse? Statement earrings! Black t-shirt? Statement earrings! Dare to go glam folks! 

Velvet Fabric
I talked about the velvet fabric in this glam article, but why not talk more about it? Velvet is a heavy, luxurious, fabric that's a must during the winter season if you ask me. It adds a more mature touch to your outfit and is a stylish match with leather, denim and even suede. I've mentioned it before, but I also love pantsuits in velvet! So chic, so cozy, so glam! 

Metallic Nails
I painted my nails in a gold nail polish the other week and I plan on painting them in this quite chic copper color next. Doing your nails in a glam metallic color is such a simple way of keeping the luxe vibe of the holidays! It's perfect time management too, as you can paint them in less than 20 minutes and you have a chic outfit detail for every day of the week. Simple as that! Here's an article on some nail trends. 

Fashionable Sunglasses
Fair enough that there are some people out there who doesn't believe in sunglasses when it's winter, but I'm definitely not one of them. Sunglasses are functional and they're also really fashionable. If it's a bit extra sunny outside one day, don't be afraid to bring out your favorite pair of sunglasses! They'll make your outfit look more structured and definitely more cool! 

Gloves
This might sound random, but there's something quite elegant with gloves right? I'm not really talking about the bulky knitted ones, but the ones in a delicate fabric or the classic ones in leather. They're kind of the same as the sunglasses: they're functional but also chic! If you don't own a pair already, this winter is the perfect time to invest in a pair in a nice color. Black is always chic, but gloves in emerald green, red or dark purple are fashionable alternatives. Second hand stores usually have really chic ones! Xx

Folks! Do you have a favorite of these glam details 2020? Let me know in the comments below! Xx