Sometimes, what makes an outfit go from ordinary to extraordinary, are the styling hacks. It can be the difference in the size of your belt, the color of your sunglasses or the height of your heels. Some of the most fashionable styling tips that exist sounds kind of ridiculous but they do work, fairly succesful! If you'd like to take your outfit to the next level, try these 5 fashionista styling hacks!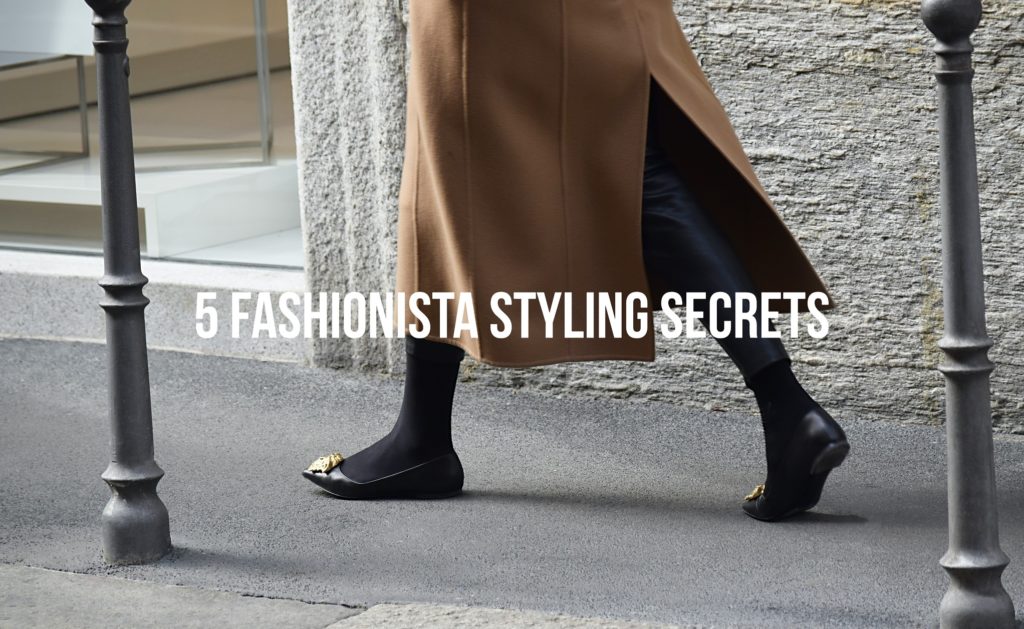 Fashionista Styling Hacks
Adjusted Bag
One thing to do is to shorten the straps of your crossbody bag. This might sound weird, but wearing your bag higher up will center its position in the outfit. It will thereby be more visible and make a more distinct pop. This works well will all sorts of crossbody bags, but is perhaps the most efficient when it comes to bags that are colorful, patterned or statement in any sort of way.
Embellished Socks
Another fashionable thing is to invest in a pair of embellished socks. These socks are an unexpected, but fun, touch to the outfit. Work your embellished socks with a pair of sandals, mules or even sneakers. The embellishment of the socks will add a more elegant touch to your outfit, but also embody a more playful fashion. Some shoes are also more comfortable with socks, so this fashionista styling tips is a clever one!
Boots As Tights
I've talked about this hacks on several occasions before! Instead of going for a pair of tights to your knee-length or midi-length dress – go for a pair of high boots! This works the best if the boots are at least knee-high or hitting mid-thigh. Working your boots as tights will give your outfit another touch. It will also make your outfit more clean, as you won't have the contrast of the shoes and the tights, that sometimes looks a bit too messy. I like doing this with all styles of dresses and skirts, just letting it be whatever it is!
Dramatic Sunglasses
You can also invest in a pair of dramatic sunglasses. Yup, chunky sunglasses with a distinct frame is another way of elevating your outfit. Statement sunnies are bold in their design, which means that they'll definitely make the outfit more interesting. Doesn't matter if you're working a simple sun dress or a playsuit, adding a pair of statement sunnies will give your look the it-factor. Perfect also when it comes to protecting your eyes from harmful sunlight!
Voluminous Pieces
Another fashionista thing, is to go for voluminous pieces. This might sound silly, but adding volume is adding confidence. You'll literally take up more space with your outfit. Playing with volume is also an interesting fashion element as it's not that common. Layering up with a voluminous coat frames your outfit perfectly. Or why not invest in a puff dress this summer, they're the perfect go-to summer clothing piece! 
Folks! What are your thoughts on these fashionista styling tips? Let's chat in the comments below! Xx