So this has turned into a three mini post series about goals/resolutions/ideas for 2017. But the first week of the year only happens once a year (quite logically), so I might as well just make the most out of it, lol! Anyways, here are 5 fashion habits for 2017! I've talked about some of these before, but repeating things once or twice is only beneficial!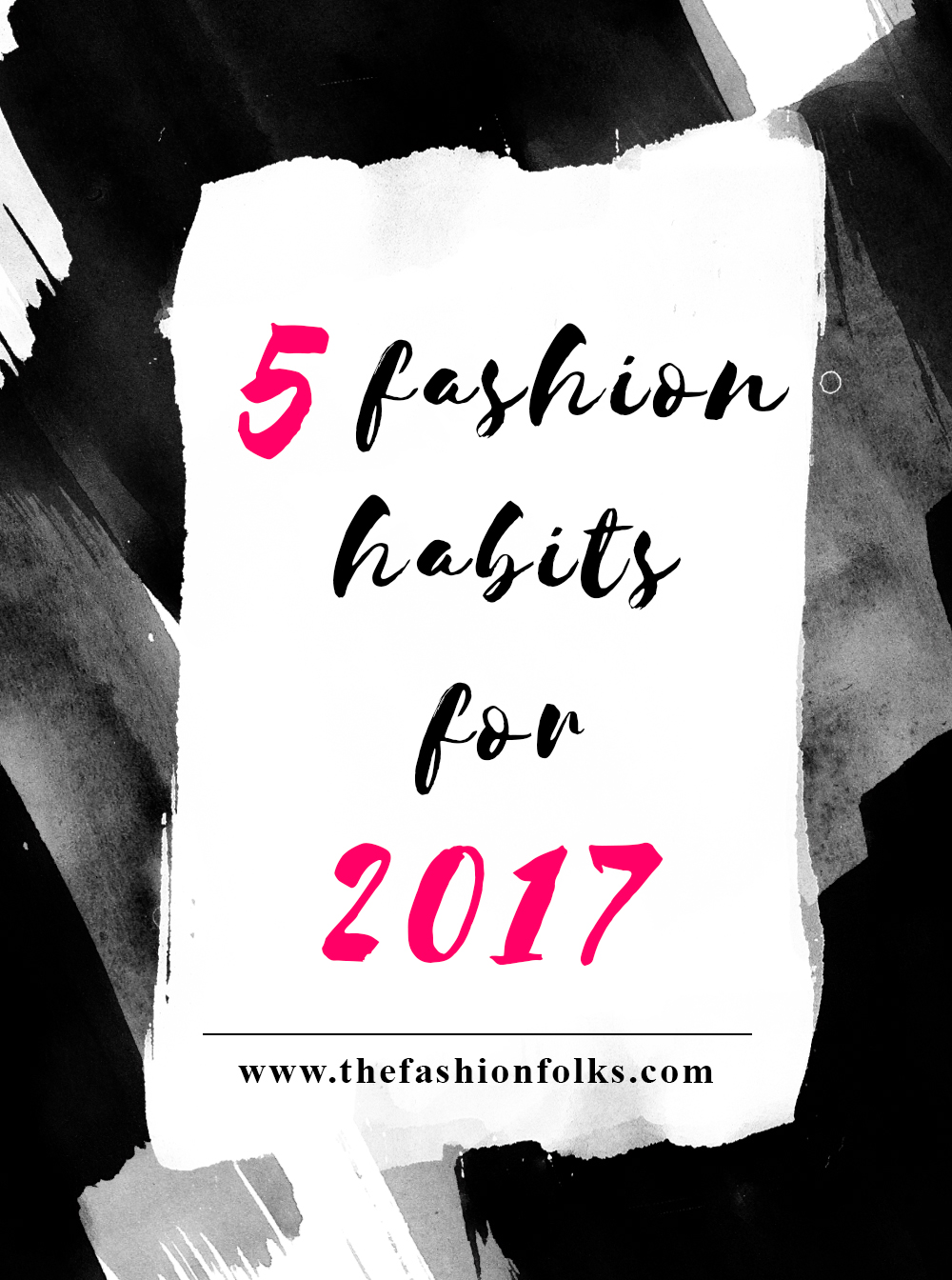 Plan your outfits in advance
I know I keep going on about this one all the time, but if you want to keep the fashion game high, you can't rely on last minute geniusness every time. I'm actually going to take it as far as "failing to plan is planning to fail". If you have some time to plan the outfit you can easily pay more attention to details, silhouette and color combination. If you're stressed, you won't most likely remember that the red scarf will go perfectly with the pink dress. Giving it some time though, you can go over the alternatives and reflect on how you can make the most out of your outfit. So when the inspiration flow is high, grab a pen and write down some combinations!
Invest in pieces
I'm so happy that so many of you wrote that you plan to invest in pieces this year, rather than just buying for the sake of buying. I had it on the resolution list last year and of course I stand by it this year too. I'm a firm believer in the power of creativity regarding ways of styling the same old piece. Constantly coming up with new looks for an old piece is where your fashion ability will make or break. You can't possibly be a fashionista at core if your fashion game lies within new clothes every other week. The creative life in fashion is centered to your ability of staying and being innovative. Always pushing the limits of a clothing piece and find the most fun and unexpected ways to style it. So, when buying clothes, invest in them. For the sake of the environment, creativity and your economy! 
Make it or Break it test
This is similar to when buying clothes and you should jump around in the piece, sit in it etc. Same goes for your outfit. You need to put it through a make it or break it test. Can you sit in it? Walk in it? Can you pick up something from the floor? Can you eat in it? It does happen that the outfit "falls apart" when you walk in it. That the top might be going up and the skirt is going down, which no one wants. It can also be that the legs of the pants are going up when sitting down or that the blouse is revealing a bit too much when leaning over. So put your outfit through the test to make sure to avoid annoying situations!
Wardrobe Heroes
I talk a lot about fashion statements, print and colors. But I'm ever so grateful for the existence of wardrobe heroes and I know that the fashion life would be nothing without them. Wardrobe heroes are pieces that will always have your back. Clothes that will make your other clothes look better. LBD is one of them for sure, but also a skin colored tight tank top you can wear under transparent pieces. Same goes for a skin colored skirt or dress. A black pair of tights will also do the trick. A white tee as well! The wardrobe heroes differs depending on the person's wardrobe so I can't give you a precise answer. Try though to think in terms of basic pieces and clothes that are used under other clothes.
Learn fashion
I know that some things shouldn't be taught as it might ruin the individual sense of creativity. Fashion is partly one of those things, that learning fashion might ruin the experience of breaking the fashion rules. But I also believe that one should know the rules in order to break them! So what I mean when I say that one should learn fashion, I mean it is to refine your knowledge and fashion ability. Pick up a fashion book about styling or study outfits you love and see why they work. Scroll through the pages of your favorite blogger and note how this person views fashion. Knowledge is the foundation of practice. And once you know the rules, go out and break them!
That were 5 fashion habits for 2017. As with everything, these are goals to embrace and not promises to keep! What fashion habit do you want to do 2017? Xx
Did you like this post? Hit the share buttons below!