Folks! I talked about 5 Fashion Habits For 2017 here, so why not do a follow-up with 5 beauty habits for 2017 today? We all know that the way to change is to make something a natural part of your life. One way to do it is by creating habits for your life. Routines that will include your goals, but in a natural and unforced way. Here are ideas about 5 beauty habits to include!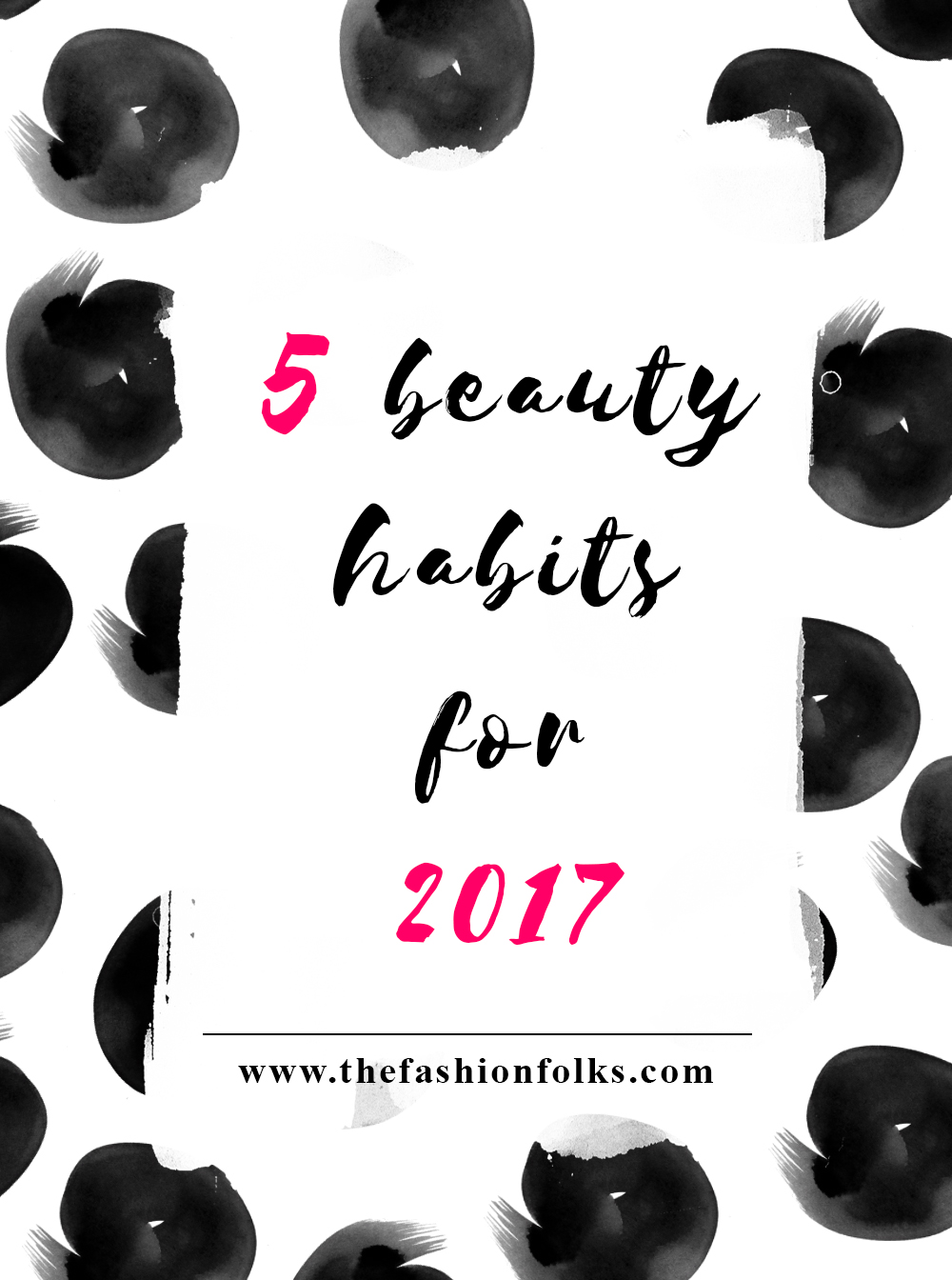 Skincare Routine
Skincare comes in many different versions and is highly dependent on what your skin needs. So, the habit I propose is to have some sort of routine for your skin, regardless of what it is (almost). Keeping it clean, leaving it alone and moisturize are three cornerstones that will pretty much take you a long way. It's easiest to schedule the routine of washing and moisturizing to the bathroom and preferably when you're brushing your teeth in the morning or evening. You can easily scale this one down to 1 or 2 minutes once you've find a process that works for you!
5:2 Hairdo
This is my own goal, to try new hairdos weekly. It's not realistic to try new hairdos every day, so that's why I thought of having the hair normal 5 days a week, and try something fun 2 days of the week. That makes it a 5:2 hairdo, which is pretty genius if you ask me. The hairdos I'm thinking about embracing are not particularly advanced, but breaks off the regular appearance with braids, a bun and different styles of it. There are tons of hairdo tutorials out there that are done within the minutes. Let Google be your friend on this one!
Have a statement makeup look
I know, I'm terrible when it comes to experimenting with my makeup. I think the majority of us have a go-to makeup look we always can rely on and so do I. But I love to push things to their limit, so for 2017 I'm gonna find a signature statement look. I already have a signature makeup look, I just got to throw the statement in their too. So I will at least have two different makeup looks to switch between, and choose between for occasion. Perhaps I'll try one of these looks. All I know is that I want to add some color to my makeup life!
Do the nails weekly
Okey, so no, nails might not be the single most important thing that I'm specific about (but I do care), but I know that I always feel good about having my nails painted. So for 2017 I'm making it a habit to paint my nails weekly, whether it is re-applying or changing shade. Looking down and see a pop of color or a shade that matches the outfit always makes one feel a bit better. It's basically just to put on an episode of a series or a Youtube clip and paint them meanwhile!  I wrote more about it here, btw.
Practice the makeup look
So this one is related to having a statement look, but this is also the main issue of why I'm only capable of having a signature look. Everytime I want to try a new makeup look, I do it the same time I'm about to go somewhere. As if I magically think that I'll be able to get a makeup look right the first time. So practicing the makeup look is a must. I mean, I rarely get my outfits on point the first time I try them on – so why should I get it perfect every time with makeup. It's okey not to create a perfect smokey eye look the first time, and not the second or third either. Let good things take time. And practice. Practice, practice, practice!
Folks, drop some of your beauty habits you'll embrace in 2017! Xx
Did you like this post? Hit the share buttons below!