I know you love these sort of posts, so let's keep them coming, shall we? Here's the first post on awkward color combinations! Beware though that these combinations are pretty much love or hate, so who knows how this post will go down!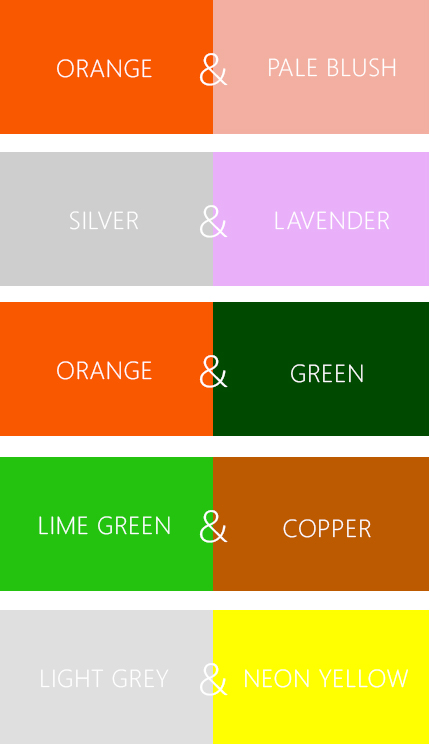 5 Awkward Color Combinations
Orange and pale blush
I talked about this combo last week in this post and surprisingly enough, many of you seemed curious about trying the combo. Pale blush is very similar to pale orange, but has a more beige tone in it. This is why it makes orange pop in a favorable way when combined. The pale blush in its turn gets a warmer feeling. Do note though that when I say pale blush I mean a really pale blush, as pale as it gets without loosing the definition as a blush! Try to colorblock these two with one color for the top/bottom and the other one contrasting.
Lavender and silver metallic
I continue adoring silver metallic and try to find new and different ways to wear it. The latest one, that comes with a 90s touch too, is lavender purple and silver metallic. It has a sort of space vibe to it, but nevertheless unexpected and fun. The lavender color is quite the sleepy one whilst silver metallic is cold and awakens the pale tone of the lavender. Try to go for a lavender look and add the silver metallic accessories. It's a fun one folks!
Orange and forest green
Perhaps this one is to include for a fall post, but if you think about it, the tropical prints often contains this color combo too. Tropical orange flowers with enormous green leaves? Oh yes! The dark tone of the forest green gets an energy injection from the bright and popping orange. It will give an intensified look without going too crazy as you're "backed up" with the forest green. Mix and match this color combination however you want!
Copper and lime green
Okey whatever, the copper color trend might be dying (please make a comeback for fall though) but I'm definitely here for this color combination. The relation between these colors is similar to the one of orange and forest green, described above. The copper represents a darker, more intense and neutral tone, and the lime green adds the energy. As the two colors are each other's opposites there's no room for competition either but just a fun contrast. And we're all about contrasts huh? I think a copper slip midi dress with a lime green clutch and shoes sounds like a fashionista statement. Lol people, I couldn't find a single person wearing this (still convinced trying this yourself?). But close enough below, just add the lime green instead of that forrest green Chanel haha!
Neon Yellow and light grey
I'm not too sure why this color combo is as genius as it is, but probably because the grey enhances the cold tone neon yellow possesses. This combo is actually more common than what people think, just think activewear and you can easily see this look work. If you're one for the basic shades, go for a light grey outfit and let the neon yellow stand for the accessories. As it is partly associated with activewear, the combo inevitably gives a more futuristic, minimalistic and energetic vibe. Undoubtedly fun associations to try for a night out or a brunch, just because people don't expect it!
Folks! Can you think of pulling of one of this awkward color combinations? Which one would you love to try? Let's chat in the comments!