The idea of fall is very promising with pictures of hot beverages, colorful leaves, knitwear and a melancholic sweetness being all over the place. But (there's always a but), reality is that fall can feel rather stressful with the year moving towards the end and the New Year's resolutions better get some attention? It's easy to get in a style rut too, with chilly temperatures and layers of clothes being the rule rather than exception. That's why yours truly have written down no less than 40 fall style ideas to try 2017 (you're welcome). Some basic ones, some fashionable ones and some with a major touch of trend! Here are 40 style ideas to try: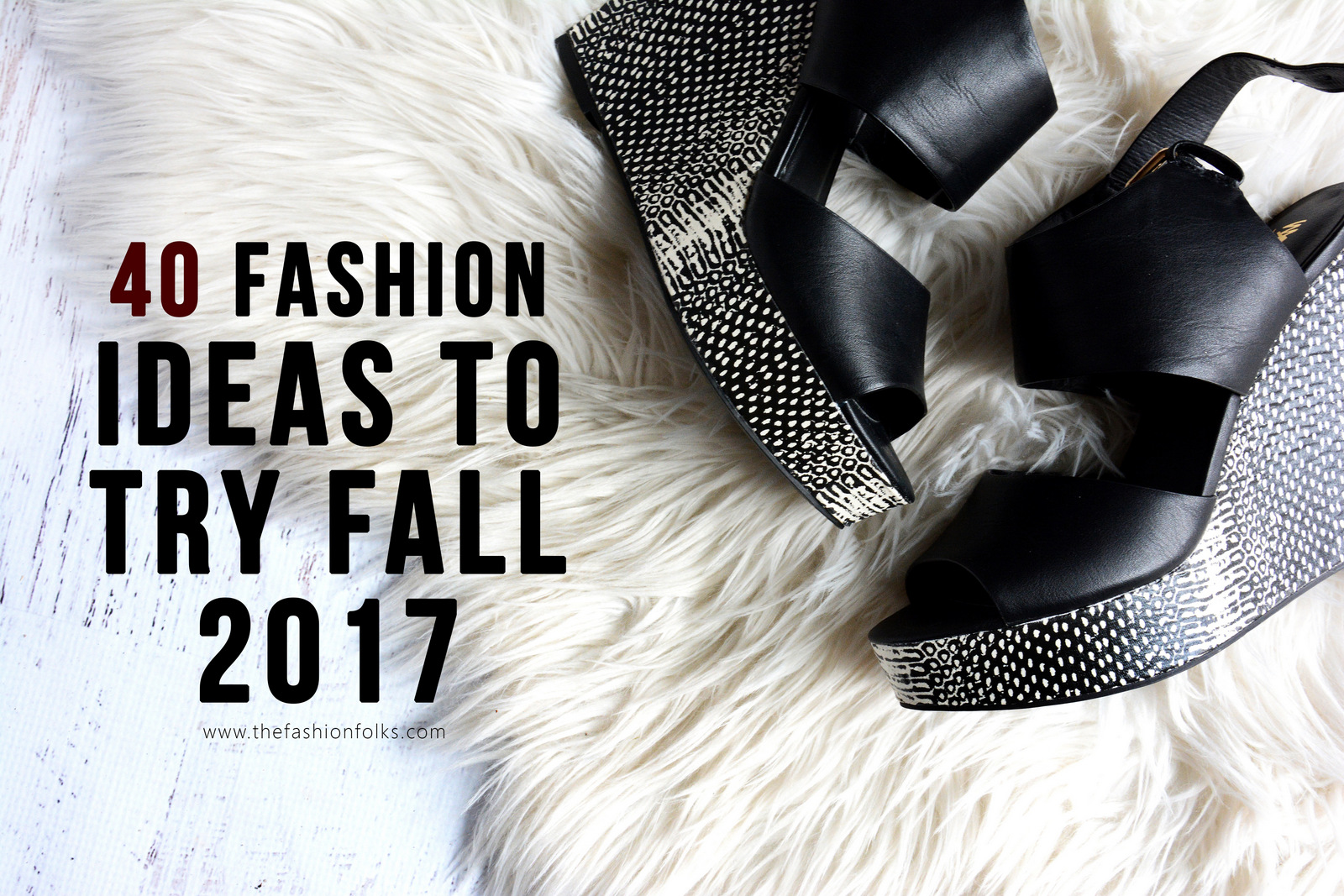 Photo by Allyson Johnson on Unsplash
40 Style Ideas Fall 2017
1. Pop of Burgundy – Burgundy is probably the ultimate fall color with the warm yet dark tone. As it counts as a fall color it's favorable to do with other fall colors. Tan and grey are also shades that works perfectly with burgundy.
2. Contrast The Outfit –  Contrasts will forever be your friend when it comes to fall fashion. The layers of clothes and the popular textures (faux: leather, fur, suede etc) are perfect to create a dynamic look. Go for a (faux) fur jacket to match a pair of (faux) leather pants!
3. Matchy Accessories – A simple way to connect your outfit and make it look more polished is to match your accessories. Your beanie can easily be matched with your gloves, shoes and handbag. Don't go for the exact same shade though, but colors that are similar or within the same scale.
4. Knitted Piece – If you lack the fall feeling, a knitted piece will easily do. Go for a knitted turtleneck and layer it with a (faux) leather jacket. The knitted pieces are fun to match with other textures as they're soft and cozy yet a subtle statement!
5. Vest Over Jacket – If you do a more fitted jacket, one way to keep the layered look going is to add a vest. Do a leather vest, faux fur or knitted one to add a statement texture to contrast. Secure the vest with a belt if you want a more structured look.
6. Pleated Midi Skirt – The midi style is trending and trending big time fall 2017.  The pleated midi skirt in specific has been a popular go to and works well with the fall fashion too. Go for a pair of boots to contrast the preppy style!
7. Denim – Another great material to use for fall is the denim style. A pair of the 70s jeans are terriffic or a denim shirt will surely do. The denim material is considered to be a neutral so don't be afraid to add the prints or bold colors to add another level to the outfit.
8. Burned Orange – As written in this post, orange is one of the hottest colors of fall 2017. One specific shade that is extra trendy is burned orange. The color is gorgeous to pair with other fall shades of navy blue, forest green and even red. Dare to mix!
9. Kimono – The kimono is a trendy piece for fall 2017 and favorable to layer looks with. Pick one in a floral print and gorgeous color and you are one step closer to a fashionable life.
10. Three Layer Look – Catch up with this post folks and read how to do the most basic fall layer outfit there is. Don't forget to add a pop or print or color to make the outfit more dynamic. A statement texture will also do, like a fourth layer as in a faux vest!
11. Crop Top Over – Go bold with the styling this fall and add a crop top to your midi piece. As the midi piece adds a lot to the length (well, obviously), it's a good idea to contrast it with a shorter piece as the crop top is. If you go for a floral midi dress it can be fun to add a crop top shirt. Worth a try!
12. Grey – Black might be everyone's go-to color but I think grey is even better. It's a few steps lighter and works even better with colors, prints and textures if you ask me. Grey with the fall colors is a magical combination. Try to pop it with mustard yellow, navy blue or burgundy!
13. Statement hat – Fall comes with a lot of layers and oversized jackets, that's where the hats will do the work. Add a fedora hat or baker boy hat to add some structure to the look. Also, it's a safe go-to choice if you're having a bad hair day!
14. Colorblocking Stripes – The style of stripes have been semi-trending the past years and is perfect for fall with its pop of colors. There's a fun statement with the contrasting colors and adds life to any outfit. A midi dress with the color blocking stripes might be ultimate!
15. Oversized knitted pieces – If there's one piece people could live in during the fall months, an oversized knitted piece would probably be a top three candidate. An oversized knitted sweater is a must when going for the comfy and cozy style. Pick one in a color you like and it'll forever be your buddy.
16. Rose Gold – The metallics are great for fall with the light reflecting ability. The rose gold in specific works well with the fall colors and creates an interesting match. A forest green dress with rose gold accessories or anything mustard yellow or teal? You got me!
17. Lace – So fall fashion is full of statement textures and heavy layers. That's why lace is a great contrasting material. It's delicate yet dramatic. Contrast the faux leather or faux fur with lace and you'll have an outfit of statement!
18. Turtleneck – The turtleneck is a must when going for a layered fall look. Don't forget to pick one in a contrasting color to create some dynamic in the outfit. A knitted turtleneck ought to keep you and the neck warm!
19. Brown – Brown in fashion is often forgotten, or hasn't been trending properly for years, but is actually a great choice for fall. Again, brown is perfect with other fall colors. Orange and brown is a gorgeous combo. Lime green and brown is bold, tan and brown is a classic! Brown is also a neutral color, so you're pretty safe honestly!
20. Layered Dress – If you're dress is too short for your liking, a great styling hack is to layer the dress with another dress. Go for two dresses in the same color scale, one being more fit and the other one more loose. The longest and defined one is the first layer and the flowy one is the top layer. It'll also keep you a bit warmer, which always is a plus for fall!
21. Stripes With Metallics – Don't forget to bring out your favorite stripes and pair it with  some metallics. Black and white stripes with silver metallic is a classic one. Gold is another great metallic to work with the stripes.
22. Crochet – This style might be the way to the boho heart, but is so in the chicest way. Do a crochet top or a vest to create a softer look. The crochet style is also great to contrast with faux suede or faux leather!
23. Yellow – If you need an energy injection this fall, just add some yellow. Mustard yellow is the ultimate fall color, but dare to go for lemon yellow too. It's a gorgeous pop of energy, and is fun to match with silver metallic or forest green. It's also a trendy match with pink, though it "might" be a year too late.
24. Dark florals – The dark floral print is a trendy one for fall 2017, as mentioned here. Choose your dark floral print in a midi dress style or a blouse. An embroidered leather jacket will also do for the trendy style. Don't forget to contrast the florals with some heavy texture or pops of colors as in red, yellow or orange!
25. OTK Boots – If you only need one pair of shoes this fall, the OTK boots will surely do! Match them with your skinny jeans, pair them with your midi skirt or work them with a mini skirt. A black pair is classic, but tan boots and also grey ones will last through the seasons. A trendy alternative are the red boots!
26. Neon Colors – The popping and energizing shades of neon might not be what you think about when thinking fall. But the colors will make any outfit pop and will surely be needed when your outfit lacks excitement. Dare to make the neon pink pop with burgundy or add neon yellow to your grey look. It's a contrast, but it's a chic one!
27. Scarf Blanket – An oversized scarf in a heavier material is also known as the scarf blanket. This style of scarf is genius to wrap around your shoulders and secure with a belt. It adds a final layer and will keep you warm. Dare to go with one in a plaid pattern or floral one to keep things exciting.
28. Geometric Shapes – The dots are trending this fall which is a must-follow. The chess pattern has also been popping up briefly and the stripes are never out of style. Go for the geometric shapes when going for a pattern!
29. Gold – Don't forget to keep the luxury vibe alive with some gold color this fall! Go for the jewelries to mix it up with the heavy materials of the fall fashion. Gold is great with forest green, mustard yellow but also navy blue and orange!
30. Five Layer Look – If the three layered look is the first step, the five layered look is the second one. Go for a  defined first layer, then the buttoned shirt, add the jacket, add a vest and add a scarf. Five layers that is!
31. Fall And Pastel – Catch this post from summer to see how you can match the fall colors with the pastel shades. An easy hack on how to make the fall outfits a bit lighter and yet colorful.
32. Monochromatic With A Pop – The monochromatic outfits are trending big time and an easy trend to embrace too! Just pick a color and go for it top to toe. The interesting here though is to break it off with a contrasting pop of color. A clutch, a scarf, a bag or shoes will do this!
33. Faux Suede – The material is often forgotten in comparison with leather, but works the same way kind of. A bit of edge but easy to style and perfect to match with other fall textures. A faux suede mini skirt is a great choice and match with a faux leather jacket or a blouse. Or why not the OTK boots?!
34. Silver – If you're not a gold person, silver will be your friend instead! Add silver to make the outfit pop with some light reflection. I'm sure you haven't missed all the silver metallic boots that have been trending lately. They're genius to match with some denim!
35. Embellished Details – One way to keep the glam factor high during fall is to go for the embellished details. An embellished clutch, beanie or why not a statement necklace ought to add some luxurious vibes to your outfit. Perfect to match with faux fur or denim to contrast the style.
36. Shirts – A shirt is key in any outfit. Whether you have a denim shirt, a white or a light blue (or all), they will be vital in a fall wardrobe. Button it up and layer it with a sweater and jacket. Do a bow or add a statement necklace to add a more formal touch!
37. Stripes and Florals – A print mix you can't miss are the stripes and florals. Go for your favorite stripes and contrast them completely with a floral print. They don't even need to have anything in common to work together, it should and can be that crazy. Foolproof is the way to it!
38. Faux Fur – The texture of faux fur is perfect to add some volume and coziness to the fall fashion wardrobe. Go for a faux fur jacket or vest to keep it as a final layer and leave all the volume to its attention. Pick one in black if you want a classic or go for burgundy or forest green if you want that fall touch.
39. Paisley Print – The paisley print is a great one to do for fall. It's bohemian, sophisticated and flowy. The print is often done in fall colors too, which makes it even more fitted. Go for a tunic or dress if you want to make the most out of it!
40. Red – If there's only one color you should care about for fall 2017, it's the red shade. The hot shade is everywhere and commonly done in a monochromatic style or used for leather, knitwear and even faux fur!
Folks! Which one of these 40 style ideas for fall 2017 will you be working? Let's chat in the comments! Xx