I love when things are effective, and what's more effective than to write an article that suits everyone? This post is about some really wearable, universal, unisex outfits that are easy to recreate and timeless. What's great with outfits like this is that they're perfect go-tos on days you don't know what to wear. They're also a great base if you want to embrace statement pieces, as the combinations are neutral and therefore enhances the piece. For instance, perhaps some animal patterned boots, or why not a wooden bag? You can also go for a colorful beanie or a bag. It's simply about adding the details that will elevate your outfit. Read more about the unisex fashion in this article, and oh, here are four unisex outfit ideas 2019: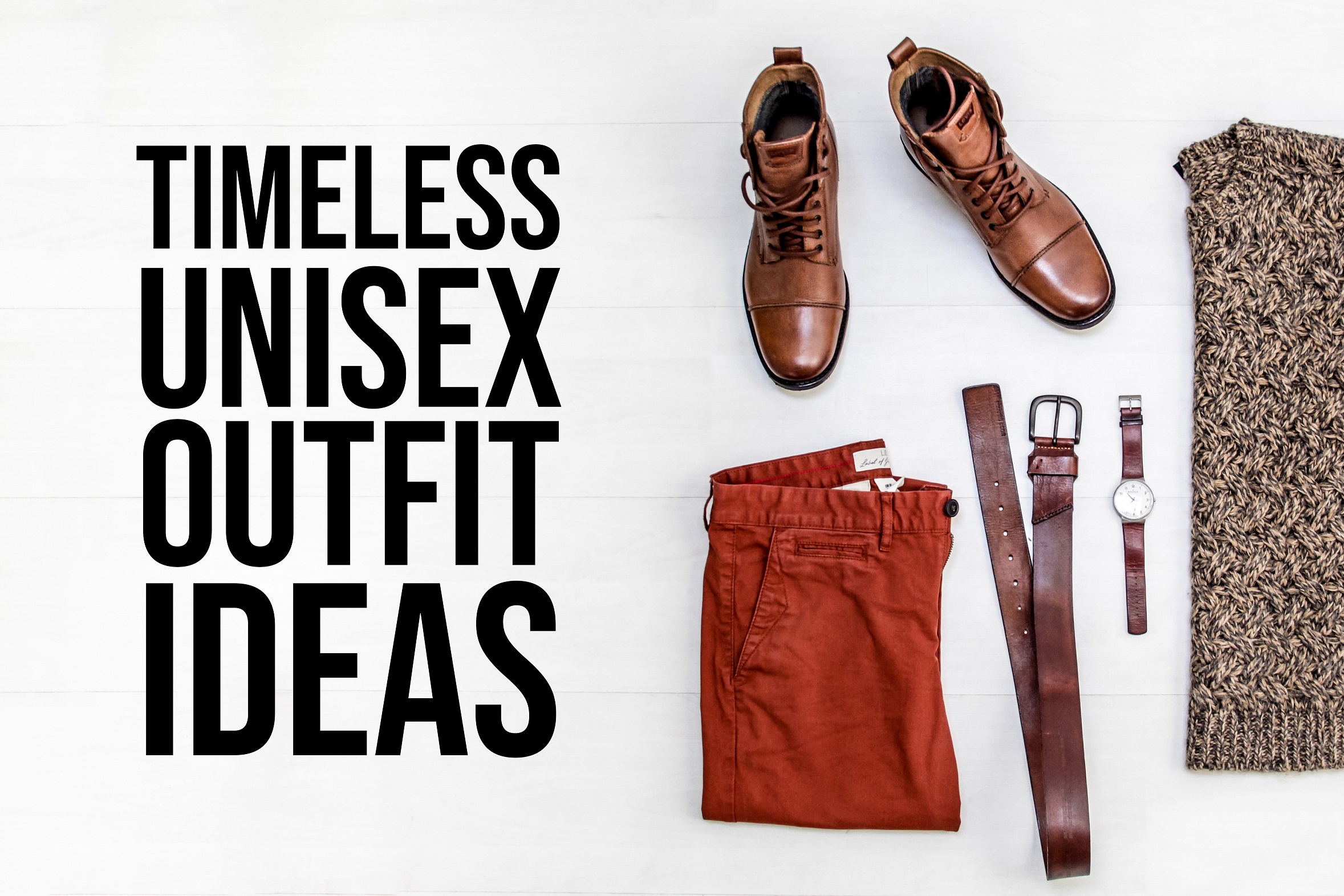 Unisex Outfit Ideas 2019
White T-Shirt & Denim Jacket
Has this been a go-to outfit for decades? It surely has! The white t-shirt is probably  one of the most beloved clothing pieces worldwide and one that works for everyone. White is a flattering shade and the simplicity of the t-shirt makes it perfect for the everyday life. As a white t-shirt might be a bit dull on its own, it's a good idea to add a good ol' denim jacket. The jean fabric of the jacket will add some edge to your look with the more rough texture. What's great with a denim jacket is that you can choose a style that suits you. A cropped one with defined sleeves is more preppy, whilst an oversized one will bring the 1980s vibe. Going for some beige colored chinos or black jeans can be stylish alternatives to complement the outfit. Adding a pair of statement sneakers or statement boots will be chic shoes!

Light Blue Shirt & Chinos
Another unisex outfit that's a stylish one and great for spring is this one. The light blue shirt is surely a piece that works all year round, but is extra chic for the warmer months with its bright color. To keep the bright, casual, look intact – pairing the shirt with some chinos is a good alternative. I do think navy blue chinos will be a nice, cohesive, match with the light blue color. Going for beige chinos is also a nice one for spring. I think brown leather (faux) is a favorable third element to this duo, but also straw accessories and anything orange!

Blazer & Turtleneck
So the blazer is the perfect outerwear on days when it's too hot to go for a jacket. The blazer also happens to be a trendy clothing piece this year, which makes it even more wearable. Another trendy piece, that's also a good match with the blazer, is a turtleneck. The high-collared clothing piece is a popular one from the 1980s style and made a big comeback in fashion a few years ago. Pairing these two gives a pretty preppy impression, but is nonetheless a stylish option. I think a fun way of doing these two is to go for similar colors. Perhaps a dark grey blazer with a light grey turtleneck? Or a navy blue blazer with a bright blue turtleneck? As both blazers and turtlenecks often are done in neutral colors you can, of course, also mix and match however you want without being too specific with the color!

Striped Top & Black Sunnies
This combination have been a staple of mine for years! The striped top is surely one that's also universally beloved and worn. The common duo of black and white stripes make up for perhaps the most neutral pattern there is. That makes the clothing pieces ultimate with other colors as well as print. I'm crushing big time on pairing my stripes top with other floral patterns (read more about that here). To the timeless duo though: a striped top and some black sunnies are as basic but stylish as it gets. What style of sunnies you're gonna wear is up to you, but choose black ones as they'll add a sharpness to your outfit. Sunnies are also quite important when it's sunny and hot outside as you'll protect your eyes and the skin around it! It's quite chic to add red lipstick to this combination and also layer up with a leather jacket or a denim jacket.

Folks! Which one of these unisex outfit ideas is your favorite? Let me know in the comments! Xx