Folks! Spring is approaching and what's a better way of embracing it than through the act of fashion? I know you like lists and so do I, so let's keep it short and concise today. From color choices to ideas of print and accessories. Some classics that are more or less compulsory for spring but also details that are highly relevant for spring fashion 2017!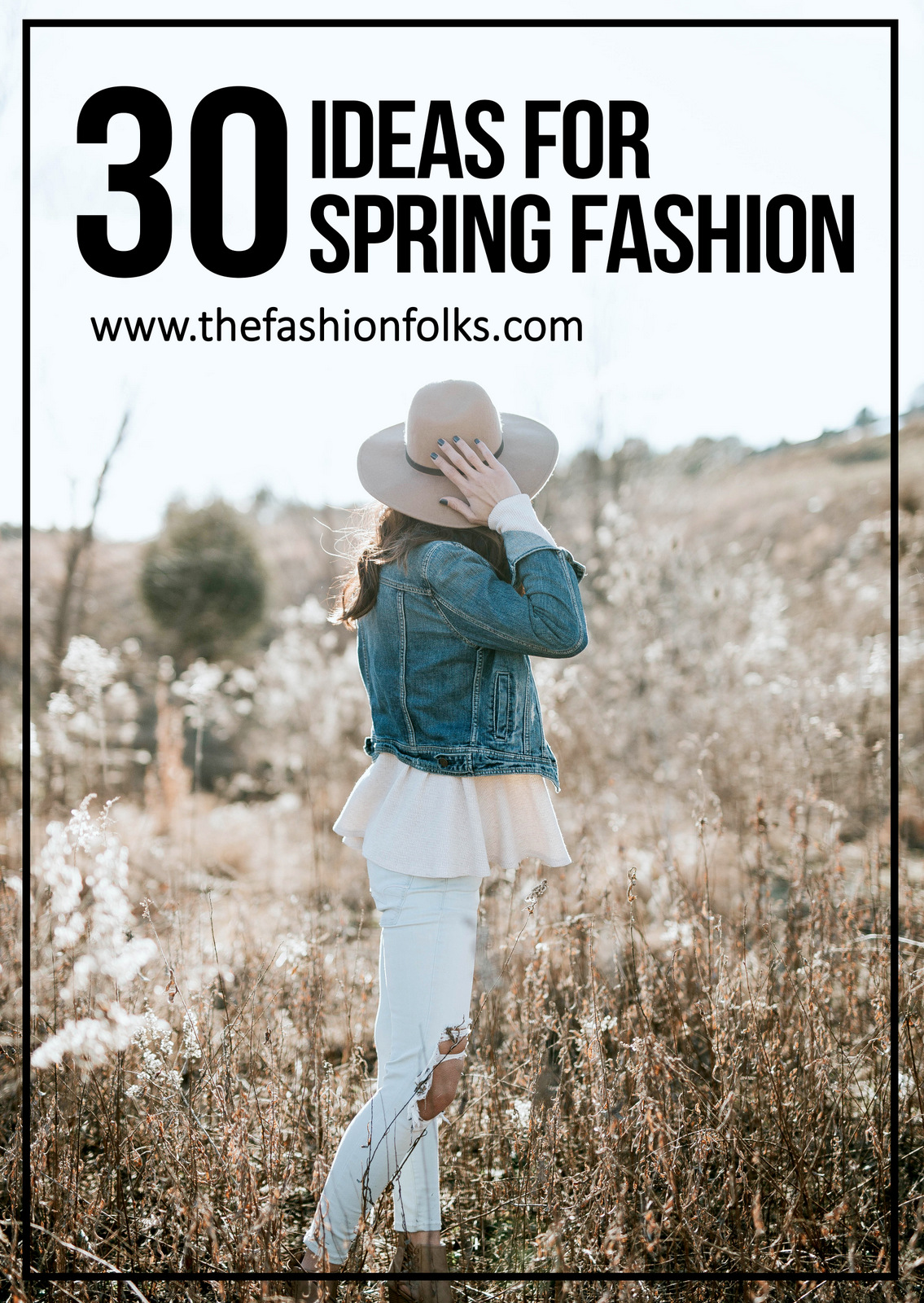 Spring Fashion 2017
Pastels

– There's no better time to embrace pastels than during spring and summer. The colors are sweet, flower-like and easy to pull off. Try the pastels with each other, white or denim if you want to keep the color shade bright. How about a baby pink blouse and flared jeans?

Floral prints

– I don't even need to refer to Miranda Priestly here, we know that florals are returning each season. They're pretty, versatile and there's a floral print for everyone. Match it with stripes or keep it pulled together by matching the colors of the flowers.

Monochrome white

-I don't know what's spring if not a bright monochrome look. Especially white is a gorgeous one to do (with red lips). Make it pop with a colorful clutch too!

Navy Stripes

– Nautical vibes are also a matter of spring to many. To do this the best way, embrace the navy stripes (white/navy blue combo). 

Blouses

– We are certainly living in a time of blouses. Go for one with statement sleeves to keep it stylish for 2017. The light fabric works perfectly for spring.

Trench coats

– Not only are they classic, they're also a chic jacket option for spring. The light jacket is a great one for layering as well as keeping things classic.

Layers

– The never ending issue of spring is either being dressed too hot or too cold. Well, go for a layered look and take off a layer as the day passes by. Easy as one two three.

Pea Green

– In case you've missed, pea green is the color of the year and inevitably a great color for spring. Read here on how to match it.

Distressed jeans

– People might have been wearing them through fall and winter too, but they're obviously a great choice for spring too. Keep the contrast between edgy and preppy by adding a blazer.

Print mix

– Go for a statement by mixing prints this year. Clothes in prints are common for spring, which makes your job easier. Pair stripes with florals or dots with squares. Contrasts folks!
Pastel color + Jewel tones

– So here's a fashion secret for you: The pastel colors you love exist in the same color but darker for fall. They're our beloved jewel tones. Try therefore to match bright green with emerald green. Baby pink with burgundy or baby blue with navy. It's a chic one!

Fedora hat

– A hat for spring is not only stylish but also a great addition for a detailed look. A fedora hat will surely do that work and save you from bad hair days. 

Monochrome

– Don't only go for a white monochrome look but embrace monochrome in all shades (skip black though, you can push yourself further than that). Try bright grey, all pink or all navy?

Distressed/uneven hemline

– A trend for spring fashion 2017 is the uneven denim hemline. I talked about it in this post! Style it with your flats or feels to keep it matchy. 

Sneakers –

Congrats folks, spring is the season of sneakers. Go for white, colorful or printed ones to keep the spring feeling intact. Obviously a chic choice to do with denim as well as A-line dresses.

Blush pink

– Another trend for spring fashion 2017 is the color blush pink. It's sweet, easy to style and flattering. Read more here.

Culottes

– These beloved pants were a hit last season and you can definitely stick with them this year too! Go for flowy, prints, colors or statement. Match with heels or flats to keep the look balanced.

Jumpsuit

– If you don't own a jumpsuit yet, spring is where you should buy one. They're perfect for spring weather as they're light yet covering. Go for a print or color you like and I'm sure you have yourself a new favorite piece.

Velvet details

– Some people think that velvet is not a fabric for spring as it's quite heavy. I don't agree tbh, but if you're uncertain: Go for velvet details instead. Velvet shoes, bags, scarves and chokers. It keeps the luxury of the fabric without its heavy feeling.

Print + Colors

– It's easy to go for a neutral color (black, grey, nude etc), when going for print. But pick up a color from your print and wear the matching clothing piece in that shade. It keeps it balanced yet colorful.
Blue/white striped blouse

– The classic blouse/shirt is a wardrobe staple to many and a fresh choice for spring as well. Go classic with denim or more fashion with culottes.

Popping colors

– Spring is where you embrace colors full on. Dare to go for neon yellow, orange, bright red or any other color with intensity. They work so well with bright denim, other popping colors as well as white.

Fishnet tights

– The fishnet tights are also fashionable for spring fashion 2017. Try them with denim as suggested here, or why not under a midi coat?

Statement sunnies

– Folks, the time is here. The time for going full on statement with your sunnies. Don't stop at your classic Ray Bans but go for a fun frame, an exaggerated shape or anything beyond the regular selection.

Parisian Chic

– Paris and spring is a perfect and romantic combination, so no wonder that Parisian chic feels like the perfect embodiment of spring. You know the drill, go for denim, stripes, beige coats and hats and you're pretty Parisian looking!

Patent Leather

– Also a big trend for spring 2017, read here. Balance the fabric with light fabrics in pieces as blouses, shirts, basic tees!

Denim on Denim

– Feels like I've talked about it way too much these past weeks but it's a fierce match, okey? Go for the same shade if you dare or contrast the top and bottom if you're insecure. Break the look off with a bag or hat in a popping color and you'll be good to go.

Colorful nails

– Perhaps not a fashion thing but I'll sneak it in here anyways. Go for colorful nails as in pastels, popping colors or white to achieve the spring vibe. Even though I love dark nails, the colorful ones are more matchy to spring fashion.

Crop tops

– Crop tops aren't going anywhere anytime soon. Match crop tops this season over your shirt, like here, or go for high waisted skirts or pants to keep it stylish. Why not one in a fun color or print?

Midi skirts

– Spring and it's time to embrace the midi skirts again. Take your favorites and match with colorful tops and layers. I have one in red I like to wear with white tops as well as pink and orange. You know, keeping the life colorful!
Folks! How are you planning to embrace spring fashion 2017? Leave a comment as always! Xx
Did you like this post? Hit the share buttons below!