After a long winter there's nothing like putting on your fresh sneakers for spring. Perhaps this is extra exciting spring 2019 as sneakers are in the spotlight. Continuing the series of how you can style your basic clothing pieces, I thought an article on your sneakers spring 2019 would be suitable. Here are three ways you can wear your sneakers this spring – classic but with some trendy twists!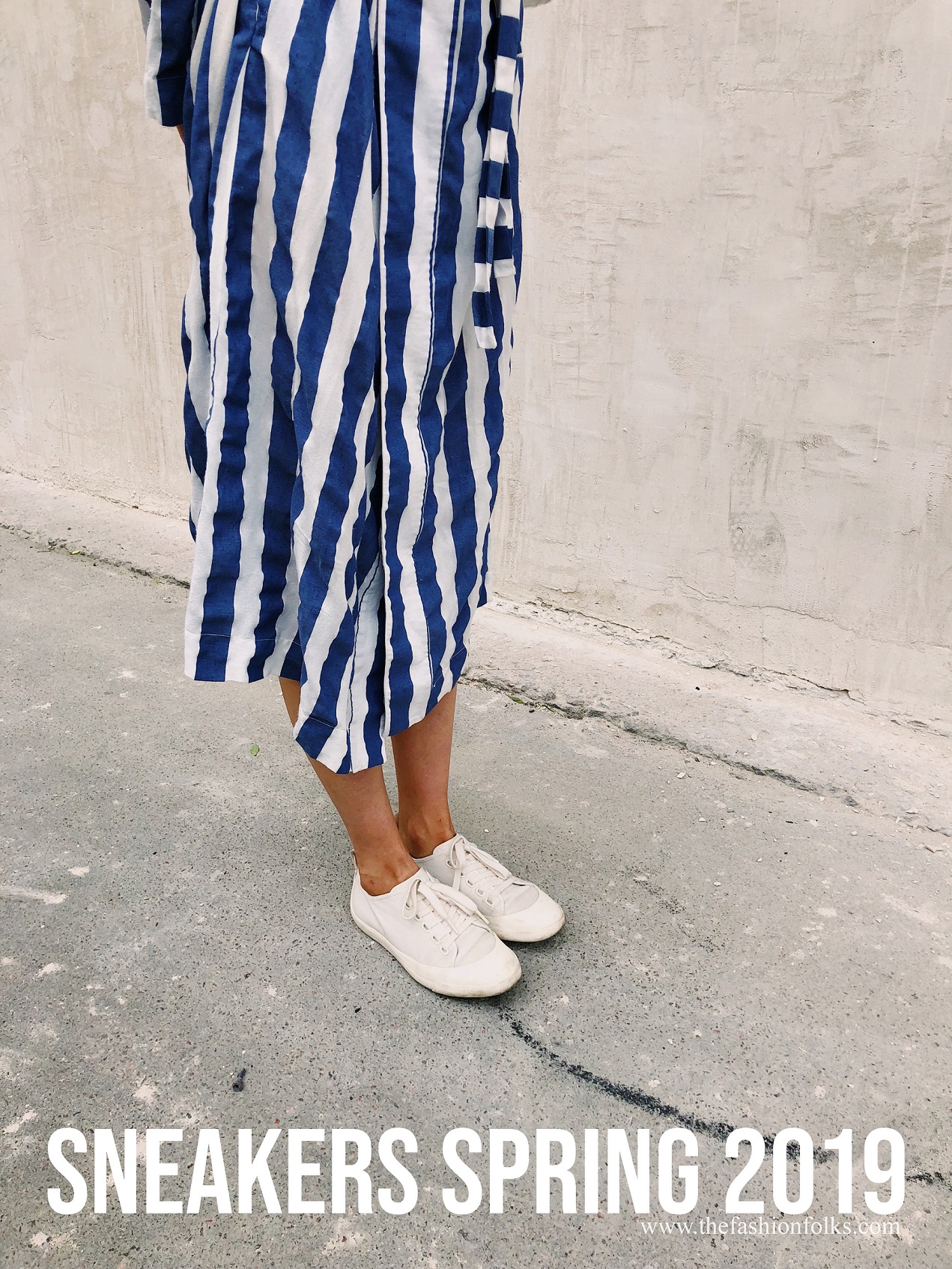 Sneakers Spring 2019
Sneakers with Midi Lengths
This was one of my favorite combinations last year and it's going strong this season too. Pairing your culottes, midi skirts/dresses with some sneakers creates a great dynamic duo. The more elegant style of semi-long clothing pieces often needs an edge to make the outfit more interesting. Some chunky sneakers will add this with their more casual vibe. I think this is extra chic to do if your skirt/dress comes in a more delicate fabric or preppy look. Like perhaps a pleated skirt or a dress with some lace. Remember that sneakers are pretty neutralizing so don't be afraid if it will clash, as the clash will more or less be wearable. It's sometimes about embracing a more awkward fashion (which is trendy too!).

Sneakers and Patent Leather
So patent leather has some attitude and one way to enhance this is to add some sneakers. It'll undoubtedly be a trendy look with patent leather as a contemporary material and sneakers as popular shoes. Patent leather is a favorable material to pair with lighter ones, which is why it can be a good idea to go for a semi-transparent blouse. A knitted sweater will also be chic and perfect for the transitional period! If you don't own anything patent leather, a classic pair of denim will also do; of course!

Sneakers with Trendy Prints
Some of the most trendy prints atm includes vivid florals, animal prints and asymmetric ones. I think all of these can be a good match with some sneakers. Especially the florals as you get a fun combination for spring with something delicate and something casual. Animal prints are also a good alternative as they're often quite neutral (when done in their "natural" colors) and can be done quite subtly with some sneakers. I also think there's a good embracement of a more casual and street style fashion when pairing animal prints and sneakers!

Folks! How are you planning to wear your sneakers spring 2019? Let me know in the comments! Xx