If you caught Tuesday's article, or this trend report from October, you know that the blazers spring 2019 is a thing. The best part about the trend is that a good blazer is a wardrobe staple that will help your wardrobe forward. It's often basic in its appearance which makes it a perfect match with other neutral pieces but also vibrant colors and prints. This makes the blazer quite multifunctional and gives you endless of outfit alternatives. It's in other words a good investment! To get us all going with the blazer life though, here are three ways you can wear it this spring: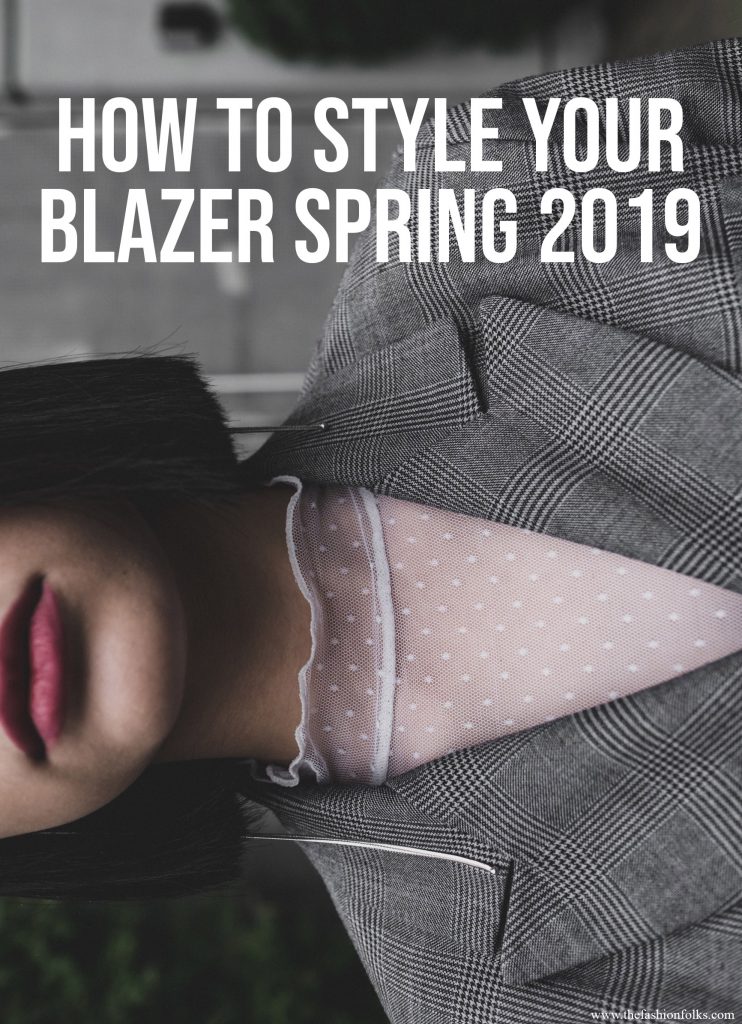 Blazer Spring 2019
With Matching Pants
One of the biggest trends spring 2019, in which the blazer is included, is the pantsuit trend. Having your blazer in a matching look with a pair of pants is terribly trendy and chic. It gives a cohesive and monochromatic appearance which is easy to style as you often only need to add an accessory or a final layer. Pantsuits are often more polished looking which also makes them suitable for more formal contexts. You can also make your pantsuit more casual with a pair of sneakers and a simple t-shirt under. A quick styling tips is to think about your pantsuit the same way you style your jumpsuit. They work pretty similar.

Layered With a Sheer Blouse
A blazer is often pretty heavy in its material and more definite. Contrasting it with lighter materials can therefore be a nice alternative in order to intensify your outfit. I'm very fond of combining my blazer with a sheer blouse as the contrast is pretty distinct. If I'm gonna be detailed about it, I like to pair my blazer with blouses that have a high collar or another nice framing of the neck. It optimizes the clothing pieces and their respective qualities. One way of doing this successfully is to go for your blouse in a slightly lighter shade than your blazer. This will create a chic dynamic in the outfit. You can also, of course, color contrast completely.

Casual With Denim
If layering your blazer with a blouse is to make it more preppy, pairing your blazer with anything denim will make it more casual. A denim shirt is in direct contact with the blazer and can therefore be a good alternative. It's also fun to be specific with what jeans you're wearing. A pair of boyfriend jeans will give a really casual look whilst a pair high-waisted skinny jeans will make the look more preppy. Pairing your blazer with a pair of culottes will be a trendy alternative for spring 2019 and also going for flared jeans. I think this styling is pretty foolproof nonetheless as it's basically just to pair your blazer with some denim!

Folks! How are you planning to wear your blazer spring 2019? Let me know in the comments!