So there's one trend that's more about the style than the specific items, that's quite popular atm, and it's what I like to call a more elegant style. You know that look of gold jewelries, scarves, pearl barrettes, refined blouses, slippers and designers bags? Well that modern semi-1980s look is quite fun to explore if you ask me. Just because it's an infusion of the modern fashion and the 1980s! What I like about this style is that it puts a lot of its emphasis on the details, which always is a fun and nerdy side of fashion to explore. Here are a few examples of some more elegant fashion details summer 2019: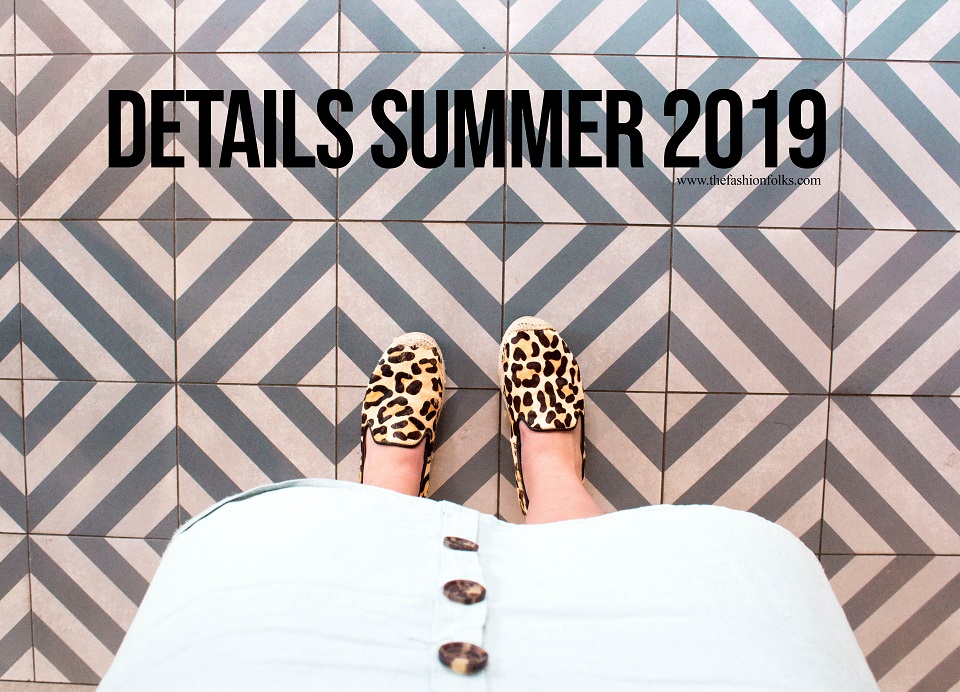 Details Summer 2019
Layered Jewelries
First of all, this look is all about the jewelries. Gold and pearls are probably the two most prominent styles when it comes to this. Layered gold necklaces, pearl earrings and layered, thin, rings. This look works well with the summer fashion of dresses. You can create this look by taking your midi dress with a v-neck and add some layered gold necklaces to embellish the decolletage. Or perhaps you're working an off shoulder top and you can make the look more interesting with a pair of earrings. I think it's really stylish to layer rings too, and mix more sentimental ones with trendy. Except gold and pearls, you can also go for jewelries with jewel colored details to make it more elegant!
Nude Colored Nails
Another elegant style this summer are the nude colored nails. I think, although this is my amateur analysis, this is due to the fact that nude colored nails make your fingers look more elegant. It also makes your look more clean as you neutralize your nails. The nude colored look is also a hit with whatever you're wearing as the look is not making any statement. How to make the most of the nude colored look is to pick a nail color that's close to your skintone to get the elongating effect! You can play around a bit with this look and add a matte top coat or make it extra glossy with a shiny top coat. It can be fun to do at least one nail in a fun pattern to mix things up a bit.
Silky/Pearly Fabrics
A simple way you can achieve a more elegant style is to go for silky fabrics. Not necessarily silk, but materials with a silky look. This will give a more glam look as silky materials reflects the light well and are associated with a more elegant style, historically and today as well. A silky cami top is more elegant than a "plain" cotton one. A silky skirt also gives a more glam style. A white pearly blouse will come off as more luxurious and preppy compared to a linen one. Love the idea of taking the silky fabrics and pair them with more rough materials of leather, denim and even suede (faux!).

Folks! What are your thoughts on these more elegant details summer 2019? Let me know in the comments below! Xx