Folks! Let's get this Christmas week started with no less than 25 fashion and beauty ideas for Christmas 2017. No way like adding an extra touch of the December life to elevate your mood and mind, or something like that. Here's 25 Christmas Ideas 2017: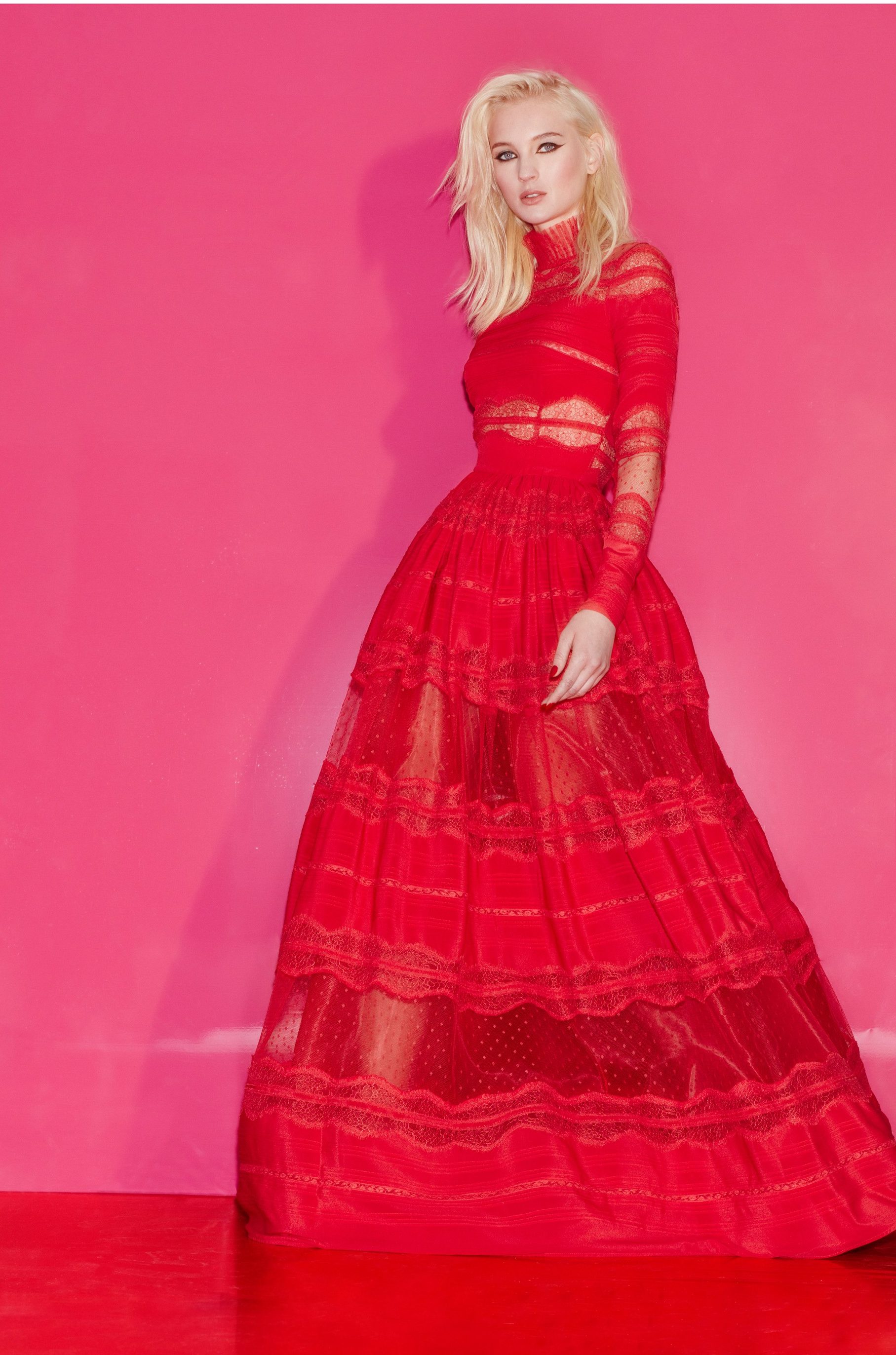 Courtsey of Zuhair Murad | Pre-Fall 2017
25 Christmas Ideas 2017
1. Knitted Sweaters
Let's start easy with the knitted sweaters. They are cozy, will keep you warm and exists in any color you prefer – they ought to add the holiday vibe. Go for one in red, green or gold to keep the Christmas feeling alive. A knitted sweater with statement sleeves adds a dramatic touch and one embellished with pearls is festive indeed!
2. Pops of Red
Red is undoubtedly THE color of Christmas which is why adding a pop of red is enough for keeping the jolly spirit safe. It can be a beanie, a scarf, a necklace, a belt or a bag. Anything that is an energizing pop of red, truly. Red is especially fierce to do with grey and white this season.
3. Grey Base
A mature color to go for this season is grey. The neutral color is quite the modern one for the Christmas life which makes it a nice go to. Grey is a color that's specifically favorable to do with knitwear as the texture brings out the best of the shade. An oversized knitted turtleneck in a grey shade might be the best idea of it, at least according to me.
4. Smokey Eyes
If there's one thing I do associate holidays with in a fashion context, it's drama. Anything that's a bit dramatic in the fashion and beauty world is a good thing, right? Smokey eyes intensifies the stare and undoubtedly adds another level to any ordinary look. Go for the black smokey eyes or why not forest green?
5. Knitwear
Knitwear is THE texture of the winter season and is always a safe go-to style. Beanies, scarves, gloves, sweaters, socks and cardigans are only some pieces that works well in the knitwear style. Pick red to embrace the holiday fully or cozy up in your favorite shade.
6. Glitter
I do believe in adding glitter to one's life, both metaphorically and literally. The glitter life can be done with makeup as a glittery eyeshadow or a sparkling highlighter. A nice pair of tights in the glitter style are also chic to do for the daily life. Add that touch of sparkle folks!
7. Faux Fur
There's a bold statement in a faux fur look and one that adds the drama to the festive life. A faux fur jacket is a nice contrast to your holiday party dress or your knitwear. Go for a black one to keep it classic or dark green if your want to go full on festive mood.
8. Velvet Statement
Velvet was everywhere last season and is joining the celebration this year too. Pick velvet in red, green or mustard yellow and you ought to embrace the festive style. A velvet blazer is one way to go office style with the look but a velvet dress is inevitably the most classic style. Though honestly speaking, any piece of velvet adds to the Christmas vibe. It's something wildly luxurious yet simple with the fabric.
9. Braid Style
I've always loved the idea of braids but perhaps never embraced them fully, or as much as I know I could. Braids are however a good go-to hairdo style for the festive season. They're relatively easy to do and makes any hair look proper and chic or boho and cute. Perhaps time to try your favorite style of braids?
10. Go Green
If red is the most associated color with the season, green is the second closest – right?! Going for the green style is a great option to anyone who isn't as bold about colors and stays away from the red statement. A forest green is luxurious indeed and quite easy to match, peculiarly enough with the statement of red but also orange or gold. It's a festive color indeed.
11. Puffer jacket
The puffer jacket wasn't only the subject of a Trend Alert, but is also a great jacket for the colder days. It's cozy with the voluminous style and fashionable with the trendy color. A great jacket to head for that is. Perhaps not too festive, but stylish enough to make the list anyways.
12. Ugly Christmas Sweater
Oh boy, seldom can something be that ugly and fun at the same time as the ugly Christmas sweaters. I do believe that you can get away with most of the ugly styles as that's what they're all about, right? Go for a fun quote, some lights or a cute print and you are rather safe to feel, and embrace, the festive style!
13. Chic Blazer
A chic blazer is a terrific example of how you can add the festive vibe to your everyday style without going insane about it. A chic blazer in a structured style will add a more formal touch which will give the holiday look. A black one in a tuxedo style will surely do it, but also one in a velvet texture or why not a crazy statement of the 80s?
14. Lace Details
Lace is a luxurious, delicate and beloved piece of fabric and is thereby one to count on for the fashion life this season too. A cute lace top will elevate the Christmas mood and so will a lace dress. Adore the idea of a lace midi skirt too, dramatic but ever so good!
15. Red Bows
I might not believe in the magic of unicorns and cupcakes but I do believe in the power of red bows. I mean, they are too pretty – especially when you tie them yourself. Do one around your neck or around your hair tie and feel the festive vibe go up a notch or two.
16. Faux Feathers
A crazy statement is to go for faux feathers, fun but crazy but oh so fun! If you agree that the festive season is a bit, and should be, dramatic, the faux feathers will be your friend in this. Go for a faux feather jacket to stay in the center of attention or choose a piece that has some faux feathers for details, like for the hemline or so.
17. Red Lips
Classic. Iconic. Timeless. Foolproof. Countable. Friend in need and friend indeed. Do I need to state more about the red lips? They are too iconic to ignore and too good as there's a shade for literally anyone. Make the Christmas life pop with the red lips this festive season!
18. Midi Dress Style
This style of dress has been a trendy one through the year and I think this is where it should peak. The amount of fabric makes it favorable to demonstrate a nice print or statement colors, as in a floral one or why not full on red?
19. Sequins
If you want to skip the Christmas celebrations and head into the spirit of NYE, it's safe to say that sequins will be your choice. A top, a dress, a clutch or a full blazer will add a party vibe and do so in quite the sharp and edgy way. Dare to go for the sequins!
20. Accessories
I've already mentioned the red bows and the knitted pieces, but accessories overall are great when going for a more formal look. The look will undoubtedly look more detailed and glam too with pieces of embellishments. Add the clutch to your LBD or go for the statement necklace.
21. Animal Prints
This is fully dependent on whether you like the Christmas prints or not, but I absolutely adore prints of deers, bears, rabbits or any other animal that has that fairytale vibe to it. It doesn't have to be done á la the ugly Christmas sweaters, but can be done in a mature and stylish way. Just know where to look and balance the print with a blazer or some velvet.
22. Gorgeous Gold
If you find yourself feeling and looking dull, a splash of gold (or silver if that's your color) will take care of the problem. A pop of gorgeous gold is fun to add and can easily be done by jewelries or accessories. If you're working a LBD, a statement necklace in gold will make the look pop. A clutch in gold will do so too and definitely golden nails.
23. Tuxedo Mood
The tuxedo is an item for the formal occasions but can be incorporated into the daily life too. A blazer in a tuxedo style will add a favorable structure. So next time you're working a simple white tee, add that fancy blazer of yours. Or even better, if you're working a statement blouse – a pair of cigarette pants will also add the fancy style!
24. Holiday Nails
If there's one time of the year where we all should experiment with nail design, it's this time. Holiday nails are cute to do and can honestly be whatever you feel like. Try polka dots or go for stripes. A classic red will always do but gold and some glitter are also fun options.
25. Jumpsuit
If you're not too keen on the dress or skirt life, a stylish jumpsuit will be your friend. Go for one in a statement texture such as lace or velvet, and make it work with a nice pair of heels and statement bag or so. A jumpsuit in red is always a safe choice but black is even more timeless. I think midnight blue is a gorgeous color that's often favorable with the jumpsuit life.
Folks! Which one of these 24 Christmas ideas 2017 do you like the most and which one will you embrace? Let's chat in the comments!