If there's one source of inspiration I prefer over others it's the dose that comes when the season is changing. It's just a fresh vibe of wearing lighter clothes again, saying hello to the midi skirt you haven't worn all winter and embrace the warm weather with more colors and prints. With that said, here are 22 beauty and fashion ideas summer 2017: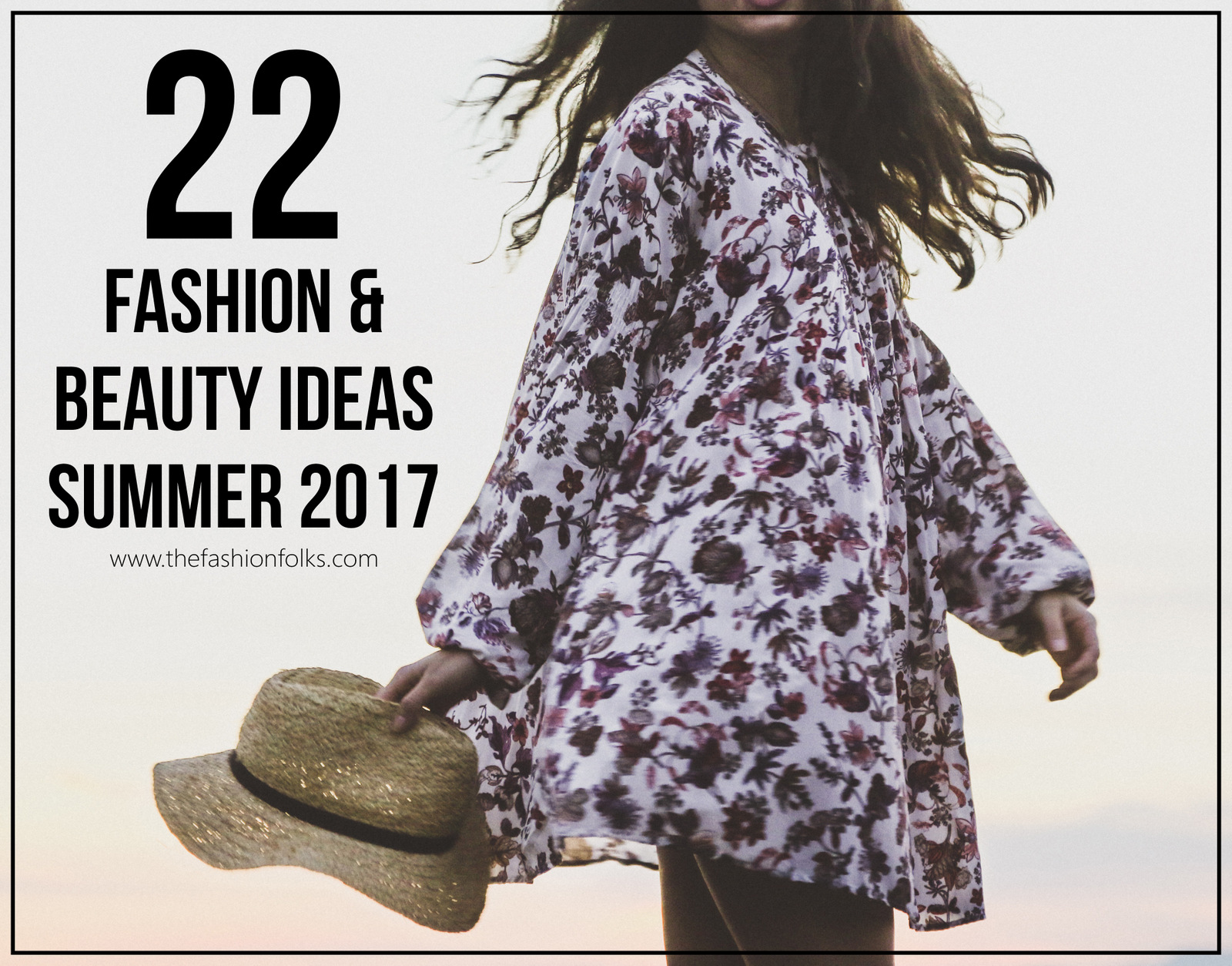 Beauty and Fashion Ideas Summer 2017
1. Pink Denim
It's something sweet and childish with the mix of denim and a pink bubble gum shade, as in the edgy nature of denim meets the sweet life of pink. Anyway, a major one to do for summer as it adds the denim and the pop of color. Go for a pink denim jacket or pink high-waisted denim shorts. Let's go Wednesday Mean Girls club on this one!
2. Layered Looks
Don't turn to your spring jacket on cold summer days but dare to layer a look instead. A layered look adds to the stylish life as your outfit will look more detailed and lively. Check out this post for a guide on how to.
3. Red Lips & Nails
Nothing screams a classic like red lips and red nails. Perhaps the duo is even better for summer with the colorful and light clothes. I'm always crushing on wearing an all white outfit and red lips/nails. A better way to elevate that conception is going for a pink outfit, or an orange or even yellow, with the pops of red for the beauty life.
4. Color Contrast
I'll talk more about this on Friday, but a quick tips: Summer is the perfect time to embrace colors as you're not working as many layers of clothes as you do for winter/fall. So go for a colorful top and contrast it with a colorful bottom piece. Try Klein blue and orange, dove blue and blush, orange and yellow (and so it goes).
5. A-Line Skirt With Sneakers
Perhaps this is the most subtle trend that's been going strong these past seasons. But an A-line skirt with a pair of sneakers seems to be a go-to look to many. The A-line skirts gives a nice balance to the silhouette and also adds the preppy touch. The sneakers are balancing out perfectly with comfort and chicness. Popular versions of the A-line skirt includes: denim and (faux) suede.
6. Denim Overall
Here are good news to all the fashion dorks out there, the denim overalls are still in. They're childish, fun and easy to style. Add a chic buttoned shirt, a t-shirt or a sweater under the denim overall and make sure to keep the fun vibe going with some colorful accessories.
7. Summer Braids
Braids in the summer is kind of a must to many as they're practical and pretty. Go for the summer braids instead of your regular updo. Keep the braids in for the night and wake up with some chic beach waves the day after. Easy as that, kind of. Read more of this summer's beauty hacks here!
8. Navy Theme
The nautical vibes are as present as ever when summer is here. Both logically and fashionably. Go for the navy blue, the red & white stripes, some stars and other statements of the sea life. Both classic, chic and easy to style and pull off.
9. Artsy Nails
As talked about in this post, the artsy nails are trending. So in my duty as a communicator of the fashionable wor(l)d (lol), I have to remind you that they're a good idea to try for summer. They add a fun touch to the fashion life and can work like an accessory to your outfit. Too fun and too genius not to try.
10. Buttoned Up Shirt & High Denim Shorts
It's all about contrasts folks! One of my favorite combinations for summer is to balance an outfit with a buttoned shirt and high denim shorts. Of course with the shirt tucked in. This balances the edgy life in the denim and the preppy life in the buttoned up shirt. Add either a pair of flats or sneakers depending on which style side you're heading for.
11. Monochromatic Outfits
Monochromatic outfits can possibly be one of the best things I know in a fashion context. They're easy to style, easy to pull off and you look effortlessly chic. Read more in this post on the trend this summer!
12. Tan With Denim
Following up this post on the basic principles of fashion. A great texture combination to go for is (faux) suede in a tan shade and denim. The two of them just work perfectly and kind of bring out the best of each other. There's a subtle boho touch but more so a balance of edge.
13. Cigarette Pants
If you're heading for a preppy look on a cold summer day, go for the cigarette pants. They are often overlooked, but always do the job when one needs them to be stylish, comfortable and easy to match. Pair them with some statement sleeves and a pair of niece flats and you got yourself a casual, but dressed up, look for the evening.
14. A Dark Floral Print
Another trending aspect of summer is the dark floral print. Dark as in mysterious and kind of fairytale-ish. I love this trend for a knee-length dress with statement sleeves (to be specific about it) or why not just a pretty blouse? Catch more in this post.
15. Denim On Denim Summer Edition
The Canadian Tux life is still real folks. For summer, you can preferably do it with a denim skirt/denim shorts and a denim shirt to match it. Just choose easier summer pieces in a denim material to make it suitable for warmer days.
16. Colorful Playsuits
The best go-to clothing piece during summer might be a colorful playsuit. You barely need no styling at all, it's only one clothing piece so it's perfect for your vacation too. Dare to go for a colorful one, or one in a chic print, and you'll have an effortlessly chic look.
17. Space Age
Another style that is quite the favorable one for summer is the space age style. I'm talking about the metallics and bright shades that are favorable to do with the colors of summer. Try a silver metallic or a holographic look to keep it trendy. Read more about the silver metallic style here!
18. Top Over Dress
A lot of your fashion styling game comes back to knowing the fashion hacks. One obvious and genius hack is to use your dress as a skirt. "Chop it off" with a sweater or a top. That'll give you a dress that looks like a skirt which is a great basis of a multifunctional wardrobe.
19. A-Line Dress
Another great go-to piece during summer is the A-line dress. The A-line dress is perfect for the beach as it's easy, uncomplicated and stylish. Go for a fun color or print to embrace the summer vibe.
20. Pleated Midi Pastel Skirt
I try to avoid being specific with styling tips, to make my tips more approachable to all, but c'mon. A pleated midi skirt in a pastel shade might be one of the sweetest trends for summer. It adds some flow with the length and it adds some color with the pastel shade. Cute, specific and summerish.
21. Neon pop
As stated earlier, colors are perfect for summer and so is neon colors in specific. They're great with brighter shades as white, grey and light denim which makes them perfect for the summer style. Add the neon colors as accessories if you're uncertain for their statement for clothing pieces. 
22. Add the trends
Lastly, have fun with fashion this summer. Try some of the new trends to keep your style interesting and don't be afraid to push it out of your comfort zone. Read about the summer trends 2017 here.
What fashion ideas summer 2017 will you be working? Going for that color, it-piece or  beauty statement? Have a lovely Wednesday folks! Xx