I often talk about the fashion of yesterday and how it relates to the fashion of today. But how about the fashion of today and how it relates to the fashion of tomorrow? What will be the core of fashion in 50 years? Here are some different perspectives on Fashion: The future. 
Fashion: The Future
First of all, know this: change is constant. So fashion, even if it's hard to grasp today, will change and what we wear today will probably be ridiculed in 10-20 years from now. Fashion has been, and always will be,  a product of society and the world around us. Fashion is as much of a matter of materialism as it's a canvas for creative expression. The material side is something that's dependent upon the textile industry. The creative side is where our views, ideals and wishes are reflected in our clothes. For instance, corset belts as curves are trending or t-shirt with text as we're more publicly political these days through social media.
From this, one has to understand that what's natural to us today is still something relatively new. Denim has been around for ages, but it was unthinkable to wear it regularly in 1917. What will be our denim in 100 years? What choices of style will we make in order to fulfill a body ideal or creative satisfaction? We are inevitably contemporary people, which occurs at the cost of living a timeless fashion through the ages. But the contemporary approach also gives way for complete exploration and experimentation within the external factors and preconditions. So what might fashion look like in the -not so long- distant future? Perhaps, something like this:
1. Sustainable fashion
The A and O of the fashion of the future is sustainability. Sustainability comes in so many shapes, and I talk more about it in the subjects below, but the overall sustainable part will, and has to be, present. I'd even state that it's not only has to be present, but normative. The products we buy have to be organic and fairly produced. Both for the sake of the earth but also for the fabric workers, producers and other people that are living in questionable conditions due to our fashion . Fashion today is anything but sustainable in so many ways: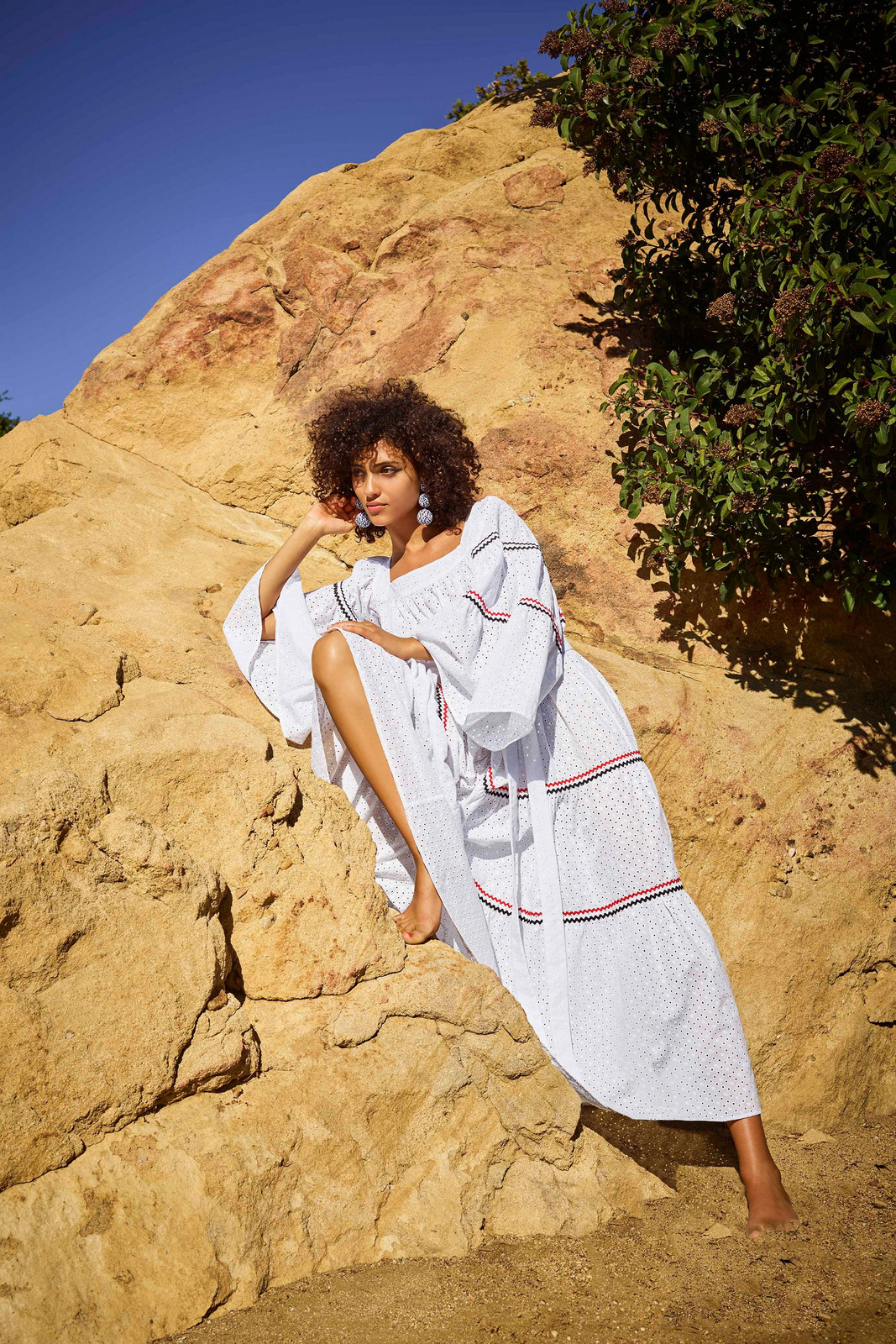 Courtsey of Lisa Marie Fernandez
Problematic Areas



1) The cheap price tag might be nice for you, but somewhere in the world a worker is paying the price for your clothing piece with his/her life. And yes we're talking the high street shops, we're talking the e-commerce sites etc. It's naive to think that your favorite, cheap, brand is an exception to this. The exception would be if they work specifically, and thoroughly,  with sustainable development. But that is only a minor percent.
2) Cotton is a crucial material for fashion but requires an insane amount of water for production. We're talking thousands of litres of water for one single t-shirt. That's water that is more useful to the locals and their lives, not fashion. Cotton has to become way more sustainable or be replaced by another material that's organic.
3) The use of animal in fashion is horrendous. The synthetic versions, that have emerged as alternatives, might work from a superficial perspective, but are unfortunately not (often) as long lasting in quality as genuine leather. Does this justify killing animals? No, not at all. We have to become better at finding alternatives, not kill more animals for the sake of fashion.
4) The fast pace of trends and consumption is not sustainable at all. We get dressed after trends rather than style. We buy new rather than second hand. Thousands and thousands of collections are made each year, with a luxury brand doing 4 (sometimes 6) bigger collections each year. And that's only the collections, there are "regular" clothes in the stores too.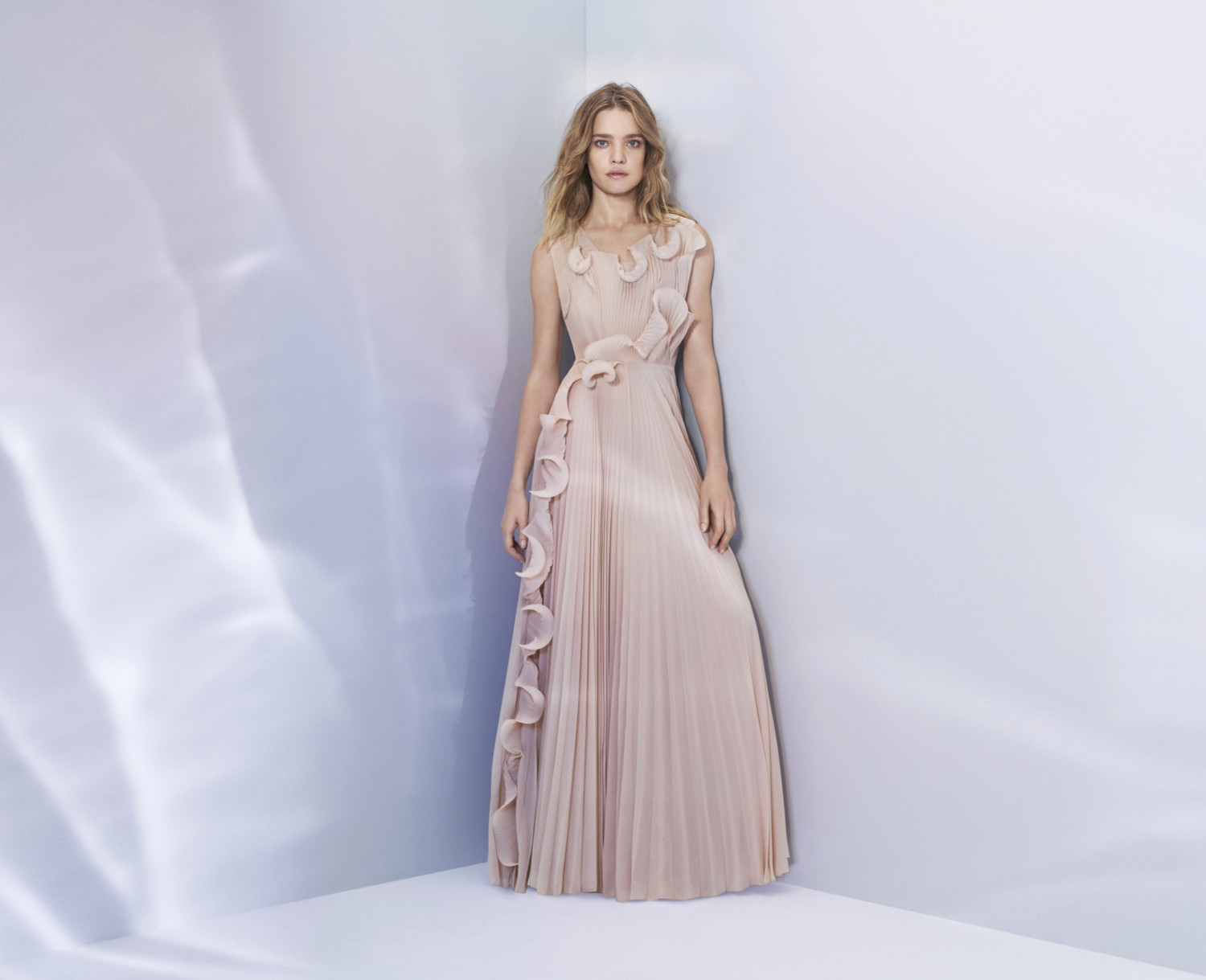 Courtsey of H&M Conscious 2017
2. Versatile pieces
Except the overall concept of sustainable fashion covering social, economical and environment-friendly aspects, there are other ways one can go long lasting too. Investing in clothing pieces that are versatile for instance. I'm especially fond of this perspective as it's a challenge from a styling point of view. A versatile clothing piece can be used for more than one cause. For instance, turn your maxi dress into a maxi skirt with a built-in zipper. Or turn your cape into a cardigan, or why not your coat into a jacket?
I'm talking about clothes that with small features that can change appearance and function. I'm also talking about appearance in terms of colors or prints. Clothes that can be turned inside out to get a new print or color. If you have a cape that's black on one side and white on the other, no need to buy two separate clothing pieces, but one. There's also a likeability that you'll get less tired of the clothing piece, and wear it more, as the styling options are endless.
3. Technology
Perhaps this is the most futuristic perspective of them all, but technology will definitely play a big part in the future fashion. Especially in terms of creating new materials. I mean, we use raincoats to protect ourselves from getting wet. We've begun using UV-protecting fabrics in swimsuits to protect us from the sun. It's likely that it will be taken even further. Perhaps more UV-protecting materials for the everyday life too? But of course, also technology as in screens and going digital. Why not have your phone screen in a bracelet on your arm? Or why not have lights in your clothes that turns on when it gets dark so cars and other pedestrians can see you? A fabric and a remote to adjust how hot/cold the clothing piece is feeling? The limit is, perhaps not the sky, but what we choose to believe is possible.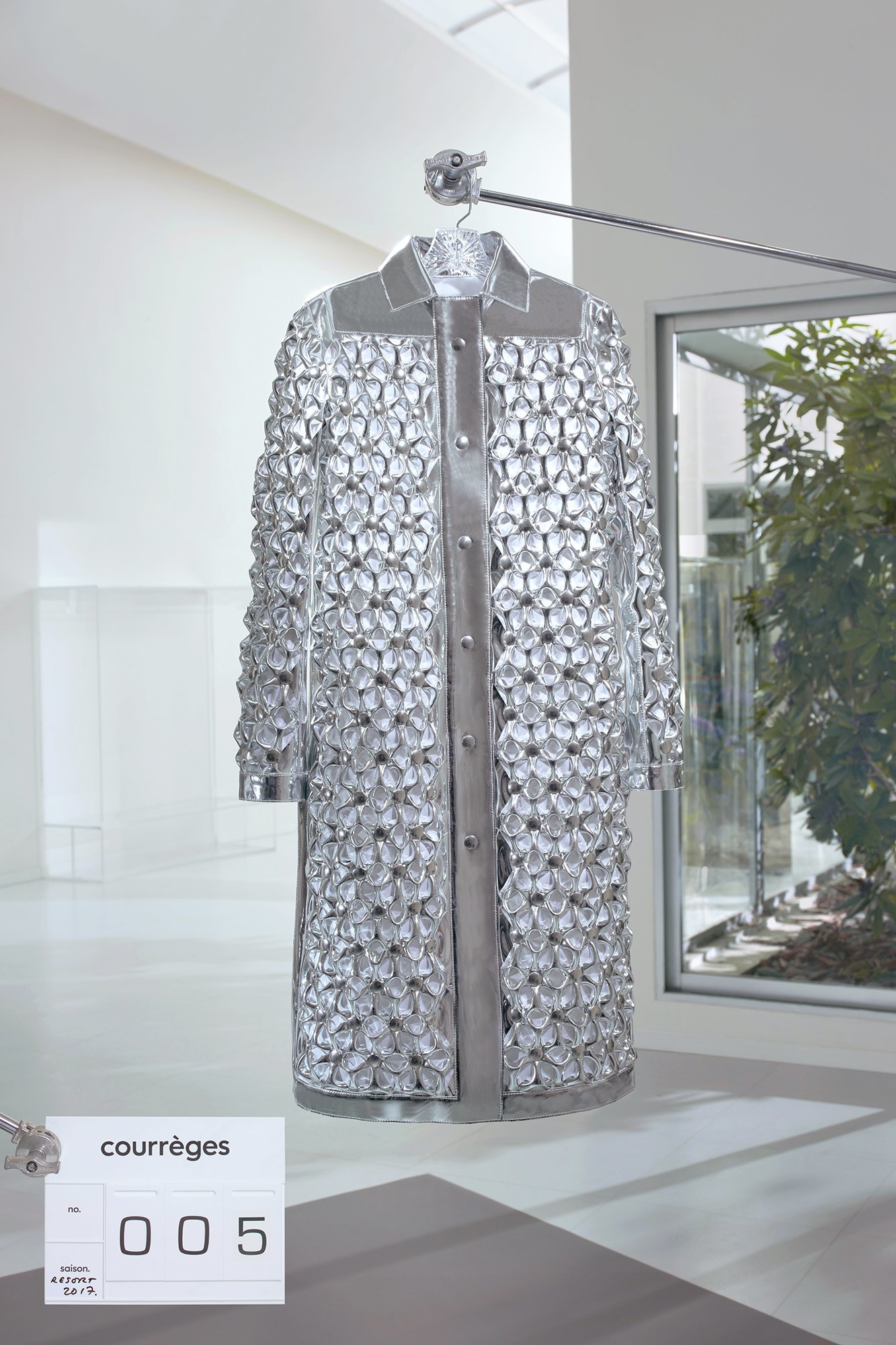 Courtsey of Adrian Samson
4. Sans Gender
To some it might seem, and sound, completely impossible that the typical gender fashion probably won't be present as much as it is today. What to be noted though, is that gender fashion is something that is projected onto the clothes by us. Pink for girls and blue for boys, dresses for girls and suits for boys etc. Earlier decades in the fashion history, men have also worked "the feminine" fashion with bows, pink clothes, ruffles etc. And in the 70s, people went gender neutral with jumpsuits, shirts, vests. Colors as: orange, brown and green.
While some of you may think that gender fashion is not a thing, that women wear denim and leather and suits all the time. That's true, but does men wear dresses, skirts? Are men walking around in flowy tunics with lace details? I'm not saying that that's the direction fashion is heading. But it's an interesting reflection that women are considered to be empowered in a suit, but men are ridiculed in a dress? The substance is that men are cool and strong, women are weak and caring. Women in menswear are empowered and men in womenswear are degraded.  I'm not sure if a genderless fashion means that all aspects of fashion will be "eligible" to everyone, or if we'll move towards a fashion sans colors and prints (e.g. details that hints whether a piece is feminine or masculine).
With the younger generations also being more progressive, distinct genders will probably not exist in the same extent of today. Less people will identify heavily with the social construction of gender, which also will affect how we view gender fashion/ fashion in general.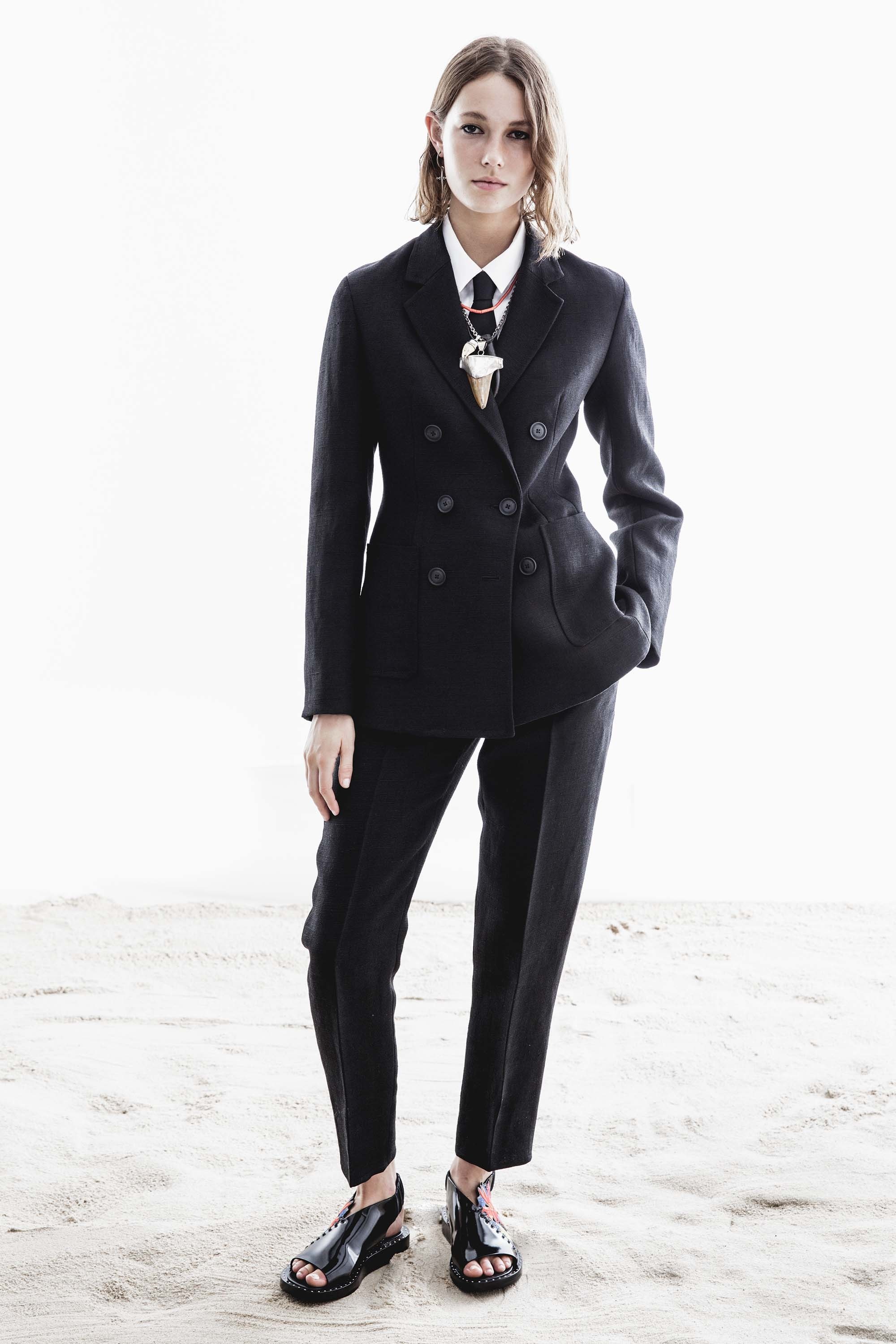 Courtsey of 3.1 Phillip Lim
5. Construct and deconstruct
This is partly connected to versatile pieces, or an extension of it. Clothes, as in DIY projects, will probably be an important part of the future as well. Clothes where you easily can add things to a clothing piece or remove things. I'm talking about DIY shops or clubs where people can meet (pretty sure it's already happening) and sew embroidery on the denim because it's trending.
The essence is that something newly constructed also can be deconstructed. Where embroidery might be exchanged for pom poms a year later. Sustainable clothes that are multifunctional in the way that they can be done and redone over and over again. Perhaps a color that you can use for dying, but also remove, easily? Like nail polish but for clothes? Take a basic white tee, put it in colored water and you have a silver metallic tee for the day? And next day you use some color removal and the color is gone? Versatile clothes that you are in charge of rather than having bought a finished and already defined product.
6. Creative Liberation
With creative liberation I don't necessarily mean that we're heading towards a fashion of The Hunger Games, but a fashion of more artsy expressions. Where the current limitations of norms are pushed even further. This would only be a natural part of the cycle of style as this is what history has looked like. The people of the 18th Century thought the fashion without corset was outrageous at first. The 19th Century people thought that denim was only a material for a worker, something that's normative now. The question is exactly what, we're heading towards. Are we talking more colors, more prints, more volume, more details? More eclecticism? I do hope that we're facing a reality of style where creativity has a place in the everyday fashion life.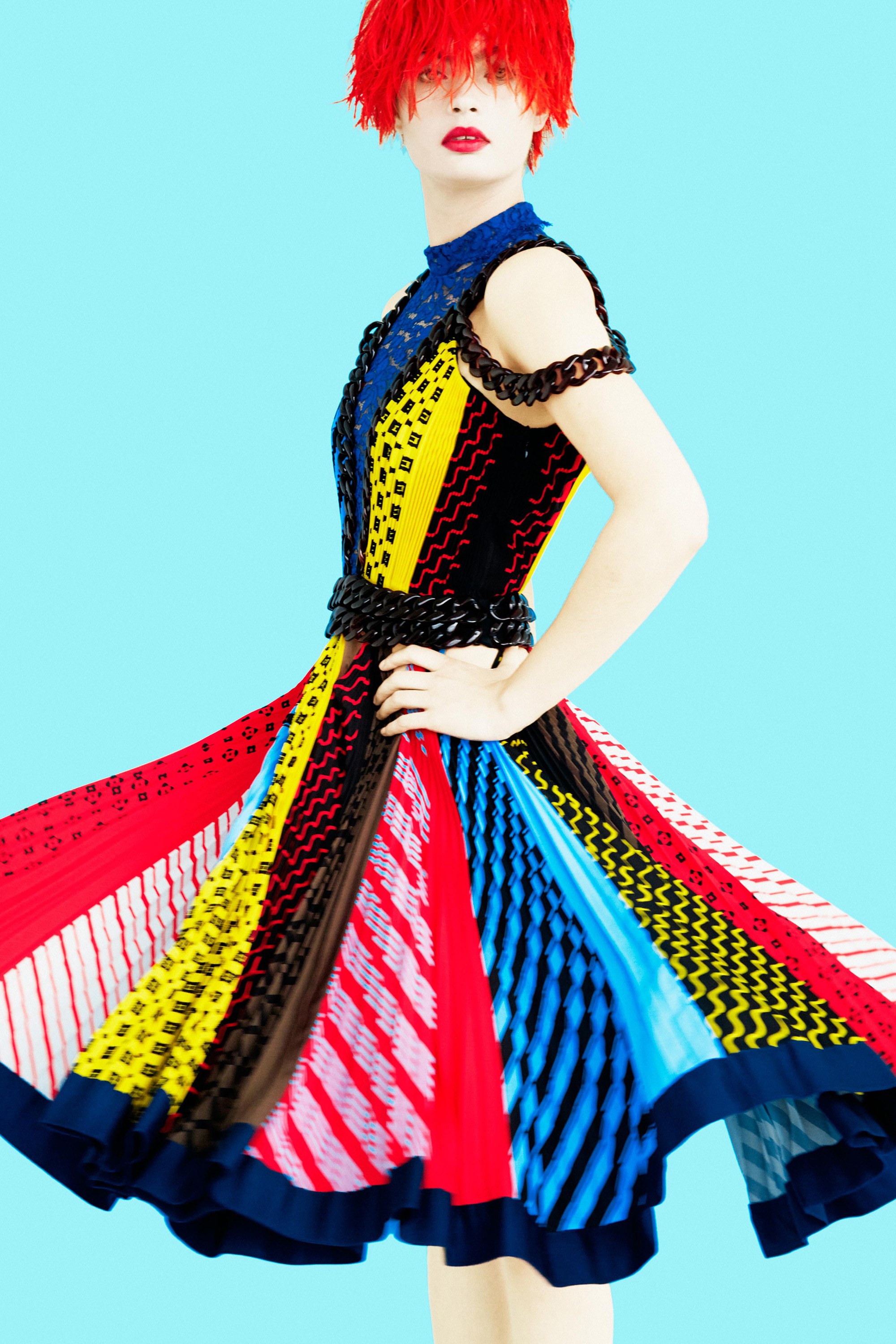 Courtsey of Mary Katrantzou
Essence of the future fashion
The very core, and point behind, the fashion of the future is to have a fashion that is friendly to everyone and everything. That might sound idealistic, and perhaps it is, but a fashion that is not paid by the price of others or the environment. For that to be able to happen, we need to stay creative in all fields relating to this industry. Scientist and people in technology need to find smarter fabrics, more sustainable materials. Designers and stylists need to come up with clothes that can be used for more than one thing. Fashion companies need to stop using cheap labour and start going ethical on all levels. Fashion magazines, bloggers and influencers need to use their platforms to raise awareness of the issues that are negatively affecting our precious passion.
We, as consumers, need to have higher demands on the clothes we buy. We also need to start asking ourselves questions. Are five fast-produced tops for 50$ more worth than one top for 50$ that is a product of sustainable development? We are all equally contributing and equally guilty of the problems we are facing today. Naturally, we are also the solution.
Folks! What are your thoughts on 21th century fashion: future.  Are you excited, terrified? Do you agree or disagree? Drop a comment in the comment section and I shall look forward to the discussion! Xx

Courtsey of Acne Studios
Did you like this post? Hit the share buttons below!