We have talked about the glam life of the 1920s fashion, the swinging fashion life in the 1960s and also chatted a bit about the 1950s. But folks, what about the fabulous fashion of the 1930s? Here's the 1930's fashion history!
Society in the 1930's
You can't talk, nor understand, the fashion of a certain decade without giving it the context of how the society looked like. The 1930's fashion was a product of the 1929's economic crisis and the political disturbance in Europe. This led to a fashion where luxury was considered tasteless and the fashion was simplified.The haute couture fashion in Paris partly lost its status and the daily wear was more about the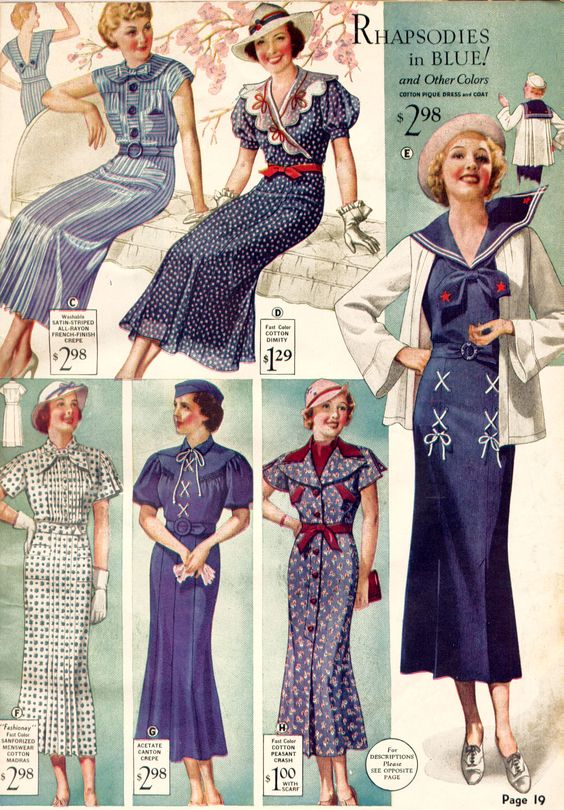 silhouette than rich details. The clothes was made of cheaper materials and more fabric, than what was needed, was unusual. However, the glam life of 1920's remained in Hollywood, where the Hollywood glam got elevated in status. Bette Davis, Fred Astaire and Greta Garbo to mention some icons from the decade!
Fashion trends
Although, as stated before, the daily fashion was supposed to be simple and tasteful, the 1930's would become a decade of fun fashion. The economical restriction paved the way for creativity, innovation and make the most of what you had. The female silhouette did a comeback in the 1930's (from the boyish one of the 1920's), and your natural shape was also what was to be accentuated. Not through the old method of wearing corsets though, but with belts and a defined dresses. As the women shouldn't overdo it with accessories, the 1930's fashion went crazy with patterns instead. From floral, to dots, animals and cars the pattern explosion was a contrast to the simple and clean shape. The hats became a detail to count on and small details as ruffles and bows were common. During the 1930s more women also began to wear pants, a fashion that Greta Garbo made way for (embodied by actress Joan Bennett below), even though they were introduced earlier by one Coco Chanel!
Designers
One of our time's most innovative and impactful designer, Elsa Schiapparelli, rose up as a leading lady in the fashion world. She was the one who famously designed the lobster dress with motif from Salvador Dalí, and also the designer who introduced the zipper to fashion. Schiapparelli was creative with her fashion, loved distinct colors, shoulder pads and a well-shaped silhouette. She kind of became the fashion world's face of surrealism. Another famous designer from the decade is Nina Ricci, whose designs were feminine and a bit dramatic. Today people are perhaps most familiar with the brand through their perfumes, even though they still make clothes.
Folks, what do you think of the 1930's fashion history? Hit us in the comments!