So a natural follow up from last week's 18 stylish fashion hacks, is the makeup version of it. So here are 18 stylish makeup hacks to do!  (and yes I'll keep it short).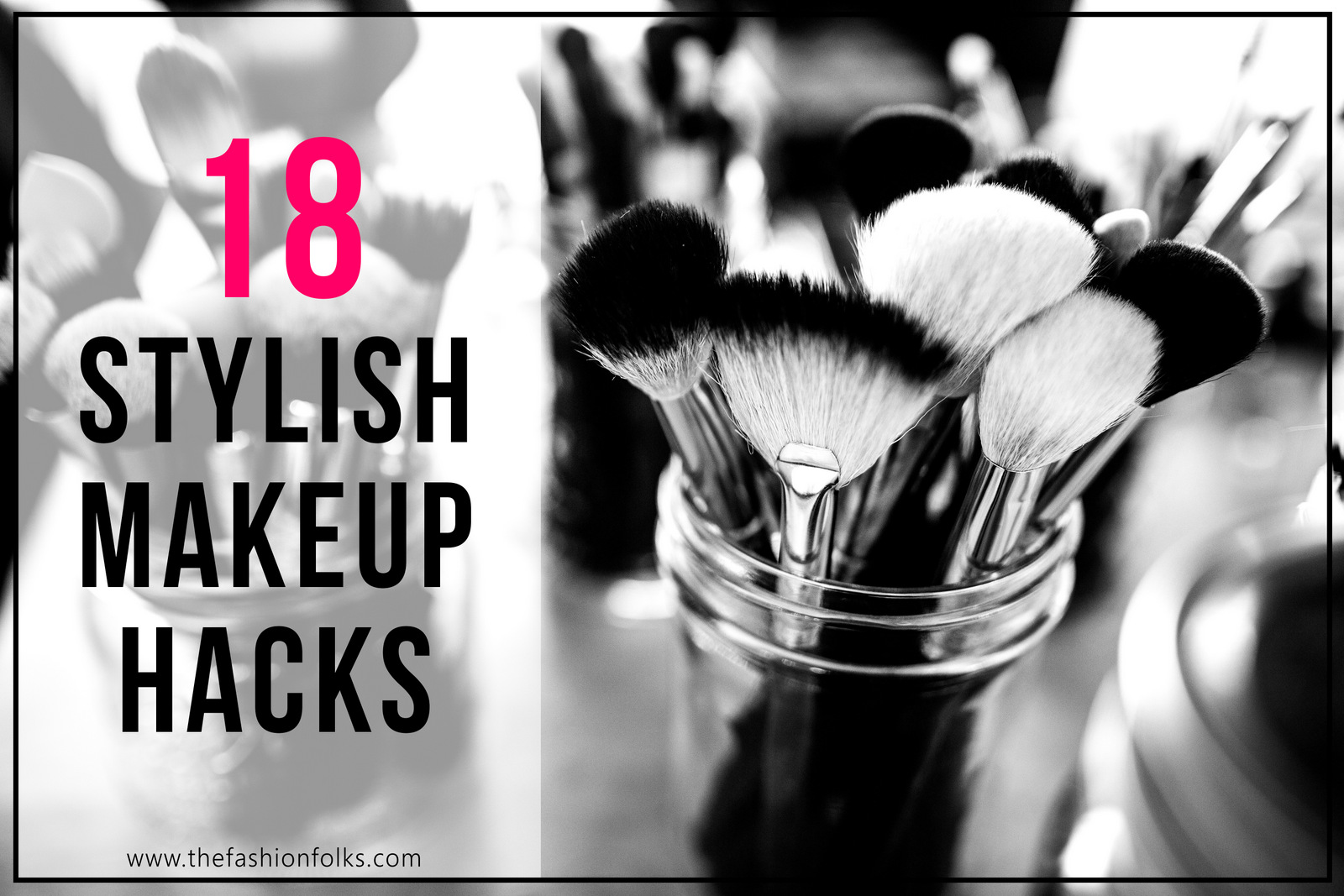 Pastel lips –

I know, it's still winter, but what's a better way of embracing spring than to add some pastel colors to your lips? Make them semi-transparent if you're uncertain. Peach for lips is the cutest (just see the pic below).

Glitter eyes –

Do your regular shadows/eye look and add some everyday magic with a top layer of glitter.

Eyebrow focus –

Apply a tiny amount of  coconut oil (what else) on your brows and brush them through. This adds some texture!

Colorful makeup –

As I wrote in this post, colorful makeup is going bigger. And why not go for a colorful eyeshadow? As in this?

Multifunctional bronzer –

Do your bronzer as an eyeshadow. Read more here.

Quick pop –

Skip the eyes and only do the eyebrows and bold lips. A striking contrast!

Perfect red –

Find your perfect red shade for your lips. Try one with more orange or one with more blue depending on if you have a warm or cold skin tone.

Extra highlighter –

Take the shimmery/golden eyeshadow and use as an highlighter if you're out of the latter!

Ombre lips –

Add a pink lipstick in the center of the lips and a red one around it. Blend and you have an ombre!
Colorful eyeliner –

Change the black eyeliner to one in another color. Go for the darker shades if you want a smooth transition from the ordinary black. Try navy blue, forest green or a burgundy!

Fresh eyes –

Leave the lower lashes bare for a less messy look.

Intensified eyes –

Take an eyeshadow darker than your skin tone and apply it a few millimetres below the lower lash line, blend it properly so it creates a shadow. This will add some intensity!

Quick lips –

Just paint the lips with a lipliner and skip the lipstick if you need to have it fool-proof and all-day safe.

Popping eyes –

Pick a color that highlights your eye color in specific. Perhaps purple to green or pink to blue?

Pro makeup –

Don't forget to apply foundation/powder/bronzer whatever to your neck as well. A foundation line is NOT stylish.

Double strokes –

Do your liner on the lid with an eyeliner pen first and then apply a coat of liquid liner. Easier to fill in the lines than to create them completely. Some people also think it works as a primer!

Heavy eyes – 

Make a round "bounce" by the eye corner, so it follows the lines of the lashes, before you're going pointy with it. This will make the lashes look heavier.

One color hack –

If you only want one color as eyeshadow, try to use two different shades of it. Use the darker shade in the crease and the outer corner. This will add some depth to the color and your eyes.
Folks! Share some of your best makeup hacks in the comments! Xx
Did you like this post? Hit the share buttons below!