Do you know what you and I have in common? More than a shared love for fashion, beauty, sarcasm, chocolate and tea (don't argue with me on this)? We love lists. Yup, we do (if you don't though, you should…). We frickin' love lists. Lists in all forms and for all things possible. Not only do I love to-do lists (I'm an annoying type A), but I love lists as in things to make and things to be inspired by. I'm also painfully lazy from times to times (hello being contradictive), so I also love lists for the sake of being quick to read. (Tbh, we're living in a society of information overload, so short and concise information ftw).
Anyways (this introduction is going longer than the actual post soon), I know that a lot of us are putting way too much pressure on ourselves than we should when it comes to handling the goals for 2017. I mean, 16 days later and you're still the same person (say whaaaat). Quite predictable but also  quite annoying. So to everyone who wrote down "dress better" or "dress more uniquely" or "dress more like myself" as a goal, and ain't feeling the fashion life in the veins, due to the cold or just the lazy life, here are 15 ways to get out of a fashion rut. And ohh, if you want more details on the subject, here's another post.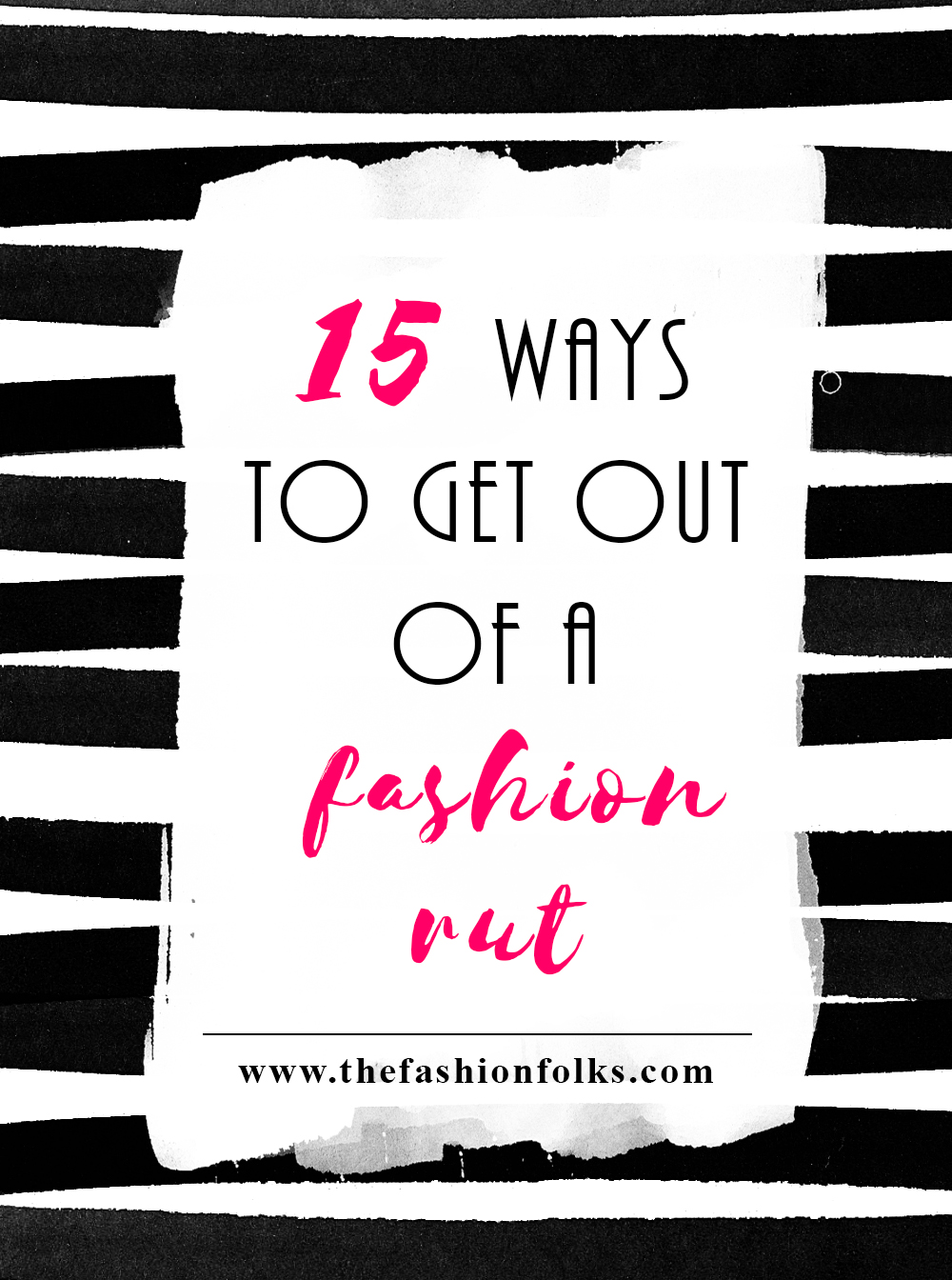 15 Ways To Get Out Of A Fashion Rut
First of all, be open to inspiration

. Don't limit yourself to be inspired on the days you feel inspired. Sometimes you gotta put in some effort to get that inspiration flow going. One of the key things is to acknowledge that inspiration can come from wherever and whenever. That is not only social media, but people around you, a painting, a text, a piece of fabric. Inspiration, and the source of it, is limitless.

See a movie/tv-show.

 Especially if its centered to fashion/beauty, or a show where the clothes gets some real love. Old Hollywood movies are a perfect source for timeless style. SATC are also a go-to source for many!

Turn your wardrobe upside down.

If you're not a genius when it comes to having your clothes sorted – pretty sure you have some forgotten clothes laying somewhere. Find them and make the classics work again. Perhaps it's a bad thing saying, "I don't even remember owning it" but hey, going on a clothes-hunt in your own closet can be benefical.

Read the magic list.

If you don't have a magic list, or don't even know what it is, it's time to do it/learn. The magic list is where you've written down random outfit ideas. The random outfit ideas as in when you have a high inspiration flow and are full of ideas. The magic list can also be a magic map of outfit pics saved!

Dress in monochrome

. Changing the way you dress is a great way of opening up new ways to ideas. Perhaps you'll discover how flattering it is, or how many more outfit options you just gained.
Pinterest

. If you're not on Pinterest, get yourself over there immediately. It's like Google but even better and more refined when it comes to inspiration (obs, not sponsored, just a big fan). Get some good Pinterest boards and start saving ideas!

Let someone else be your stylist

. A scary one indeed, but ever as fun. Letting someone else choose clothes for you is a great way of getting some new perspectives. Perhaps you'll discover a new color you like, or outfit combinations you haven't thought of before.

Change the way you put together outfits

. I wrote about it here and a lot of you agreed with me. But there are so many ways one can create outfits. Center your outfit around a clothing piece, a texture, a color, a statement embellishment. Changing the way you create outfits can give you new ideas of looks you want to embrace!

Stalk someone's style you love

. Not that much to write about it, than to read this post. Fashion people are already pretty good at stealing looks, so why not keep the habit up?

Read a book about it

. I know, fashion books and fashion irl are not completely the same thing. But learning the art of fashion is a perfect opportunity for understanding it rules and laws. And then of course breaking them.
Dress after a specific style

. A defined styled as in bohemian, preppy, rock – etc, might not be what it once was, but nevertheless do different style exists. If you always find yourself dressing in loose pieces with a lot of patterns, try a defined jumpsuit in one color. Shake things up a bit and try something new!

Turn to your wardrobe heroes

. The wardrobe heroes as in the basic pieces that pulls your outfits together. As in the LBD, the grey cardigan, the white t-shirt. Let the basics be in focus for once and see how you can make them shine even brighter!  It's okey to go basic sometimes.

Recreate an old look you have loved.

I talked about this one here, but it's a genius one. If you have an old outfit you love that, for instance, consists of a maxi dress and a crop top. Recreate that look but with another maxi dress and another crop top. It creates a new look but with elements you love. Pretty genius if I may say so!

Decide your outfit after your makeup

. Sometimes, the makeup is the star of the outfit and we all know it. So why not let the makeup be the start point for your outfit. If you're working the orange lips, think how you can make them pop even further. (Like Klein blue, pink and white).

Dress in an energizing color

. This year's color is green and even though it's quite the soothing color, now is the perfect time to pick popping colors and embrace them. Not only as we need some cheering up in the winter, but also because we need some doses of it for Spring too!

OBS: Whatever you do.

Don't ever, never, ever, go shopping to get yourself out of a fashion rut. Your clothes are not the problem 9 out of 10 times, your lack of creativity is. So get to the bottom of the problem instead of buying yourself a solution. Okey? K.
Folks, what are your best ideas for getting out of a fashion rut? Xx
Did you like this post? Hit the share buttons below!