Folks! I'm full of ideas these days, so why not make the most of it while I'm at it? Perhaps it's the fact that summer is around the corner and a new chapter of fashion begins, or I'm just in a period of inspiration flow! However, continuing from these posts (16 ways to wear stripes, 10 ways to wear florals), I thought we'd talk about 14 ways to wear denim 2017.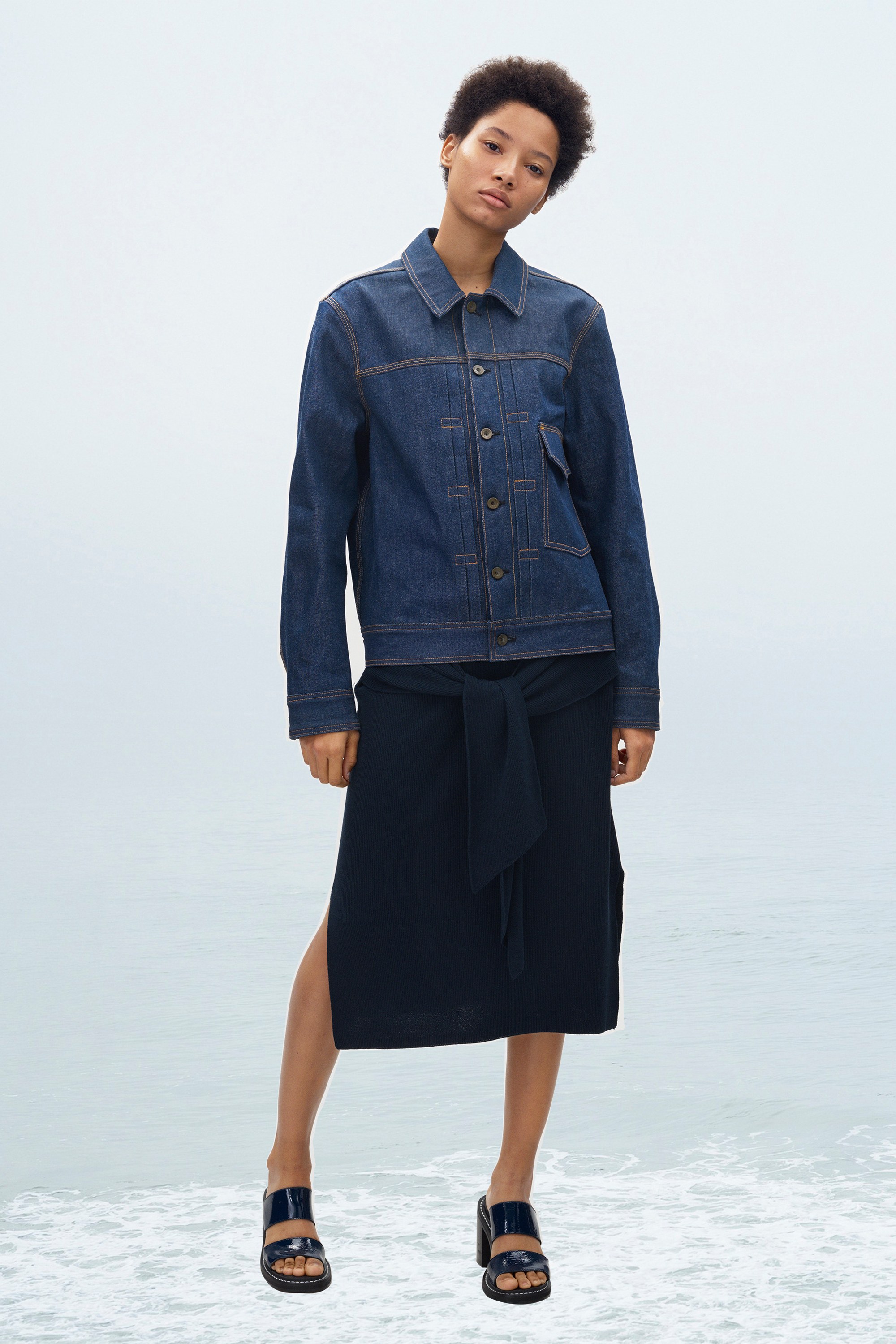 Courtsey of Rag & Bone
Wear Denim 2017
Just let me state this, denim is one of the most brilliant fabrics ever invented as it works as a neutral on so many levels. It's a neutral in terms of color, which makes it appropriate to match with about any color (both lighter and darker shades of denim possess this ability). The material is also quite the neutral one as the texture is quite simple. It has an informal, and a slightly edgy vibe, but overall is it rather subtle. Denim doesn't comes with the same statement as faux fur, or leather or patent leather. It works pretty neutral with a slight enhancement of a street style edge. With that in mind, working denim is no way limited to the ideas presented below. Perhaps they're just extra genius atm, and especially for 2017.
1. Denim and crochet
As stated, denim is a bit edgy which makes it perfect to contrast with more soft materials. Anything crochet is usually a sign of summer and warmer days. Crochet and denim in specific feels like the ultimate boho combo with a nice attitude. Go for a crochet top and a denim jacket!
2. Contrasting details
I'll talk more about this in a denim guide I'll do next week, but denim with contrasting details is another genius example of how to pull of denim successfully. I'm talking about going for distressed denim with a nice blazer. Boyfriend jeans with nice flats or heels. A denim shirt with an oversized bow. Meet the street style vibe of denim with preppy details to get that balance going.
3. Unexpected denim styles
The world has probably already seen the most of denim (Britney and JT still owe us an apology tbh). But that doesn't stop anyone to explore the limits of denim in a more refined way. Why not go beyond your regular jeans and try a denim dress, skirt, crop top? A denim blazer? A pleated denim midi skirt? Do note though, the sky's not the limit, but a denim maxi dress.
4. Denim and lime green
Still rooting for this combination to go big. Or just elevate the existence even further. Like: A denim jumpsuit and a neon clutch. A denim shirt & jeans combo + lime green coat. A pair of highwaisted neon pants and a denim shirt tucked in. I'M HERE FOR IT!!
5. Denim and floral
Another combination I'm always rooting for is denim and floral. Florals are sophisticated, romantic and sweet. Denim is edgy, street style and a genius match to anything floral.  I wrote about this in this post too!
6. Contrasting materials with denim
Denim is a material to count on and favorable to pair with anything contrasting. Like (faux) leather, suede or patent leather. Denim and leather is especially an edgy combo that feels both vintage as the 50s, but also street style á la 90s. A pair of skinny jeans and a leather jacket with a blouse under is also the go-to look for the majority of the teenagers/young adults today. Oh yes.
7. Denim accessories
So denim accessories might not be the first thing to cross your mind, but I'm open for it. Or how about a cute bow in denim to your denim shirt? Or a cap in denim material? How about a denim clutch? Why not shoes in a denim style? Try at least. Especially going for a shade for the denim shirt and contrast with a bow in the opposite denim shade for the neck is ahhh-dorable.
8. Patchwork Denim
Okey folks, let's make this happen: can patchwork denim please be a trend this year? I know it's been popping up here and there, but barely got its breakthrough. Before you go completely cringe, google it or look it up on Pinterest! Patchwork denim in different shades for jeans, a skirt, a dress or a shirt is just genius. Probably easy to do DIY too. But first though: we need more of this!
9. Denim on denim
I think I talk about this combination weekly and I'm pretty sure I wear it weekly too. It's like creating a jumpsuit without having a jumpsuit for it. Denim on denim is genius in so many ways. I'm not gonna go on and on about it, but read more here.
10. Neon and denim
Similar to lime green and denim, denim works pretty well with any other popping shade of neon too. Yellow neon with denim is painfully good. So is hot pink and denim but also orange and denim. Both the darker and brighter shades of denim works well with highlighting other colors. I'd say though that yellow neon + orange works particularly well with darker denim. And hot pink is genius with bright denim! But they all work with each other, so don't you fret.
11. Tan and denim
Another combination I have yet to get over is tan and denim. Perhaps this comes in the specific shape of a tan colored suede material and denim – but I'm here for the boho vibes. Okey? Tan is the complete opposite of the denim shades which makes the both pop in a favorable way. Add a tan colored accessory next time you go denim. Or why not the lovely combo of a tan colored skirt and a denim shirt? Yup, I'm here for it (too).
12. Denim and stripes
Would this even be a post signed by moí if I didn't mention stripes as an option? Probably not! I don't know why these two works so well but they do. They're just supporting each other through thick and thin and we all love them for it (yes). Perhaps it's a modern Parisian vibe over the two together as well, which only adds to the chic factor if you ask me. Go for a striped tee and a denim jacket and you've already come a long way!
13. Highwaisted Jeans
There's something about the highwaisted jeans that I just love. They manage to look more formal than they are and flatter the body at the same time. You can pretty much work any highwaisted jeans model and tuck in any top and you look effortlessly chic. Going preppy for the combo is to add a blouse or a shirt. Going more casual is to add a tee or a crop top. Highlight the waist even further with a statement belt to make it pop!
14. Embroidered Denim
Lastly, a major trend for 2017 is the embroidered denim. A sweet combination of sweet florals and edgy denim indeed. Add some embroidery to your jeans, the collar of your shirt or your denim jacket. It's a simple and subtle way of going for the details and yet remain effortlessly chic about it!
Folks! What are your best ways on wear denim 2017? Are you going trendy? Classic? High or low? Drop a comment in the section and have a lovely weekend of denim! Xx
Did you like this post? Hit the share buttons below!