So coconut oil is the glue to (beauty) life and we all know it by now! If you don't, welcome to the club! Your life will be different now (sort of). Anyways, I thought it'd be about time to declare the coconut oil-love once and for all with 12 ways to use coconut oil.  Because we love 'em lists!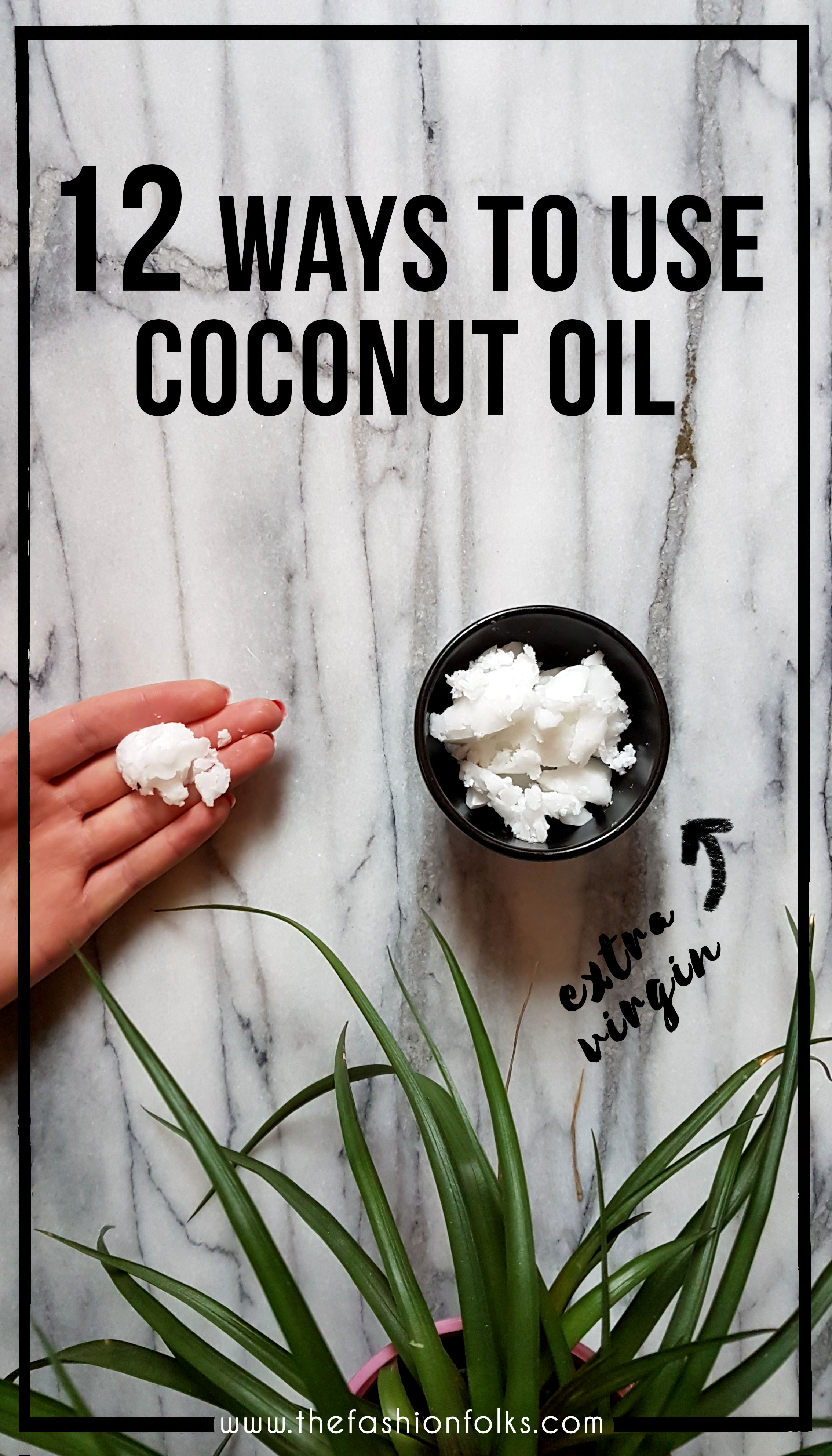 12 ways to use coconut oil
Moisturizer –

Coconut oil is one of the best options for a natural moisturizer. It works equally as good for the face as the rest of the body. If you've showered, or just washed your face or are suffering from winter skin – go for the coconut oil! Some people experience though that coconut oil clogs the pores, so see what works for you!

Highlighter –

I've talked about it here, but coconut oil as a highlighter is genius. It gives a natural, subtle, glow and makes your skin looks radiant without the use of makeup. Apply some on the cheekbones, nose tip and upper lip!

Makeup Remover –

If you're also having a hard time getting all the makeup removed the first time, coconut oil might be the solution for you. Just put some on a cotton pad and rub it gently on the areas you have makeup. I personally think it works best for removing eye makeup and also lips!

In tea/coffee –

I'm not a nutritionist so I'm not gonna say anything about the health beneficial facts that might or might not come of it, but a teaspoon of coconut oil in the tea adds a nice taste! I love it in my raspberry tea!

Shaving Balm –

If you remove body hair, you might want to consider using coconut oil next time. The oil works perfectly as a shaving balm and has moisturizing qualities at the same time too. Just be sure to remove the excessive oil with an old towel and then shower again. 

DIY Scrub –

 Take some coconut oil and mix it with something with a good texture (coffee, sugar, sea salt). Add some honey and scrub your skin! Natural, cheap and easy! 

Eyebrows/Lashes –

Apply coconut oil daily on your lashes/brows! I did a long post on it here. Worked for me and hopefully works for you too! I think about it this way: we give our hair enormous with love but often forgets the brows/lashes when it comes to some extra care! Lashes/eyebrows are hair too and definitely deserves the love.

DIY Mask –

If you're not one for scrubs, try a DIY mask with coconut oil. For instance, check these ones!

Sooth anything –

Whenever I get a paper cut, or other wounds that stings,  I apply coconut oil. It gives a soothing feeling and makes the paper cut less annoying for the moment at least!

Hair oil –

Oil and hair in combination is a match that's been for centuries. Coconut oil is no exception to this and gives nutrition to the hair and is also moisturizing.

Lip Balm –

If I'm out of lip balm I always use coconut oil. Not only does it taste yummy (haha) but it's also helps with chapped lips!

Cuticle Care –

Lastly, coconut oil is great for cuticle care. Apply the coconut oil and rub it in. They'll feel and look better!
Folks! What are your best tips on using coconut oil? Drop a comment as usual!