Folks! Let's start this week with some simple hacks that will make your outfit look better. What they all comes down to are that they focus on the details. Readers of The Fashion Folks knows that I've already considered changing the name to: The Fashion Folks: It's only about the details tbh. Lol, anyways, here we go! Pssst, if you know your Fashion Folks post you might remember some tricks, or just know them because you know style, but they're too good to be ignored: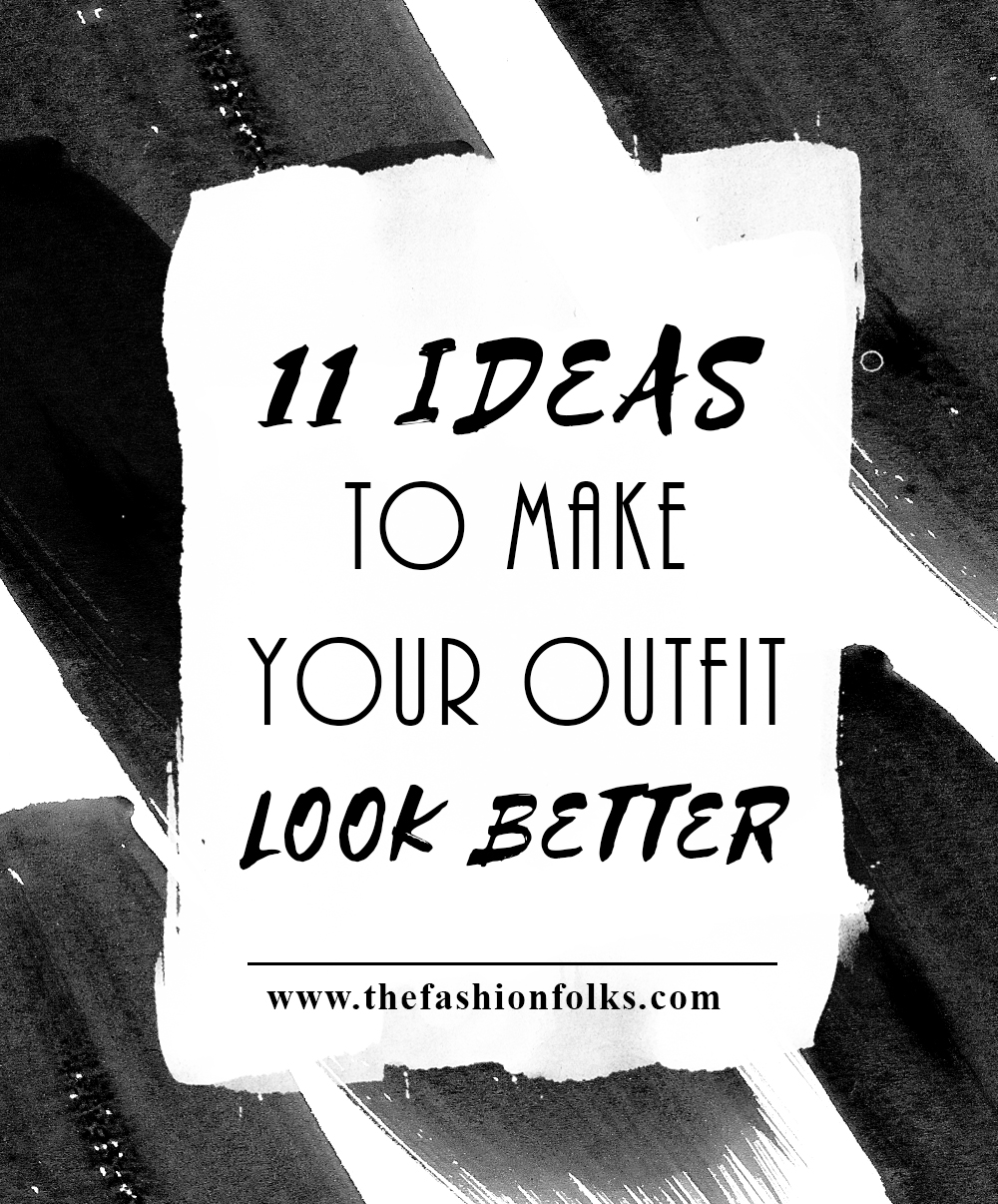 Make Your Outfit Look Better
Tucked in Tee
So I'll start easy. The tucked in tee is a casual yet chic detail in an outfit. It hints that you're aware of style, but also gives some edge to your tee. The thing that usually does the trick is only to tuck in a smaller part in the front and let the rest be. Also, doing this to a pair of jeans with a statement belt is top!
Statement Texture
We often wear simple pieces with a texture that's just basic. But adding faux fur, fringe, pom pom or anything that is 3D, actually does more than one thinks. One can also do faux suede/leather and contrast the regular plain texture. Doing statement texture elevates the outfit, without going crazy. Instead of doing a black tee, try a black faux leather tee and get the same look, but even more chic.
Button Down
Buttons are normally used for a button up look. Here's another one for you: Do all the buttons but leave the bottom ones open. (Create a A-silhouette with the buttons that is). Let a chic top hint below under, why not in another color or a fun pattern?
Jacket on the shoulders
I don't know why this is a thing and we'll probably laugh at it in a few years. However, instead of putting on your jacket or blazer, hang it on the shoulders instead. It will make you look very fashionista 2016. Kind of casual chic and weird, haha just read this.
Rolled Up Sleeves/Legs
We all know this and we all do this, but see this one more as a reminder. Rolling up your sleeves or the pant legs, is the ultimate definition of casual. It looks relaxed which will give a more chill impression and someone who's secure and easy going. And we all love to dress to impress!
Match The Pattern
I've talked about this one before, but it's so subtle yet brilliant. The way to pull off a pattern is to match your other clothes with it. If the pattern consist of pink, orange and red, pair it with an  orange top and see how the colors pop!
Button Up Detail
Button up is the opposite of looking casual, but more of looking preppy and proper. To make you look more fashionable though, add a detail. Do a bow, a statement necklace or a little pin. Do it subtle or go full on, adding a detail is to add a touch of style!
Same colored accessories
This is also a weird but fun one. Have you worn a pair of gloves in the same color as your coat/jacket? Then you know how chic it looks (not weird though as it elongates your arms). Try this with your scarf and hat too and you'll experience how chic a monochrome look is. If you only want to try one of these, try the gloves and do a color that's black. And yes, you can thank me later for this one!
Material Life
Another one for texture and material, try do the same material for top and bottom. A full faux leather look with matching skirt and top. Or denim jeans and a denim shirt. A monochrome look is always chic and the matching of materials gives the extra touch your outfit needs.
Let it hint
If you have a top/blouse whatever and a cardigan above, let the sleeves of your top hint. This comes back to one of the key parts in dressing well, to connect the elements in your outfit with one another. If you show some of your denim shirt's sleeves, it emphasizes on the denim factor. It's chic and subtle.
Dress in scale
Here's a full post on this subject, but yes, dressing in scale is fun. Pick a color of your choice and dress after it. Do it darker and do it lighter. Dressing in scale is a perfect way of keeping an outfit interesting and still embrace a certain color.
Folks, that were some tips on how to look better style-wise! What are your favorite tricks for this? Leave a comment!