Folks! I did 11 Festive Beauty Ideas on Monday, so why not sum up this week with 11 festive fashion ideas, for anyone who wants to add a little sparkle? I could just write that you should invest in a festive jumper with a Christmas motive, but as fashion folks, I know we all want to keep things a bit more classy. Even though I love 'em jumpers!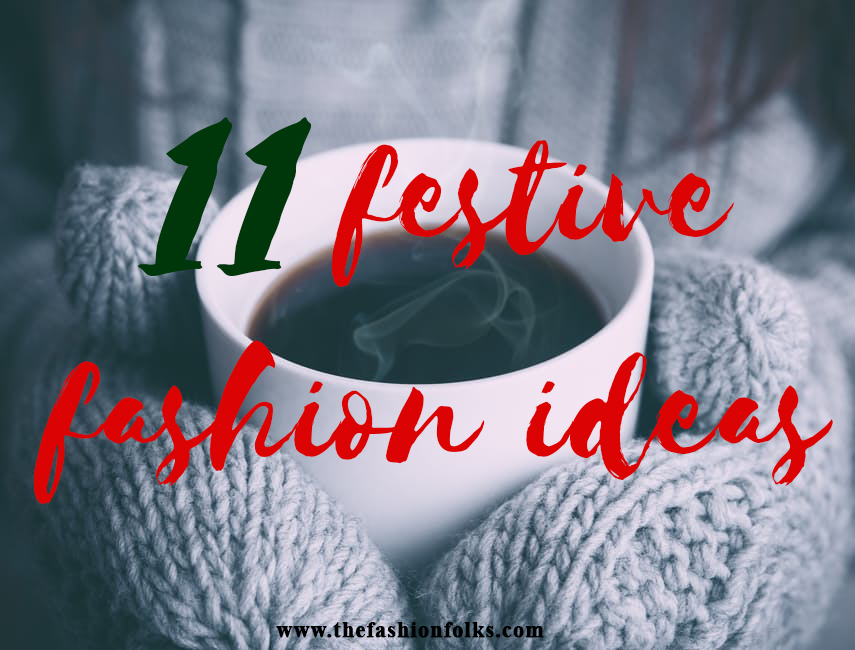 11 Festive Fashion ideas
Metallic Fabric
Wearing clothing pieces that are metallic is a great way of adding the festive joy. Metallic clothes catches the light in a sparkling way and is perfect for the season. To keep a balance between casual and festive, I'd head for simple everyday clothes but with a metallic touch! Read more about makeup metallics here!
Candy Cane
If you're heading for red and white dots, why not go for red and white stripes? Perhaps it's my love for french fashion in this one, but a red and white striped top IS festive. A knitted one is even better. I wouldn't solely go for the stripes either, but also embrace the color combination of red and white. It's crispy, chic and a reflection of the holidays!
Knitted pieces
Well, you already know my love and idea of sweater weather. What is more cozy than a knitted sweater? Or a knitted beanie or a knitted anything? An oversized knitted piece is perfect in tune with cold weather and adds the winter feeling anytime if you ask me. Try one in metallic if you want a chic contrast!
Accessories
Adding small pieces of Christmas to your outfit is not only the cutest sentence, but also a great idea. I'm not going for decoration of a Christmas tree, but add a red scarf, green gloves a red beanie etc. If you're uncertain about the power of accessories, catch a full post here on the subject!
Christmas Combinations
I stated in this post that red and green is a chic color combination. Adding to that list is also red & white. If you want to opt for an old Christmas feeling, I'd also do grey. Grey is  a classic color for the holidays as well, and gives some balance to all the colors and sparkling. Grey & red is a lovely combo, so is also grey & green. What about a grey coat and a red hat? Yup, it's a festive one!
Jewel Tones
So jewel tones are perhaps most associated with fall, by all rights. However, jewel tones are also partly associated with New Year's, not to forget all the velvet dresses in jewel tones we'll probably see this year! So I do think that jewel tones, if you want to avoid looking too much Christmas, is a perfect choice. They add the glam factor but they keep it subtle. Midnight blue, emerald green or purple – all are chic and festive fashion ideas!
Embellishment
Continuing the sparkly theme, adding embellishment is a great way of adding the glam factor. It's not for nothing I've named the pinboard Essential Embellishment! Doing a statement necklace or statement earrings will make an outfit more festive. I'd add embellishment to a simple buttoned shirt, or a basic necklace to keep things in balance.
Socks
Now, I added this one more as a reminder for myself rather than an actual tips, but here we go: grey knitted boot socks are kind of everything. They won't only keep your feet warm, they'll also be a chic statement to your shoes/outfit. Read more about here on How To Stay Warm And Fashionable.
Red Bow
I talked about adding this to the hair in the beauty post, but it's equally as cute to do it for the outfit (or why not shoes?!). Add a red bow to your buttoned shirt or do a smaller one as  a choker. A red choker in velvet as a bow is actually kind of the best balance of fashion and festive I can think of at the moment. Haha, gotta get it myself!
Layers
A layered outfit is not only perfect for the weather, but also the definition of cozy. Doing a layered outfit for the season is perfect when keeping things casual but also seasonal. I'd do a layered outfit in festive colors, with one piece in red or green! Or just add a scarf if you want to keep it easy.
Lace
Lace is perhaps an all year around thing, though it also has the festive tone in it. Just getting the glam factor higher by doing a lace piece is simple and effective. I'd do a lace piece in jewel tones, or black, and keep it casual by perhaps a knitted piece or jeans. Everything for staying everyday sane but still embrace the festive spirit!
Folks! What are your best festive fashion idea? Drop a comment below! Xx