Is there a better time to wear jeans than for spring? Don't think so! To get you out of that fashion rut though, here are 10 ways to style your jeans 2021. Some ideas are more trendy, and some ideas are more classic.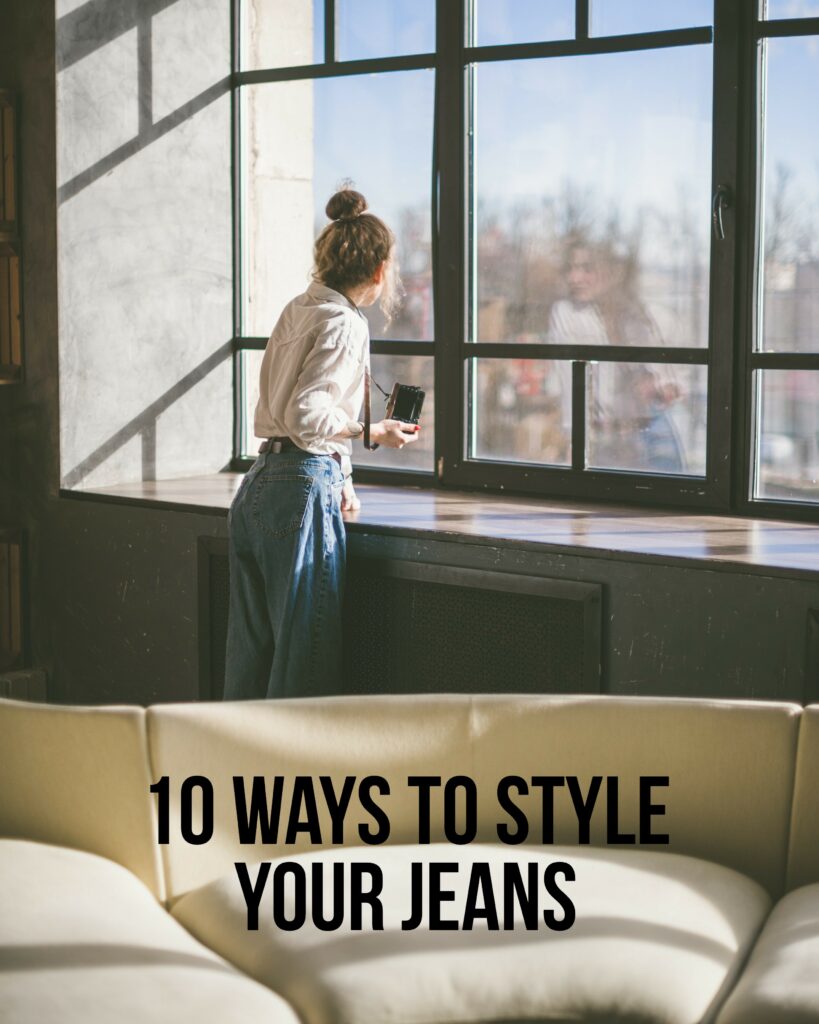 Style Your Jeans 2021
White Shirt
One of the most classic outfits is the white shirt and jeans! Such a perfect combination of casual chic. You can do this look with the shirt semi tucked in, a leo belt around the hips and a pair of flats. Or why not do a bow around the neck for a more preppy look? Layer a sweater over for colder days! 
Slippers
I love the idea of doing a pair of jeans with slippers. Also a really casual chic look. I think this combo is especially favorable if the jeans are a bit loose. Gorgeous with a preppy blouse or a fitted top. Match your bags and shoes for a more cohesive look.
Chunky Cardigan
A wearable look is to add a chunky cardigan to your outfit. You could of course also work this look with a chunky sweater. The chunky cardigan will add some volume to your outfit, and also give the look another dimension. Could be chic with a simple white t-shirt or why not a denim shirt?
Midi Dress
I do love the idea of layering a midi dress over your flared jeans. It'll have an elongating effect, especially if you wear this combo with platform shoes or heels. You can go for a more retro midi dress for a 70s vibe, or why not a shirt dress for a more chill vibe?
Denim Shirt
And speaking of a 70s vibe, how about going for a denim shirt and a pair of jeans? I know some people are totally against this idea, but I like and I've worn this combo several times. I think this look works best if you break it of with an accessory in another color or another material. Perhaps a leather jacket or a brown belt? Work with what you got! 
Kitten Heels
If you liked the idea of pairing your jeans with slippers, you might also like the combination of kitten heels and jeans. This duo has been immensely popular the past year! Especially if the kitten heels are on the preppy side and the jeans are done with a preppy blouse or basic t-shirt. I love this one, and I wear it quite often!
Romantic Blouse
And yes, of course you should pair your jeans with a romantic blouse. You know, that style of blouse done in pastels or in a floral pattern with giant sleeves? Yes, you definitely need to work it with your jeans asap. Doesn't matter if it's skinny jeans, 70s, flared or mom jeans; just do it. The contrast of the casual jeans and the romantic blouse is a really good one.
White T-shirt
The white t-shirt and jeans combo never gets old. I think this timeless duo looks amazing with a colorful accessory or animal patterned boots. You could also layer it up with a leather vest, or a blazer for an office look! You could also layer it up with some statement jewellery for a more popping look.
Statement Print
As jeans are a neutral clothing piece, you definitely want to try it with a statement print. I do love a good leopard or snake print with jeans, but anything floral or polka dot is also good. Or, why not just some classic stripes? They never go out of style!
Crop Top
If you own a pair of high-waisted jeans, wear them with your crop top the next time! Doesn't matter if it's a cropped sweater, cami top or blouse; they all will work with your jeans. Actually, anything high-waisted is superb with a crop top if you don't want to show too much skin.
Folks! How do you wear your jeans 2021? Let me know in the comments below! Xx